By Kate Gluck on
1/3/2019
The 6 Most Visited Posts of 2018—From Common Reasons Adhesives Fail to Acrylic Foam Tape Suppliers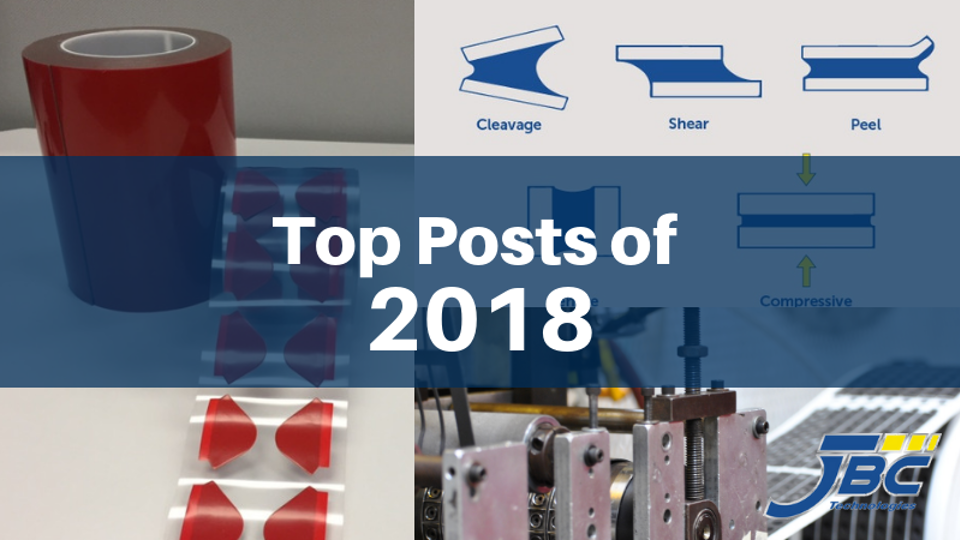 Several years ago, we instituted the JBC Technologies blog as a way to educate and inform our customers, prospects, and other stakeholders about the intricacies of flexible materials converting and precision die cutting.  We've written about everything from die cut gaskets  to materials for die cut products, to specific applications like  thermal management and EMI shielding. Judging by the number of visits to the blog, the initiative has been well worth the effort.  
In case you missed them, here are the top six most frequently visited posts of 2018. 
1 - Common Reasons Adhesives Fail
Receiving the most blog visits for the second year in a row was a post originally written in October of 2015:  5 COMMON REASONS FOR ADHESIVE FAILURE.  If you've ever experienced adhesive failure with your die cut parts – in other words, if your gaskets have leaked, fallen off, or just plain didn't work correctly – you'll want to read this.  Armed with this insight, you'll be better equipped to troubleshoot issues and avoid future problems.
2 - Rotary VS Flat Bed Die Cutting
Another commonly viewed post – also written in 2015 – is MAKING THE RIGHT CHOICE: ROTARY VS. FLAT BED DIE CUTTING.  As the title implies, this post provides an overview of two common types of die cutting: rotary and flat bed.   Read it to gain insight into the benefits and applications for each.
 3-
Steel Rule Die Cutting
While most of our customers choose to focus on what they do best and leave the die cutting to us, we feel it is valuable that they understand the basics of die cutting. The third highest viewed post of the year, STEEL RULE DIE CUTTING 101, was written with that thought in mind. It provides a terrific high-level overview of the what, why, and how of steel rule die cutting.  Read it to learn what makes steel rule die cutting such a popular process, what types of materials can be cut with steel rule dies, and more.
4 - Aluminum Heat Shields for Automotive
One of the many things we specialize in at JBC Technologies is aluminum heat shields for automotive applications. We produce hundreds of thousands of these a month in a variety of shapes, sizes and constructions—from single layer aluminum to composite constructions that include high temperature insulation and peel and stick backing. It's no surprise then, that the post  ALUMINUM FOIL HEAT SHIELDING FOR AUTOMOTIVE APPLICATIONS, made it to our top 6 list for 2018. Read it to learn about some of the various converting options we provide and how they provide value for automotive heat shielding.
5 – PSA Failure Basics
Coming in at the fifth spot is, PART 2: THE BASICS OF PRESSURE SENSITIVE ADHESIVE (PSA) FAILURE.  This post explains the three external parameters that impact whether or not you get a good bond: pressure, time and temperature. It also explains, in simple terms, why a PSA needs to "wet out" and provides a short case study on what can happen when too little pressure is applied to properly facilitate the wet-out process.
6
– Acrylic Foam Tape (AFT) Suppliers
Rounding out our top six list is, ACRYLIC FOAM TAPES: TOP SUPPLIERS AND TRADE NAMES. Originally posted in April of 2017, this post highlights some of the benefits of Acrylic Foam Tapes, including the fact that they can be used in lieu of rivets and other mechanical fasteners in support of lightweighting initiatives.  Read it to learn about some of the different types of acrylic foam tapes and the manufacturers who supply them.

These are only six of the many articles available on this site designed to educate and inform you about die cutting, flexible materials converting, gaskets, heat shields, gasketing materials, and more.  We invite you to browse our library. If there is a topic you'd like to learn more about and can't find the information here, please let us know by filling out our short contact form. If it is within our area of expertise, we'll try to work it into our editorial calendar.
Contact JBC Today
Whether you need assistance selecting the right pressure sensitive adhesive for your die cut composite construction, need a precision die cutter with a wide range of equipment, capabilities, and materials expertise, or are looking for a specialized provider of aluminum heat shields, the sales team at JBC Technologies is ready to help. To get started, contact us on-line.