By Bob Lesher on
5/31/2022
JBC to Exhibit at 2022 Foam/Adhesives & Bonding Expo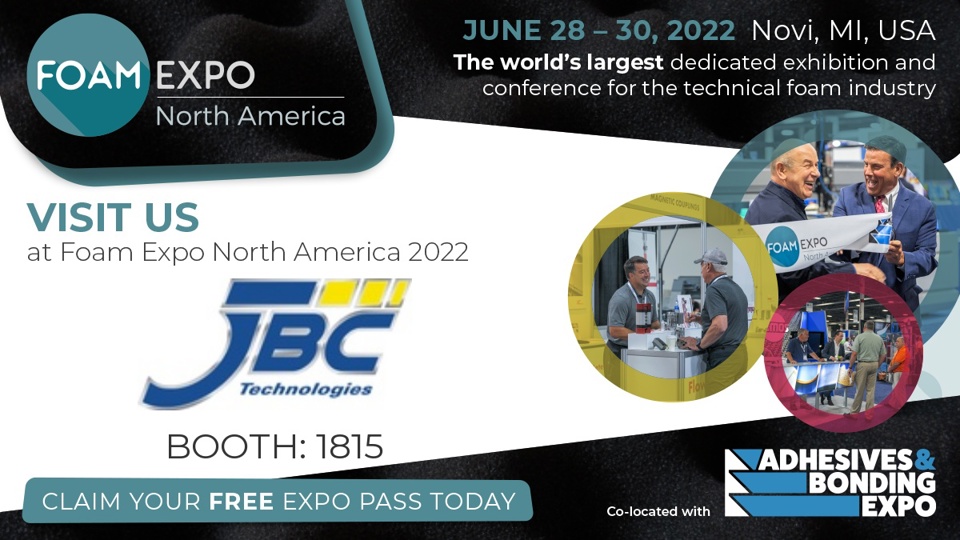 JBC Technologies is happy to share that we will be bringing our unique brand of die-cutting and other flexible materials converting expertise to a booth at the 2022 Foam Expo North America in Novi, Michigan.
Why Is JBC Coming to Foam Expo 2022?
Because we love Novi, Michigan? Because we love foam and adhesive? Because we can't stop ourselves? We're coming to Foam Expo because it just makes sense. Over these last 30 years or so we've taken literally hundreds of different types foams and adhesives and transformed them into custom die-cut adhesive-backed solutions for customers all over the world.
As a flexible materials converter, some of our largest suppliers just so happen to be the very same manufacturers of foam and adhesive tapes that'll be exhibiting their wares at the expo. Here's a sampling:
Putting it not so simply, we choose large rolls of these materials based on the problems our customers are trying to solve and through various processes like hot-roll lamination and high-speed rotary die-cutting, we convert them into thousands of adhesive-backed custom parts.
Seals & Gaskets. Sound Reduction. Assembly. Protection. Insulation.
So What Is Foam Expo?
Foam Expo North America is the world's leading exhibition and conference for the manufacturers and buyers of technical foam products and technologies. The 5th edition of Foam Expo will return to Novi, Michigan and run from June 28th - 30th at the Suburban Collection Showplace.
Your free Foam Expo pass also includes access to the Adhesives & Bonding Expo, North America's largest exhibition and conference for adhesives and bonding solutions for industries like automotive & transportation, aerospace, construction, appliances & furniture, medical, and electronics. 

What's In It For Me At Foam Expo/Adhesives & Bonding Expo 2022?
Aside from the chance to come by Booth 1815 to meet with us and discuss your converting needs, both of which would be incentive enough on their own, there's plenty to look forward to:
Access to in depth information on foams and adhesives
Improved creativity for slicker problem-solving back at the office
Increased personal development for additional bragging to teammates
Team building and networking. It's all about the people.
Probably free company-branded pens, bags and other SWAG that'll look great on your desk
VISIT JBC AT FOAM EXPO 2022
JBC Technologies is a flexible materials converter that provides innovative die-cut solutions to leading manufacturers around the globe. With vertically integrated converting capabilities, an engineering mindset, and access to the best material manufacturers in the industry, we are here to provide solutions to all of your flexible materials converting needs. 
We'll be on hand at the Foam Expo / Adhesives & Bonding Expo to showcase some of our products and answer your questions.