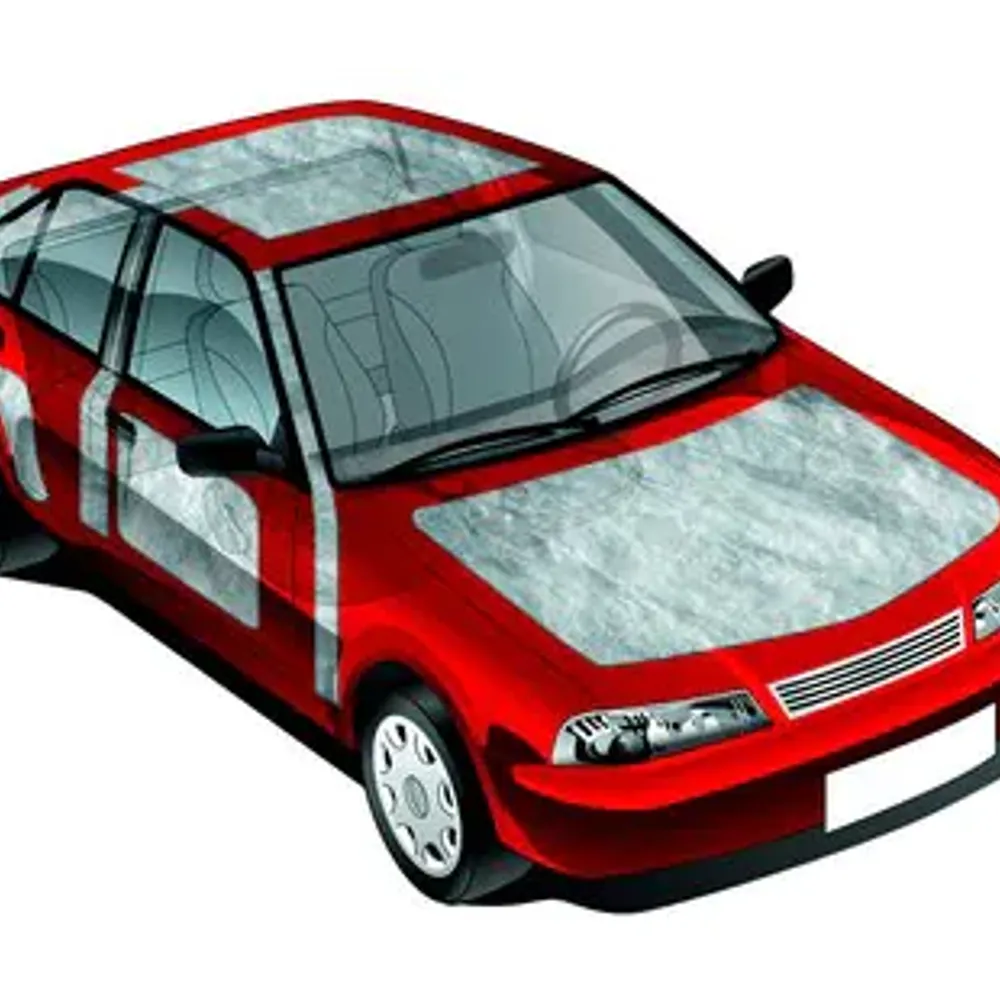 Custom Die-Cut Products to Reduce
Automotive Noise, Vibration, and Harshness
ISO 9001 and IATF 16949 certified, JBC Technologies is the go-to converter partner for automotive OEMs and tier suppliers that need die-cut solutions to automotive NVH (Noise, Vibration, and Harshness) challenges.  
Whether it's acoustic door-panel insulation to minimize noise and vibration or headliner damping to reduce vehicle harshness, JBC Technologies offers a broad range of die-cut performance NVH dampening materials engineered for automotive sound deadening applications.
Let's work together to turn your NVH challenges into quality solutions.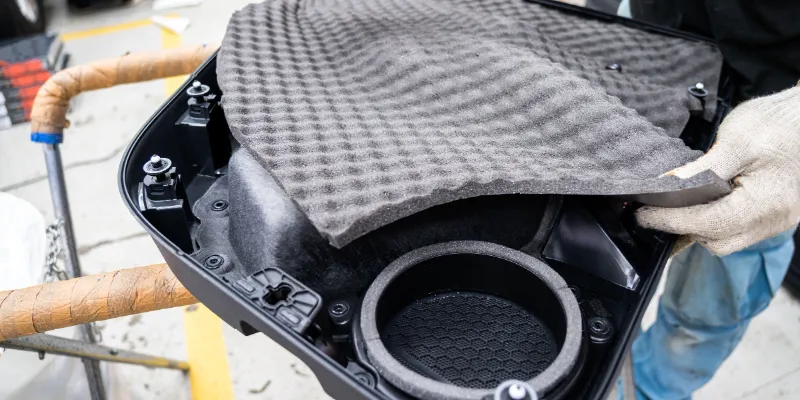 APPLICATIONS
Today's consumers have shifted their focus from fuel economy to comfort and construction and, like it or not, quiet is a signifier quality. Custom die-cut NVH dampening material solutions from JBC Technologies help automotive OEMs and tier suppliers with even the most challenging noise problems including  wind noise, engine vibration, tire noise, body structure noise, and EV electric motor/high frequency sounds.  
Door Panels • Glove Box • Head Liner • Under-Hood • Wheel Housing Liners • Under-Trunk • HVAC Duct Liners • Dashboard Noise Control • Gas Tank Pads 
Several areas for custom die-cut components that target automotive NVH include: 
Sound-deadening headliner inserts — to reduce airborne and structure-born noise in the vehicle cabin. 
Vibration isolation pads — to dampen and isolate vibrations caused by the engine, suspension, and other sources. 
Damping materials — to reduce resonance and vibration. 
Acoustic insulation — to reduce the transmission of sound through the vehicle's body panels and floor. 
Thermal/Acoustic Barriers - for targeted acoustic and thermal protection for engine shields, tunnel insulators, dash insulators, hood insulators, engine compartments, and more.
Anti-squeak materials — to reduce noise caused by friction between different components of the vehicle, such as the dashboard and the windshield. 
Gaskets: Custom die-cut gaskets can be designed to fit specific areas of the vehicle and prevent noise and vibration from escaping or entering.
Weatherstripping — to reduce wind noise and prevent water from entering the cabin. 
Foam seals — to block out unwanted noise and vibration from entering the cabin through gaps around doors, windows, and other openings. 
Performance Materials for Automotive NVH 
JBC's customers benefit from custom die-cut solutions for automotive NVH fabricated with industry-leading noise suppression materials, made by the world's best material manufacturers. Names that include 
3M • TENNECO • AIM Fiber • Rogers Corporation • Armacell • Saint-Gobain 
Together with these and other partners we'll figure out the best combination of performance material and manufacturing process to target your automotive NVH applications. 
Examples of the performance materials you'll have available to use in your custom NVH solutions include: 
Your Best Choice for
Custom Die-Cut Solutions for Automotive NVH 
As an ISO 9001 and IATF 16949 certified precision die-cutter and material converter with over 30 years in business, we have the experience and know-how required to provide custom die-cut solutions for the automotive market's most demanding NVH applications. We understand the unique challenges of the automotive industry and we can offer the precision and quality necessary in automotive sound control.  
As your custom die-cutting partner, we'll provide solutions tailored to your exact specifications and made using only the best performance acoustic materials available. Our team of experts will work closely with you and our materials manufacturers to develop the custom die-cut components that will address your NVH problems in the most effective way possible. 
Contact us to get started on your next vehicle NVH project. 
Submit Your Project