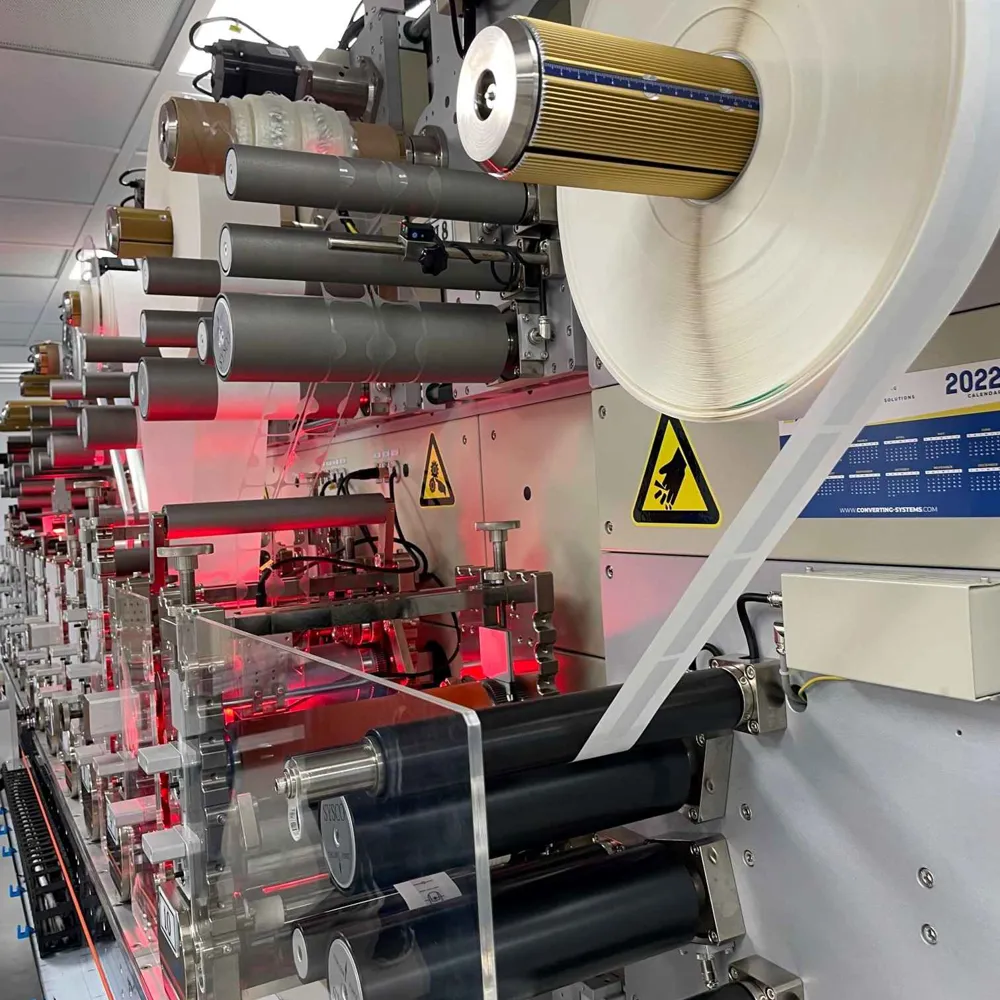 JBC Technologies is a world-class flexible materials converter with over 30 years of diverse industry and performance materials expertise. We have processed hundreds of different materials, from ceramic paper, foam rubber, and plastic sheeting, to fabric, metal foil, and pressure-sensitive adhesives. By leveraging our unique set of manufacturing processes, including precision die-cutting, we can create custom, innovative solutions that are designed to help our customers overcome a variety of product performance and process efficiency challenges.
What is Die-Cutting?
Die-cutting is a commercial manufacturing process used to mass produce large quantities of identically shaped parts by stamping/cutting them out of rolls of thin, flexible materials. This process is typically done with specialized machinery and cutting tools called dies. Die-cutting is used to make parts for a variety of applications and industries, including automotive bounding, appliance insulation, electronics display protection, aerospace EMI/RFI shielding, medical device attachment, HVAC sealing, gasketing, and more.
As a vertically integrated custom die-cutter, JBC Technologies exercises greater control over our raw material and production costs. We can offer ancillary conversion and supply chain services like assembly, automation, and just-in-time (JIT) delivery. Our in-house experts provide our customers with application-specific recommendations for best-in-class materials and die-cut constructions that optimize total cost of ownership and part performance. We work with a variety of die-cut materials, including insulation, foam, rubber, plastic, fabric, foil, adhesives, and more.
When it comes to innovative precision die-cutting, our mantra is "no preconceived notions." We've spent over three decades building an arsenal of specialized die-cutting equipment that allows us to offer our customers a vast selection of manufacturing options. Our 120,000 square feet of manufacturing space features everything from high-speed multi-station rotary machines and platen presses to CNC machines and dieless cutting equipment, including waterjet and laser cutting machines.
Equipment is only as good as the people who run and maintain it, and we have the best in the business. JBC has the most dedicated and experienced die-cutting staff in the industry. Our world-class operators and state-of-the-art machines allow us to go the extra mile for our customers. From high-speed kiss cutting and intricate island placement to liner pull tabs, split liner design, and even ultrasonic welding – JBC Technologies has exactly what you are looking for.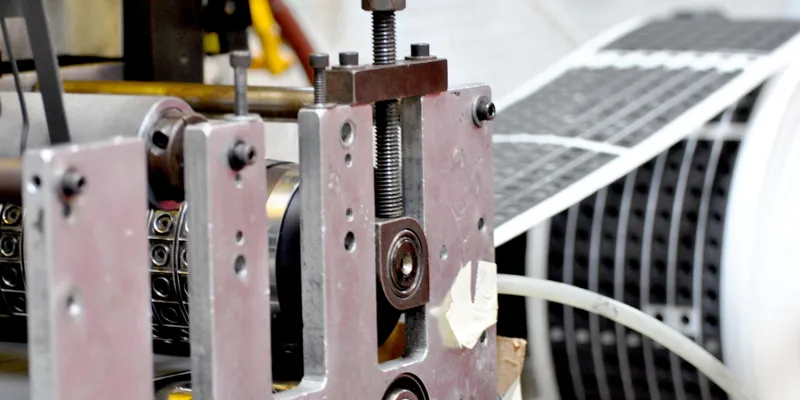 Rotary
Die-Cutting
When you think of rotary die-cutting, think high-speed, high-precision, and high volume. This relatively complex die-cutting method employs cylindrical dies that are pressed into and rotated over (cookie-cutter style) rolls of flexible material to cut individual parts. Our rotary die-cutting services are suitable for applications that require precise, accurate part designs and large volume runs. JBC's extensive selection of precision rotary die-cutting equipment includes a 10-station, high-speed Dorey Converting Systems (DCS) rotary die-cutting press located in our ISO 8/Class 100,000 clean room. Our operations also enable us to set up rotary die-cutter machines complete with multiple stations and different materials to enable in-line lamination, scoring, sheeting, kiss cutting, and more.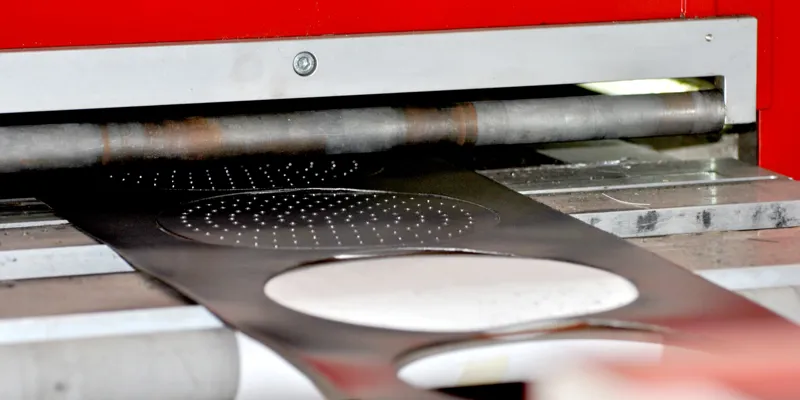 Platen
Die-Cutting
JBC owns and operates over 20 narrow and wide web platen presses. Die-cutting platen presses have wide cutting heads and material feeding capabilities that allows us to cut parts up to 72" wide, making them a great option for larger part applications.
Platen presses also provide a combination of precision and speed, making them perfect for high-volume, intricate parts.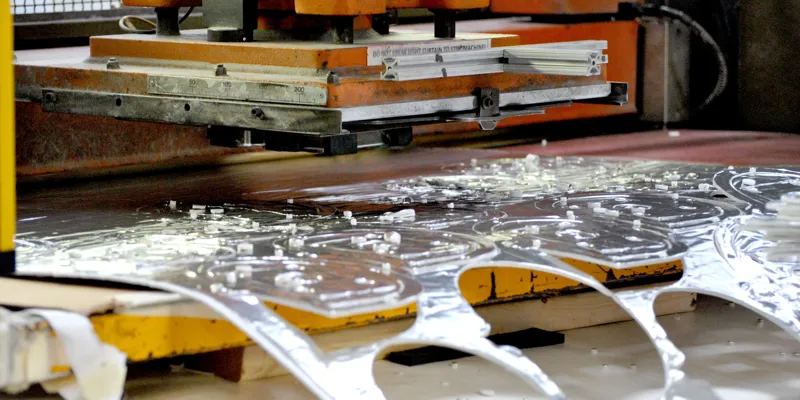 Semi-Automatic
Die-Cutting
Our semi-automatic die-cutting machines are similar in design and functionality to our traditional platen presses, with large, flat cutting beds and hydraulically operated die presses. The main difference is that wide-web semi-automatic presses feature a rotating head that can die-cut multiple parts at once and maximize yield potential.
With semi-automatic die-cutting, JBC offers customers additional flexibility and increased assembly efficiency for kitting and other applications.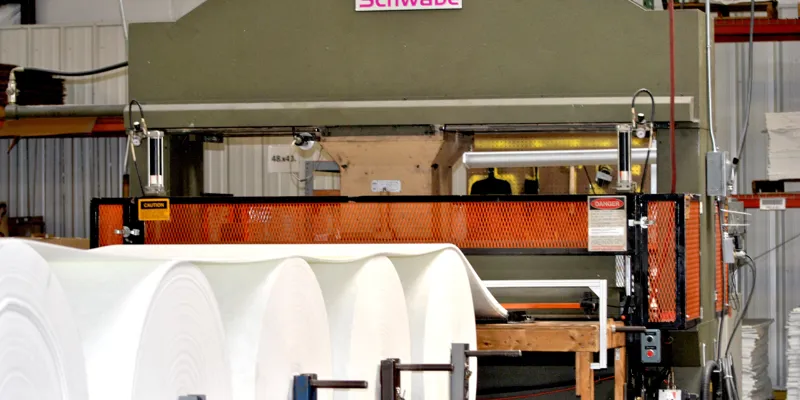 Compared to traditional platen presses that have traveling heads or swing beams, full beam presses have reduced cycle times and utilize very large cutting dies that are often as large as the cutting surface itself. Our full beam die-cutting presses are widely employed when high cutting power (needed for difficult-to-cut materials or for cutting multiple plies) is demanded and large or multiple-shape dies are to be used. With quicker cutting cycles and higher cutting power that can cut multiple parts in one stroke, full beam presses allow for higher levels of production and efficiency.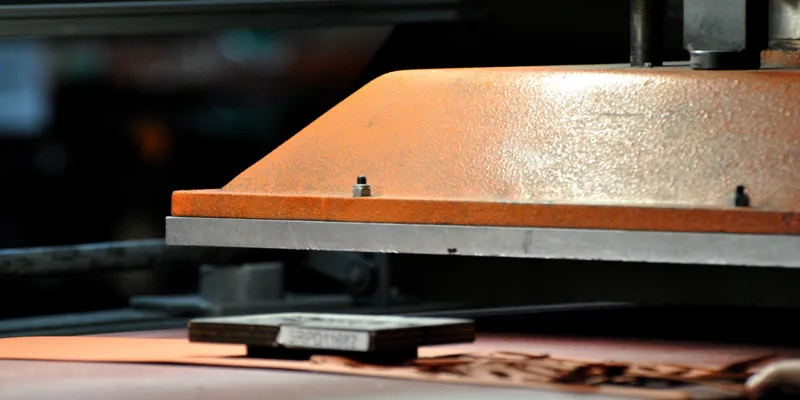 JBC is proud to service customers of all sizes and provide our engineering expertise for all types of projects. For those requiring small-batch or even prototype production of less-intricate components, we offer manual die-cutting. Our manual die-cutting service is a great option for the production of smaller quantities or maintenance runs of relatively simple parts that are often made using steel-rule dies with less challenging geometry.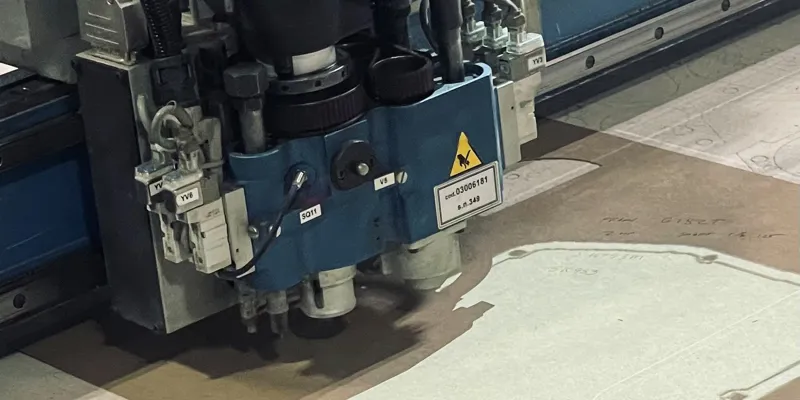 Digital
Die-Cutting
JBC Technologies offers multiple different types of digital die cutting services -- from waterjet cutting to laser cutting. Other options include our  multi-cam CNC router, Eastman static table cutting system, and flash cutters.  Benefits include rapid prototyping capabilities, quick turnaround, and the ability to handle a wide range of materials.  
Precision Die-Cut Parts
Custom-Made for Your Manufacturing Process
JBC Technologies is a world-class die-cutter, but what we offer our customers goes well beyond the final product. We manufacture custom parts and components that meet (and often exceed) their exact specifications and performance requirements. Our team also provides value analysis value engineering services to help reduce waste on your production line and make things a little easier for your operation. From removing slugs and gapping parts on the liner to developing custom assembly fixtures, JBC will do everything we can to provide you with the right solution for your application.
Get in touch with JBC Technologies today to learn more about our custom die-cutting services and how our engineering capabilities can benefit your entire supply chain.
Submit Your Project