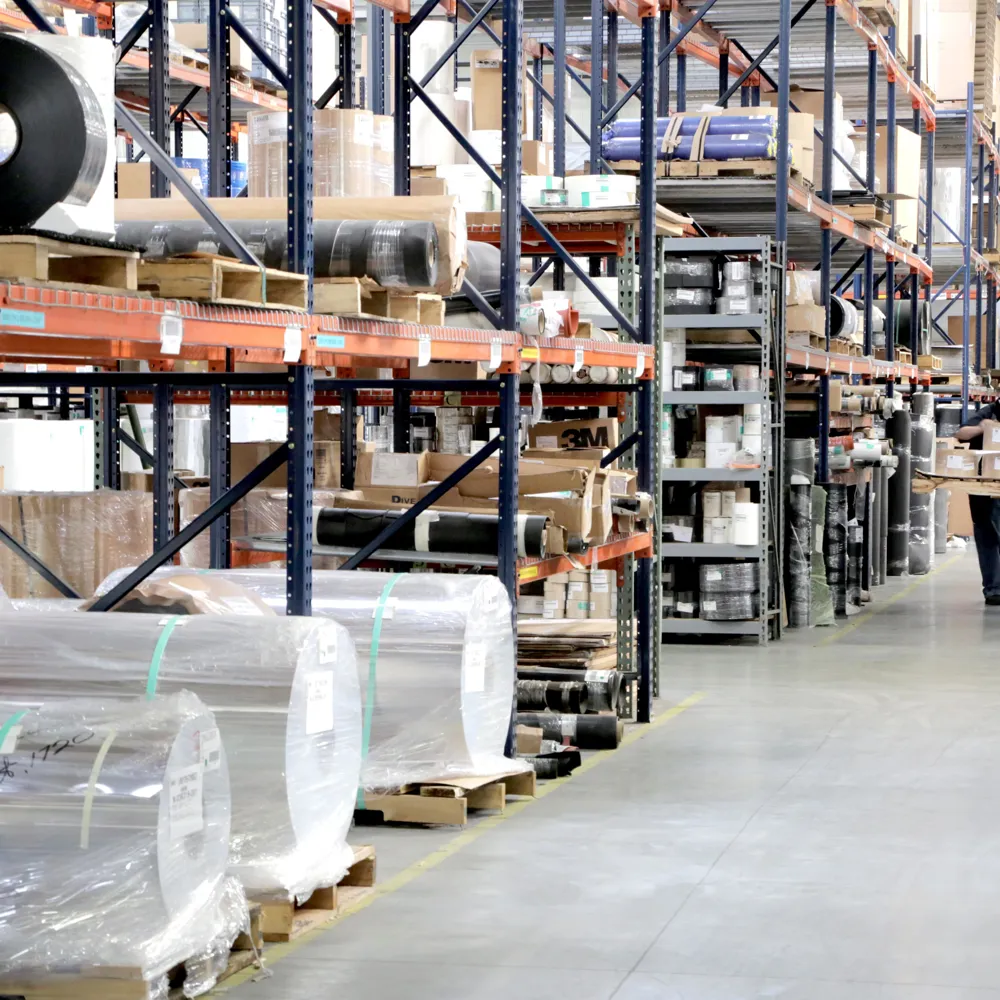 Supply Chain
Optimization
for Die Cut Parts
As a premier die cutter and flexible materials converter, we don't just work hard to build strategic supplier partnerships and implement systems and processes that help us optimize our own supply chain – we take those same principles and apply them to our customers as well. On many occasions, we've even helped customers eliminate a step in their value chain, saving them considerable time and resources.
Let us know what's important to you and we'll work to determine the best way to optimize your supply chain – whether that's by determining the right part segmentation and order strategy, setting up a consignment program, implementing a full vendor managed inventory solution, or anything in between.
"JBC was instrumental in our being able to hit very aggressive launch dates."
JBC uses Fortune 100-level quality systems and state-of-the-art planning capabilities to improve inventory turn times, reduce lead time, and streamline the supply chain. This applies to the raw material we bring in… and to the finished goods we ship out. From our Sales Inventory Optimization Planning (SIOP) process that keeps the communication lines open between sales and manufacturing, to our Plan for Every Part material flow plan, our detailed Rough Cut Capacity Planning (RCCP), and our ABCQ Segmentation Strategy, everything we do is pointed towards one goal: ensuring our customers' success.
JBC's direct relationships with a diverse range of material fabricators gives us the leverage to help our clients find the best material, with the best yield, at the best price. We are vendor agnostic, so you can rest assured that the recommendations we make are driven by material performance, not brand allegiance. Because we work directly with material manufacturers, we often have a voice in the way materials are produced and delivered, positively affecting the final die cut part price.
Could a slightly different part presentation save you hours of manual labor? Show us your processes and we'll help you find the solution that's best suited for your assembly process. Our wide range of vertically integrated converting capabilities and knowledgable engineering team give us a lot of options. Examples include adding tabs or split release liners, kiss cutting parts, custom packaging, kitting, and more.
In our world, there is more than one way to look at delivery. There is how we ship it, when we ship it, and, like we mentioned above, how it is "delivered" into your system. As your strategic partner, you can count on us to take all this into consideration so you get you what you need, when you need it, and how you need it.
JBC: Eliminate Waste in
Your Supply Chain
JBC understands that no matter how important die cut parts are to our business, they are a very small piece of yours. Still, even the smallest of parts has the opportunity to either add to or reduce the efficiency of your overall operations. When you work with JBC, you can count on us to do everything in our power to do the former – optimizing your supply chain and delivering the lowest cost to deployment possible. Submit your project today to collaborate with us the next time you have flexible material converting needs.
Submit Your Project