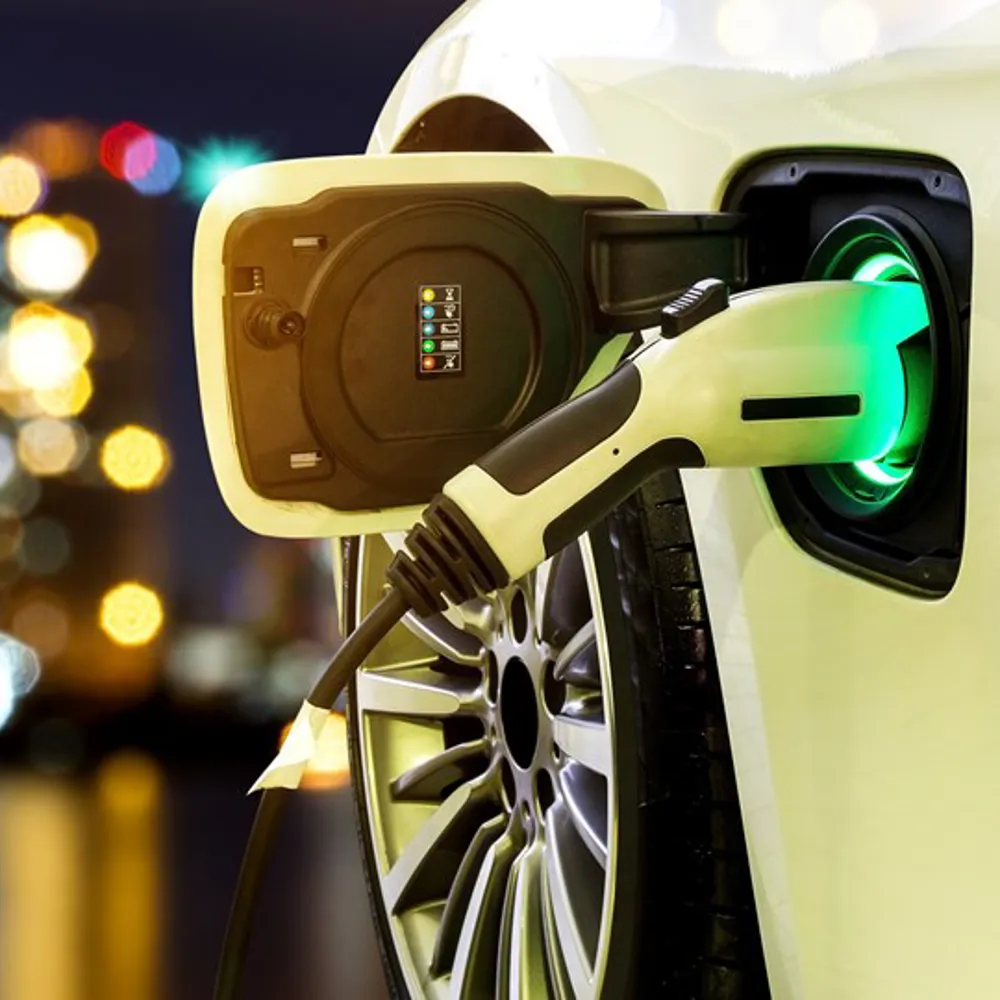 Die-Cut Solutions for
Electric Vehicle Batteries
Whether you need to prevent thermal runaway propagation, seal out air, spread heat, shield heat, fill gaps, or cushion battery cells, JBC Technologies can help. As a specialized die-cutter and flexible materials converter, we convert performance materials into custom components that solve a myriad of challenges for electric vehicle battery manufacturers as well as ICE, autonomous, and electric vehicle OEMs.
Manage EV Battery Heat & Noise With Die-Cut Components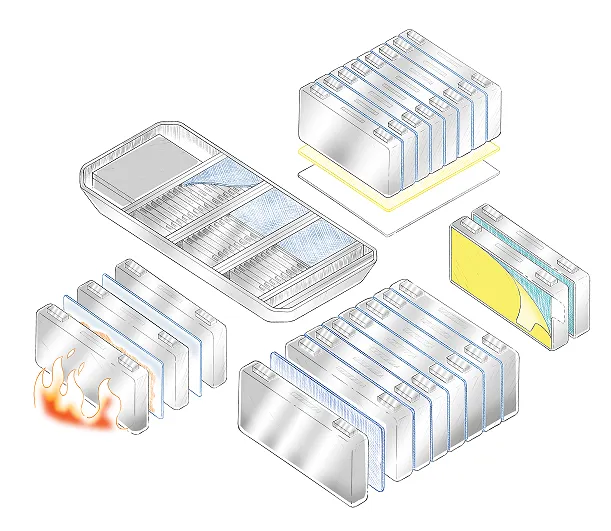 The electric vehicle industry is evolving quickly, and design engineers are diligently working to cut costs, reduce charging times, extend driving ranges and operating temperatures, and improve battery safety. Scientists are also hard at work developing new materials for the EV market, formulated for better temperature resistance, improved durability, and higher overall performance to weight ratio.
As a leading materials converter, JBC Technologies is doing our part by providing vehicle OEMs and tier suppliers with full product lifecycle support - everything from early-stage R&D and rapid prototyping to full volume die-cut production parts.
Multi-Layer Laminated Constructions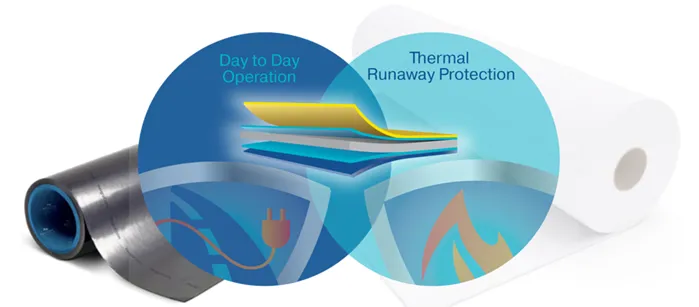 While the phrase "together we can do more" is most often associated with teams, the same can also be said for materials. By layering and laminating different materials together – foam to adhesive, graphite to foam, ceramic paper to graphite, or aluminum – engineers can solve complex design challenges that may have otherwise proven elusive had they been limited to a single material.
By combining multiple materials into a single part, not only does it address multiple challenges, it speeds assembly and also simplifies the supply chain. AND, instead of working with 2-3 vendors and 2-3 SKUs – one supplier can manage the entire process.
As a vertically integrated converter, JBC offers an extensive array of laminating capabilities, from inline laminating on our rotary die-cutting presses to hot roll and cold pressure laminating webs that can accommodate materials up to 74" wide.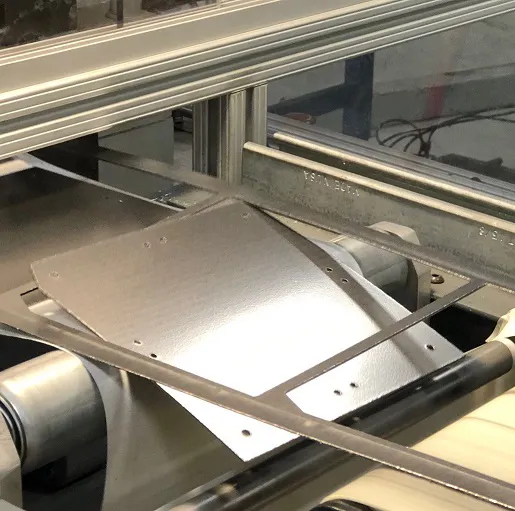 When you choose to work with JBC during the early stages of your project, you're able to leverage our unparalleled network of industry suppliers and manufacturers from the very beginning, essentially making our connections your connections.
For example, on the adhesive front, we're both a 3M Preferred Converter and an Avery Dennison ADVantage partner. We also have decades-long relationships with North America's premier manufacturers of foams, films, flexible graphite, metal foils, insulation, and more. What all this means for you is expert advice and timely answers to your materials selection questions. 
Some of the high-performance materials we laminate, die-cut and use our other vertically integrated processes to convert our customers' EV design concepts into reality include: 
Ceramic Papers and Blankets | Ceramic Papers with Mica Laminate | Aerogels | Flexible Graphite | Microcellular Polyurethanes | Polypropylene Electrical Insulation | Polyamide Papers | Silicones
Here are just a few of the many material partners we work with:
Additional Resources:
Electric Vehicle Industry
Check out these blog posts from the experts at JBC Tech to learn more about the electric vehicle market and the custom die-cut solutions we offer for EV batteries.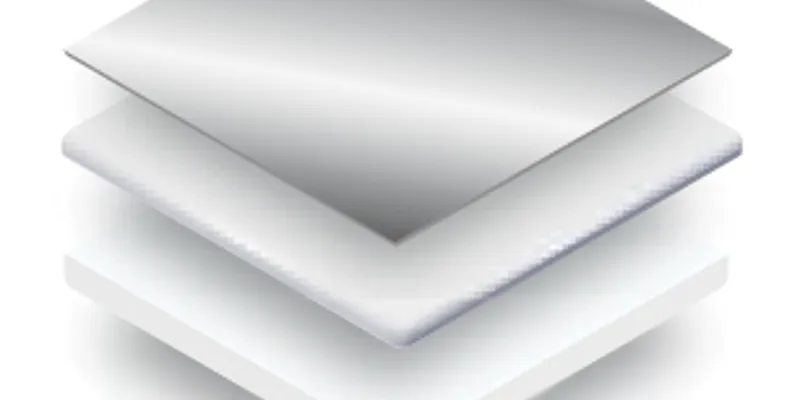 Die-Cut Solutions for
EV Heat Spreading
Flexible graphite is steadily gaining traction as a material of choice among EV battery manufacturers. While it can be encapsulated in PET (Mylar), die-cut, and used as a stand-alone product, graphite is more often than not laminated to a material such as Rogers PORON®, Morgan Thermal EST™ Superwool®, or 3M™ FRB and used as an integral layer of a multi-functional material stack.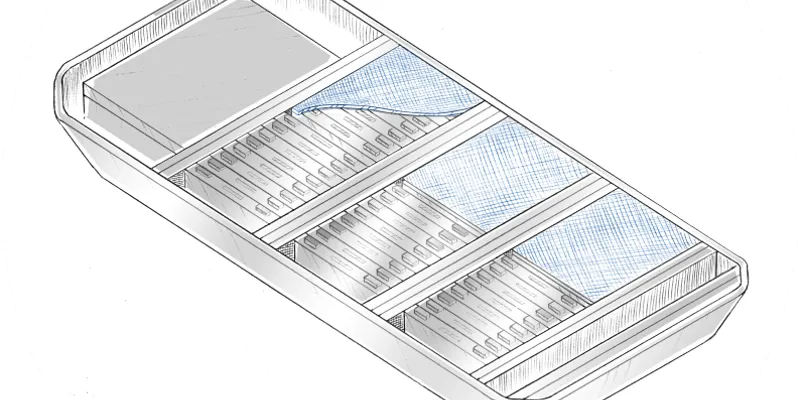 Die-Cut Solutions for
EV Lightweighting
The heart and soul of a Battery Electric Vehicle (BEV) is, not surprisingly, its battery. Unfortunately, it's the weight of these bulky portable power plants that creates numerous challenges that drive the demand for the use of lightweight materials in their construction.  This post highlights 6 different applications where custom die-cut solutions from JBC Technologies can contribute to a lighter, more efficient EV battery system.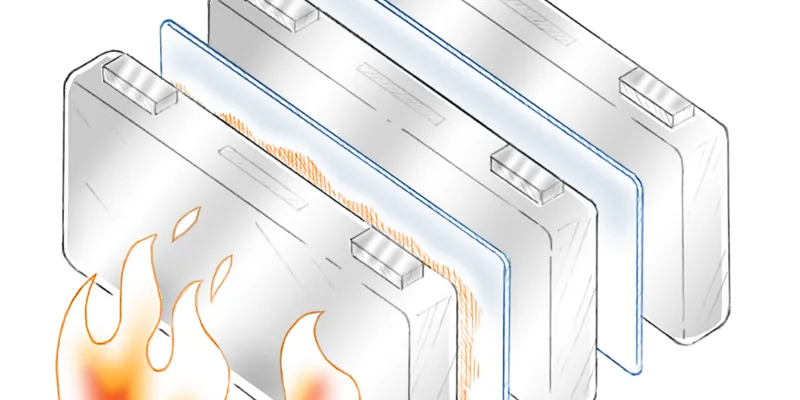 Die-Cut Solutions for
EV Thermal Management
In this post, we take a closer look at EV battery thermal management. In particular, the importance of battery thermal management and how extreme temperatures can impact an EV battery system. We'll also touch on how JBC Technologies, with over 30 years of materials selection and flexible materials converting expertise, can help solve even the most challenging thermal management problems.
Custom EV Solutions
The Battery Show 2022
the JBC Technologies Difference
Targeted Innovations for the Electric Vehicle market
It's JBC Technologies at the 2022 Battery Show and Electric & Hybrid Vehicle Technology Expo! Join us and our CEO, Todd Wright, as he shares his vision for JBC and the electric vehicle and battery markets. See how our precision die cutting and performance materials expertise have JBC uniquely positioned to offer cost-effective and innovative solutions to the EV and EV battery manufacturing markets.
Get Started Today
Submit Your Project
In a rapidly evolving industry, it is important to be able to quickly validate the efficacy of new solutions. With over 30 years of experience, you can rely on JBC Technologies as your preferred converter for electric vehicle battery applications. Need to perform fit, form, function tests? Test the performance of different composites? Or trial parts, mixing and matching adhesives, foams, foils, flexible graphite, and other materials?  You've come to the right place! JBC Technologies has the processes, the tools, and the expertise to assist with your R&D process, from material sourcing to prototype to PPAP, and beyond.
Submit Your Project Today