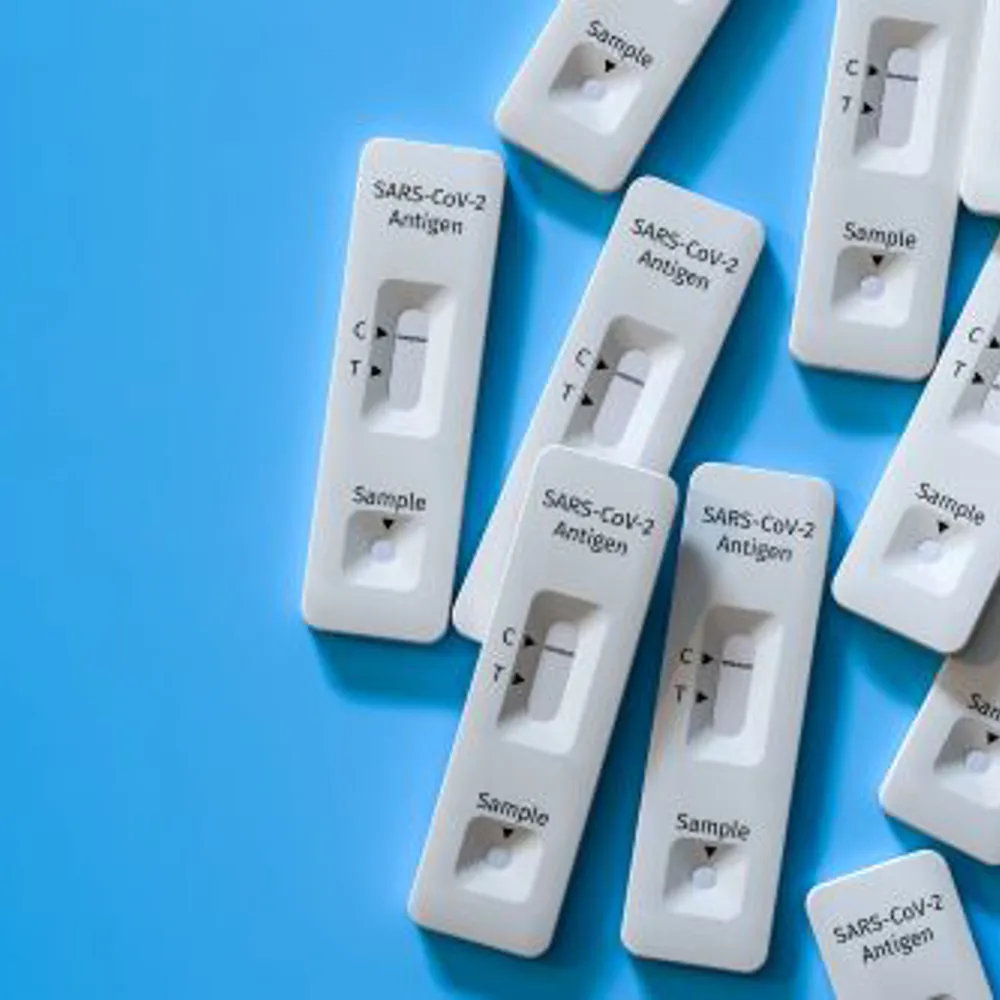 Medical Diagnostic
Applications for Die Cutting
Whether you need precisely slit filter media for COVID test kits or, multi-layer laminate die-cut components for your microfluidic or lateral flow assay point-of-care rapid response test, JBC Technologies has the engineering acumen and state-of- the-art equipment to convert your medical diagnostic concepts into reality. 
Leveraging our best-in-class supplier network we'll work with you from material selection, prototype to full-scale manufacturing in our ISO 8 Cleanroom. 
Die-Cut Applications for medical diagnostics
Medical diagnostic devices play a crucial role in the early detection, diagnosis, and treatment of various medical conditions. At JBC Technologies, we manufacture a wide range of custom die-cut parts for medical diagnostic devices to meet the unique needs of different applications  – many of which require tight tolerance slitting and/or precise multi-layer laminations. 
Here are just a few of the medical diagnostic applications we can support with custom die-cut products:
Microfluidic & Lateral Flow Assay Devices
In-Vitro Device Test Strips
Pregnancy/Ovulation Testing
Blood Glucose Evaluation
COVID-19 Testing
Drug & Food Allergy Screening
Lab-On-Chip
Microtiter Plate Covers
Diagnostic Imaging Machines and Other Durable Medical Equipment
Materials used for medical diagnostic device components
The selection of materials for medical diagnostic devices is critical to ensure the product's accuracy, reliability, and safety. At JBC Technologies, we offer a wide range of materials to meet the unique requirements of medical diagnostic applications.
Some of the materials we commonly use to make our customers' medical diagnostic devices include:
Medical Grade Foams
Polyester Films
Medical Adhesive Tapes
Non-wovens
Foils
Microcellular Urethanes
Conductive Materials
Here are just a few of the many material partners we work with:
We also work with customer supplied material. If you have material that you need converted, please reach out to your sales representative or contact us for additional information.
Partner with a Leading
Medical Die Cutter
Why JBC For Your Medical Diagnostic Applications?
IVD test strips and other medical diagnostic devices with intricate die-cut parts require the services of a flexible materials converter that can laminate multiple layers of material together in one pass, perform complex island placements, and repeatedly hold tight tolerances.
JBC Technologies delivers on all of the above by combining the precision and speed of rotary and platen press die-cutting with a clean, controlled production environment. 
Just getting started on product development? We'll work with you from product launch to full-volume production – leveraging our process design engineers, expansive supplier network and digital cutting to help with material selection, design-for-manufacturability, prototyping, and production trials.
Submit Your Project