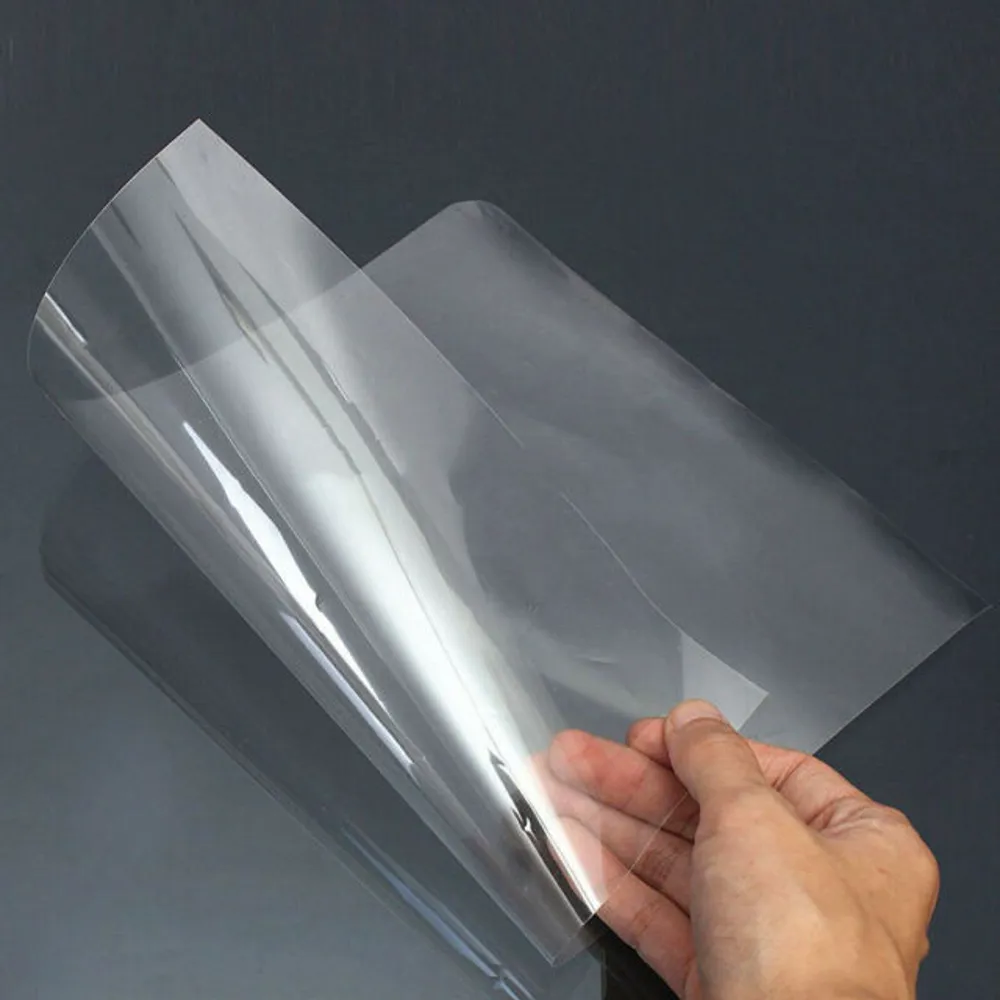 Since 1988. JBC Technologies has been leading the market in sourcing, converting, and delivery of high-volume custom-engineered die cut plastic parts. 
With die cutting equipment that ranges from high speed, tight tolerance rotary presses, to wide web presses that enable us to cut parts up to 52" long and 72" wide, we have the ability to cut plastic parts of many different thicknesses, sizes, and geometries.  We die-cut plastic parts from a wide range of common plastics and specialty engineered polymers for use in many automotive, medical, electronic, and industrial applications.
Our team of engineers and die-cutting experts can help you identify the best plastic for your die cut application. We can also help you identify the right pressure sensitive adhesive and release liner, source the materials, and surface treat, laminate, slit, and construct the composite material in house.
Nylon is exceptionally strong, relatively resistant to abrasion and moisture absorption, withstands exposure to a wide range of common chemicals without degradation, elastic, and easy to wash. Nylon is often used as a substitute for low-strength metals. It is the plastic of choice for components in the engine compartment of vehicles because of its strength, temperature resilience, and chemical compatibility. Typical applications for nylon die-cut parts include gaskets, washers, slides, spacers, shims, wear plates, strip bearings, sleeve bearings, and retainer rings.
Polycarbonate (Lexan®, Makrolon® FD)
Polyester Films (Mylar®, BOPET)
Polyester, aka polyethylene terephthalate aka PET, is a high-performance, crystal clear thermoplastic with excellent water and moisture barrier properties and high mechanical strength, making it the plastic of choice for beverage bottles and food containers. Biaxially oriented PET film or BOPET (often known by the trade name Mylar®) can be aluminized by evaporating a thin film of metal onto it to reduce its permeability, and to make it reflective and opaque (MPET). PET film is often used in tape applications, such as the carrier for magnetic tape or backing for pressure-sensitive adhesive tapes. PET also has a relative high melting point, making it suitable for applications that require high-temperature sterilization.
Low Density Polyethylene (LDPE)
Low density polyethylene is generally considered to include polyethylene plastics ranging in density from about 0.915 to 0.925. In low density polyethylene's, the ethylene monomeric units are linked in random fashion, with the main chains having long and short side branches. This branching prevents the formation of a closely knit pattern, resulting in material that is relatively soft, flexible and tough, and which will withstand moderate heat. Die-cut LDPE parts are typically used in applications where a cost-effective,  relatively tough, flexible and transparent plastic is required. LDPE has excellent resistance to acids, bases and vegetable oils and its toughness, flexibility and relative transparency make it good for packaging and other applications requiring heat-sealing. LDPE provides high impact strength at low temperatures. It also exhibits excellent electrical properties.
High Density Polyethylene (HDPE)
High density polyethylene (HDPE) is a low cost, milky white, semi-translucent thermoplastic. Compared to LDPE, HDPE is stronger and more rigid with good impact strength and excellent puncture resistance. Like LDPE, HDPE also has good chemical resistance, release properties, and vapor barrier performance but poor gas barrier and weathering properties. HDPE is well suited for applications where a greater tensile and compression strength is needed and/or when higher stiffness and rigidity is required. Like LDPE, HDPE possesses excellent impact strength and corrosion resistance. HDPE is subject to stress cracking, difficult to bond, flammable, and poor temperature capability.
Acetal (POM, Delrin®, Celcon®)
Polyoxymethylene (POM), also commonly known as Acetal, is a naturally white semi crystalline thermoplastic. It is used to produce precision parts that require high resistance to abrasion and heat, low friction, good dimensional stability, resistance to water absorption, and high tolerance to organic chemical compounds (e.g. hydrocarbons). It is a very high tensile strength plastic with significant creep resistant properties that bridge the material properties gap between most plastics and metals. Typical applications include small gears, consumer electronics, plastic zippers, medical devices, and furniture components such as the plastic feet underneath a couch.
Polyethylene Terephthalate-glycol (PETG)
Among the most commonly used variations of PET is PETG. Polyethylene Terephthalate Glycol or PETG is an amorphous copolymer of PET that, while slightly more expensive and less durable than its PET parent, finds wide use across a broad range of processing technologies. PETG is used widely in extrusion and injection blow molding and, because it's slightly softer than traditional PET, it works well with conventional die-cutting processes. PETG's combination of extrusion-friendliness and relative heat-stability (less prone to smoking and unpleasant odor) it's also used to make 3D printing filament.
PTFE has excellent dielectric properties and provides excellent thermal insulation with an operating temperature range of -400°F to 500°F. PTFE is the most chemically resistant plastic known and is unaffected by most corrosive liquids, vapors, and gases. PTFE is generally offered in thicknesses spanning from .002″ to .250″ thick and conforms to both FDA and AMS specifications, making it acceptable to both medical and food production industries. 
FEP film is a transparent, thermoplastic film or sheet that can be heat sealed, thermoformed, laminated, welded, or metalized to be used in a wide variety of applications.  With its ideal balance of chemical compatibility, electrical reliability, wide thermal range, mechanical toughness, and long term weather ability there are numerous uses where FEP becomes an ideal solution.  Teflon® FEP is available in thicknesses ranging from .0005" to .020" as well as in specialized cementable versions in the same thickness range.
PFA  film can offer continuous service temperatures up to 260°C (500°F). In addition, Teflon® PFA provides superior creep resistance at high temperatures, excellent low-temperature toughness, and exceptional flame resistance.  With these superior attributes as well as enhanced flex life Teflon® PFA can be a upgrade where Teflon® FEP will not service the most demanding design hurdles.
PVDF is a polyvinylidene fluoride polymer. Kynar® & Solef® are noted trade names for this material. It is strong and tough as reflected by its tensile properties and impact strength. It is resistant to creep under mechanical loading. It is stable when exposed to UV and sun light. PVDF has high abrasion resistance, thermal stability and high dielectric properties. PVDF is especially well-suited for applications requiring high purity and superior resistance to acids, bases and solvents. PVDF can be used as insulation for electrical wiring because of its flexibility, light weight, low thermal conductivity and excellent corrosion and heat resistance.
Crystalline PEEK film offers an outstanding range of physical, thermal, chemical & radiological properties. PEEK's characteristics include high temperature performance, excellent wear properties, superior chemical resistance, hydrolytic stability and outstanding toughness and strength. PEEK meets many aerospace, automotive, fire, smoke and toxicity, food/water, medical/pharmaceutical, and military approvals and standards. PEEK can be used continuously to 480°F (250°C) and in hot water or steam without permanent loss in physical properties. For hostile environments, PEEK is a high strength alternative to fluoropolymers. V-0 flammability rating and exhibits very low smoke and toxic gas emission when exposed to flame.
ABS has a strong resistance to corrosive chemicals and/or physical impacts. It is very easy to machine and has a low melting temperature making it particularly simple to use in injection molding manufacturing processes or 3D printing on an FDM machine. ABS is also relatively inexpensive (prices, currently around $1.50 per pound, typically fall somewhere between those of Polypropylene  ("PP") and Polycarbonate ("PC"). ABS plastic is not typically used in high heat situations due to its low melting point.  All of these characteristics lead to ABS being used in a large number of applications across a wide range of industries.
Coroplast - Fluted Polypropylene Sheet
Coroplast is a high-quality polypropylene twin wall profile sheet formulated for use in the screen printing, display, and packaging markets. Coroplast uses a copolymer resin in order to increase impact and low temperature performance. Coroplast retains the ability to be flexed an unlimited number of times without breaking. It is chemically inert, with a NIL pH factor and most oils, solvents and water have no effect. Performs well under adverse weather conditions or when exposed to harsh chemicals. Coroplast performs well under adverse weather conditions or when exposed to harsh chemicals.
Rigid expanded foam polyvinyl chloride (PVC) is a material whose extraordinary combination of features makes it ideal for commercial signage. Expanded PVC Sheet is economical, thermoformable, dimensionally stable, lightweight and weatherproof. Brands: Komatex®, Celtec®, Sintra®, and Intefoam®.
Here are just a few of the many material partners we work with:
We also work with customer supplied material. If you have material that you need converted, please reach out to your sales representative or contact us for additional information.
JBC: A Premier Die Cutter of Plastic Sheet & Film
Plastics
The breadth plastic materials available today is large and growing. That's why it's helpful to work with a die cutting partner like JBC that has an extensive sourcing network, years of materials expertise, and the know-how to help guide you towards the best solution for your application. With hundreds of years of combined experience, we can help you choose the right material for the right application at the right cost.
Submit Your Project