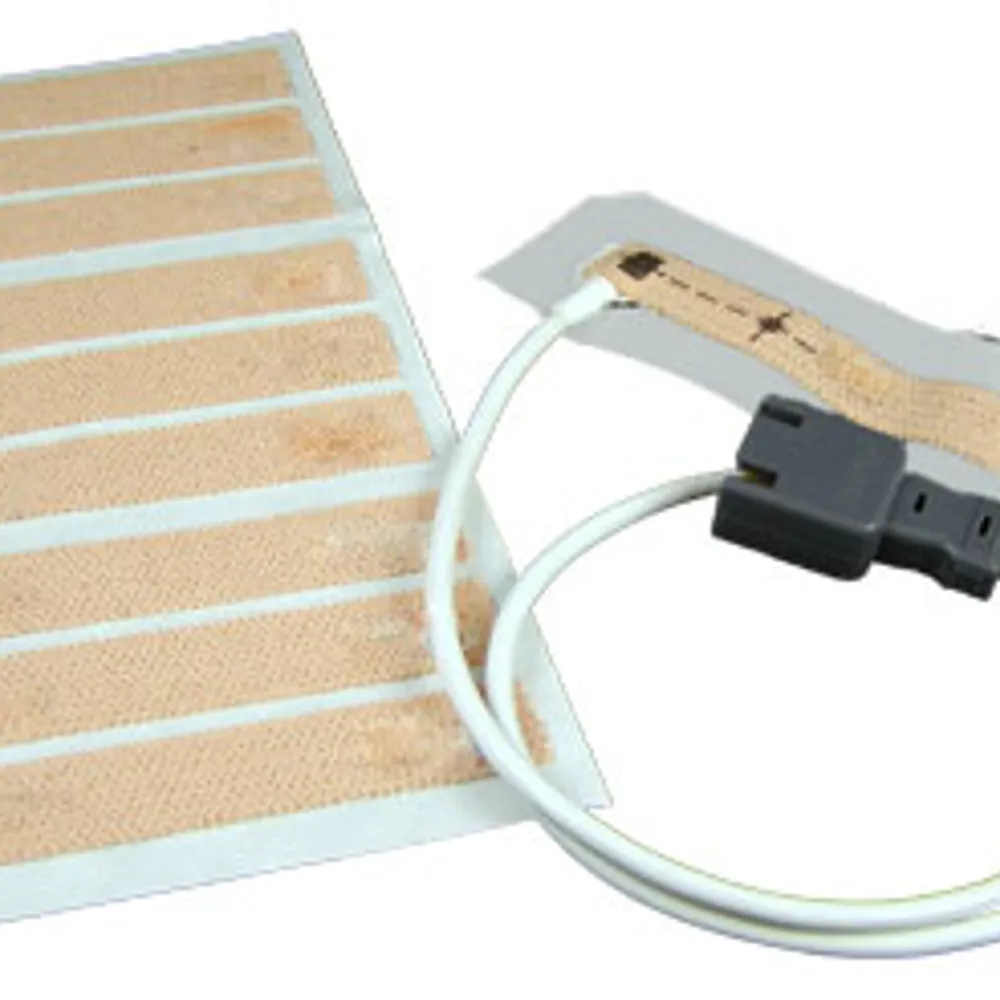 Medical-Grade Adhesives
for Custom Die Cutting
JBC Technologies has the quality systems, the equipment, and the technical know-how to manage the complex part geometries, tight tolerances, and multi-layered constructions needed for medical device die cutting. We're proudly ISO 9001:2015 certified with vertically-integrated converting capabilities that include high-speed, high-precision, rotary die-cutting, multi-layer laminating, slitting, and automated assembly.
What Are Medical-Grade Tapes?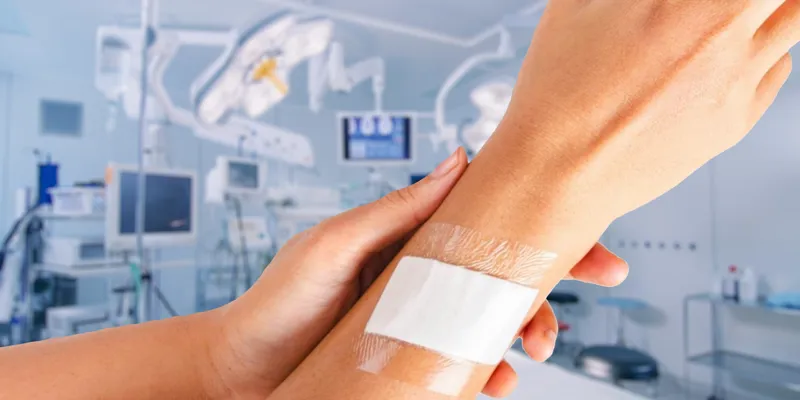 Medical-grade tapes are a pressure-sensitive adhesive (PSA) used widely throughout all areas of the medical industry. They are an integral part of medical component assembly, on-body medical devices, device attachment, surgical dressing, wound care, and more.
Adhesives classified as "medical-grade" have undergone biocompatibility testing to ensure that they are safe for humans. Medical-grade PSAs are triggered by pressure and don't require solvent, water, or heat to activate the adhesive.
What are the Different Types of Medical Adhesives?
There are several types of medical-grade PSAs on the market, each with their own advantages and disadvantages. The three most common pressure-sensitive adhesives for medical applications are:
Synthetic Rubber Adhesives
Strong material with good initial tack
Shows high peel adhesion
Low breathability; not advisable for long-term stick-to-skin applications
Acrylate Adhesives
Can be designed with high or low tack
Low to high peel adhesion
Breathable and more suitable for stick-to-skin applications
Silicone Adhesives
Performs well on low surface energy substrates
Significantly lower peel adhesion
Medium breathability; ideal for use on fragile skin and for repositioning medical devices
Learn more about medical tapes and how to select the right one for on-body wearable medical devices and stick-to-skin applications.
How Do I Choose the Best Medical Tape for My Application?
The less time you spend worrying about whether you've selected the right medical-grade tape for your application, the more time you can spend focusing on growth and profitability. That's why we've partnered with 3M, Berry Global, DermaMed, and other industry leading medical tape manufacturers so that we can put our collective know-how to work for you during your next die-cutting project.
As with their industrial and automotive counterparts, medical-grade tapes can be categorized in multiple ways, including:
Adhesive Type (medical-grade rubber, acrylate, silicone, electrically conductive, etc.)
Carrier Type (foam, paper, film, non-woven, polyester, polyurethane, acrylic, etc.)
Construction (double-sided with or without differential adhesive, single-sided, transfer tape, etc.)
Your specific application will determine which type of tape you need.
For a deeper dive into how to select a medical-grade adhesive, read Selecting the Right Medical Adhesive Tape, published by 3M, or click on either of the two product selection tools below.
What is Medical Tape Used For?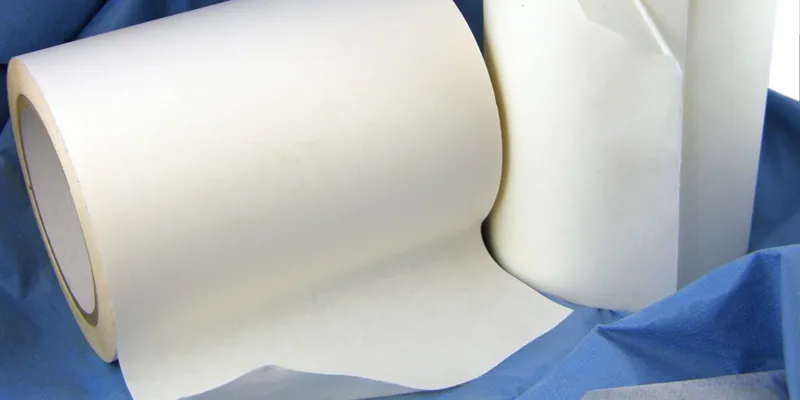 There are many uses for die-cut tapes and adhesives in the medical field. Some common applications of medical adhesive tape include:
Long-term wearables for remote health monitoring
Electrode assembly and attachment
Border dressing for transdermal drug delivery patches
Medical device mounting
Sensor components and on-body patient monitoring
Mounting and laminating electronic components
Medical device assembly and components
Electrodes: ECG, EKG, TENS devices
AED defibrillator pads
Pulse oximetry devices
Surgical dressings and incise tapes
Fashion and beauty tapes
Beauty patches
JBC Technologies: Precision Die-Cutting & So Much More
You need a die-cut medical-grade adhesive tape for your next custom die-cut part application and that's just one of a thousand things on your plate. Going from concept to cut shouldn't be drain on your resources or your patience. At JBC, our dedicated in-house team members will work directly with you throughout the entire manufacturing process - from material selection to finished part - using our growing list of state-of-the-art converting equipment and decades of experience. +
Need more assistance at that fuzzy front end of the product development cycle? We're here to help flesh out your idea through product design guidance, quick-run prototyping and small-batch trial runs.
What sets JBC apart from the crowd? We never stop looking for ways to do things better. 
Whether that's through better materials selection, better part design, better part presentation, better assembly options, or better manufacturing processes, we're here to help you simplify your assembly process, increase value, and satisfy your end customer. Our capabilities:
Tight tolerance, high-speed rotary die-cutting
Flatbed/ large part die-cutting
Multi-layer laminating
Kiss cutting
Gapping
Island placement
Pull tabs
Ultrasonic welding
Slitting
Embossing
Microperforating/Embossing
Here are just a few of the many material partners we work with:
We also work with customer supplied material. If you have material that you need converted, please reach out to your sales representative or contact us for additional information.
Contact Us Today for
Custom Die-Cut Medical-Grade Adhesive Tapes
for Health, Beauty & Medical
When you work with JBC, you gain access to a medical die cutter and medical tape converter that emphasizes quality, service, and innovation. Our engineering focus allows us to measure and control quality, work toward zero defects, and uncover ways to add value to both your applications and manufacturing process. Get in touch with us today to learn more about die cut medical grade adhesives and tapes.
Contact JBC Technologies Today!
Learn More About
Medical-Grade Tapes & Adhesives
The Difference Between
Short and Long-Term Wear Adhesives
Some medical and health and beauty applications require short-term wear adhesives. Other applications require long-term adhesion to a patient's skin.
This post examines what design engineers need to consider when selecting carriers and adhesives for on-body applications
How to Choose
A Medical Grade Pressure Sensitive Adhesive
Identifying the right medical grade adhesive for skin contact applications is different from choosing an industrial pressure sensitive adhesive (PSA). 
This post examines some factors to consider when selecting a skin contact adhesive for your wearable medical device or health and beauty product.
Factors to Consider
Multi-Layer Medical Laminations
Stick-to-skin adhesive patches can be used in at-home settings as well as in a hospital or physician's office. But while they are easy to use from an end-user standpoint, they are not always simple to design and fabricate. Many "patches" are actually complex multi-layer material laminations. 
This post examines 8 key things to consider when designing a multi-layered stick-to-skin product.
Medical Die-Cutting
Pattern-Coated Adhesives for Long-Term Wear
When attachments, devices, or medical-grade tapes are worn on the skin for extended periods of time, moisture can become entrapped in the covered area, prevent healing and even damage the skin.
This article examines which carriers offer higher Moisture Vapor Transmission Rate levels for long-term wear stick-to-skin applications and how pattern-coated adhesives can benefit MVTR.
Learn More About This
14-Day Long Term Wear Adhesive
Learn about Polyken 3621A, a polyurethane non-woven long-term wear stick-to-skin adhesive. 
Among other things it has a unique ability to achieve bi-directional stretch and can achieve 14-day wear on skin. 
Choosing a Medical Adhesive
Q&A With Berry Global
Selecting the best tape or application adhesive for a die-cut medical or health and beauty part depends on the application itself, as well as factors like wear duration, construction, where a device attaches to the patient, and more. 
This post highlights some Berry Global Adhesives and their applications for on-body, medical device attachment, and surgical dressing products.