By Kate Gluck on
8/23/2021
Short- vs. Long-term Wear Stick-to-Skin Adhesives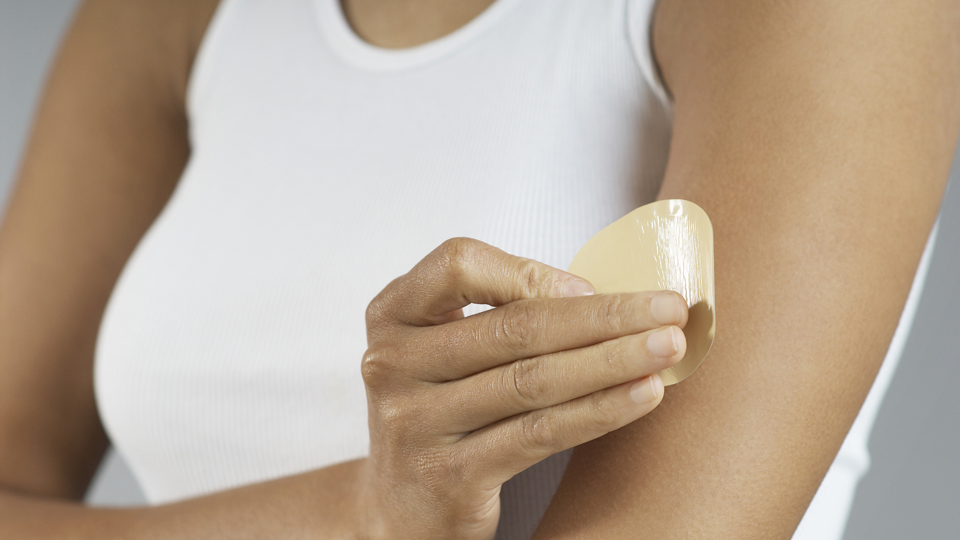 When selecting a pressure-sensitive adhesive for stick-to-skin applications, product designers seek to balance adhesion with breathability, conformability, and removability. Some applications require short-term wear adhesives that can stay bonded to the body for a few minutes up to a few days. Other applications require long-term adhesion to a patient's skin—securing a device or patch to the body for up to 21 days.  
This post highlights some different applications for short- and long-term wear adhesives and (more importantly) examines what design engineers need to consider when selecting carriers and adhesives for on-body applications
Coat Weight and Peel Adhesion
Two key factors to consider when selecting an adhesive for a stick-to-skin application are coat weight and peel adhesion.
Coat weight can influence how "sticky" an adhesive or tape is. In some instances, a heavier adhesive coat weight could be used to increase the wear duration.
Peel adhesion values are a good indicator of how easily a tape peels away from the skin. A higher peel adhesion to stainless steel or HDPE could mean a more aggressive bond and greater potential to damage delicate skin.
Short-Term Wear Adhesives
As a general rule, short-term wear applications are those in which the adhesive must stay attached to the skin for a few minutes up to several (2-4) days. A good example would be an ECG electrode that needs to stay secured to a patient's chest for two to five hours during a nuclear stress test. For this application, the tape keeps the monitor attached to the skin and is designed to be easily removed once testing is complete.
Other example applications for short term wear adhesives include:
Transdermal patches for aromatherapy, CBD, and extended-release pharmaceuticals
Single-use disposable devices
External defibrillators
First aid bandages
Stick-to-skin applications in neonatal and geriatric care
As with industrial tapes, medical tapes consist of some combination of a carrier and an adhesive.  Typically, a polyurethane, PET nonwoven, polyurethane nonwoven, or PE foam will act as a carrier for short-term wear applications.
On the adhesive side, there are several things to take into consideration including:
Acrylic and latex-free synthetic rubber-based pressure-sensitive adhesives (PSA's) with a lower coat weight and adhesion value often lend themselves well to short-term wear applications.
Gentle acrylics, similar to silicone gels, or silicone PSAs, start out with low adhesion values and can build strength over time. These are ideal for medical devices that may require repositionability or lower trauma when removed. These materials can be used in remote patient monitoring devices, first aid applications, and wound care products.
Long-Term Wear Adhesives
Some devices need to stay comfortably attached to the skin for more than five days. These long-term wear applications require medical-grade pressure-sensitive adhesives that offer higher adhesion to the skin over time. For example, a continuous glucose monitor must stay securely attached to a patient for days at a time, whether they are running, bathing, or sleeping.
Other example applications include:
Cardiac event monitors
Transdermal drug delivery systems
Wound care device attachment
When deciding which stick-to-skin adhesive tape to use on a long-term wear application, it is important to consider the desired wear time, the material stack, and the device weight and design, as well as the placement on the body. 
Knowing more about the application and its intended use helps us determine which materials should be considered for the application. For instance, some long-term wear applications only require one adhesive tape layer and need a carrier that can be heat or ultrasonically welded to. This limits the carrier options. Other wearable device applications use multiple adhesive tape layers to sandwich components together and stick to the skin. This type of application may utilize several adhesive tape products including a PET nonwoven tape layer, a transfer or double-coated tape layer, as well as an overlay layer that could be another PET nonwoven layer or a polyurethane nonwoven or foam.
Here are some additional things to take into consideration when selecting long-term wear adhesives:
Silicone, acrylic, or hybrid PSAs can offer low to high adhesion values and can range in adhesive coat weights based on the application requirements to stay securely attached to a patients' skin for long-term wear applications.
Depending on the application and adhesive properties, a heavier adhesive coat weight may be necessary to extend the wear time of a device. A heavier coat weight of adhesive can increase the overall adhesion to the skin but may not be the best answer for applications focused on low trauma or delicate skin.
Pattern coated tapes also offer a hybrid option for short- or long-term wear applications. They are often used in IV dressings, wound care, and lower trauma applications.
Partner with JBC Technologies for Your Medical Adhesive Converting Needs
At JBC Technologies, we use our industry experience, technical know-how, and state-of-the-art converting equipment to elevate the standard for converted flexible materials and die-cut components. We do more than just transform rolls of materials into finished parts. We help our customers solve a variety of unique challenges —from reducing buzz, squeak and rattle in automotive applications, to helping medical device designers increase the wear time on their remote patient monitoring devices.
We work with customers from early-stage design through high-volume production, providing value-added value engineering solutions throughout the project lifecycle. Contact us today to learn how we can help you improve quality, reduce costs, and increase efficiency.
Download our whitepaper today! Long-Term Wearable Medical Devices: How to Avoid Getting Stuck When Selecting Skin-Contact Adhesives.