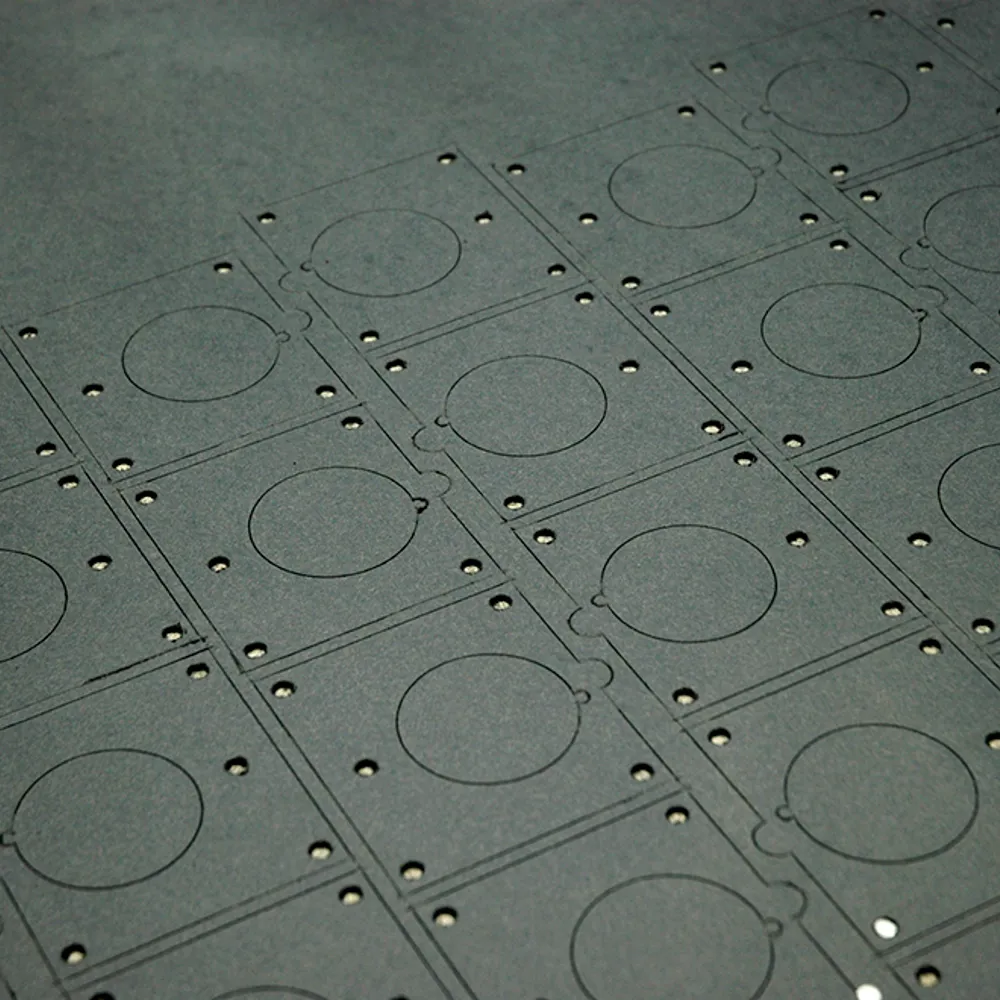 Need to create a foil, film, or paper thermal or electric barrier? Or absorb, reflect, or dissipate heat? JBC Technologies can help. We have extensive experience sourcing, die cutting, and converting many electrical insulation materials with varying mechanical and physical properties, including foils, dielectric papers and films, and flame-resistant papers such as Nomex®.
Often used for thermal and electrical shielding applications, die cut foils can be embossed, micro-perforated, laminated to a pressure sensitive adhesive, a heat-activated film, or a combination of all the above. Aluminum in particular is widely used in automotive and appliance heat shielding applications as it is a low-cost solution that can significantly lower surface temperatures due to radiant heat.
Fishpaper is one of the earliest used electrical insulators. It is a vulcanized cellulose fiber material with good mechanical properties and wear resistance that is both durable and flexible. In the late '60s, Dupont introduced Nomex®, an aramid fiber paper. Since its introduction, Nomex has become the standard for dielectric paper. All dielectric papers are hygroscopic. As paper absorbs moisture it will change in both dimensional and physical property characteristics. Dupont has extensively tested and reported on the effects of moisture on Nomex. Learn more about Nomex here.
Dielectric films are an alternative to papers. Almost any non-conductive plastic film can be used as an electrical insulator. A very well-known film is Dupont Mylar®. Although much less susceptible to moisture than fiber insulators, properties are slightly affected under extreme humidity changes. For extreme temperature applications, Dupont Kapton® is a polyamide film with excellent properties that can perform over a very wide temperature range, but that performance comes at a high cost. One of the lower cost, high performance films is ITW Formex®. This polypropylene film is non-hygroscopic with extremely good dielectric strength and is UL94-V0 rated for non-flammability.         
Partner with a Cutting-Edge
Flexible Materials Converter
For more than 30 years, JBC Technologies has die cut electrical insulation materials. Our extensive manufacturing capability combined with extensive product design knowledge ensures an unbiased and collaborative approach, yielding the best, most cost-effective solution for our customers.
Submit Your Project