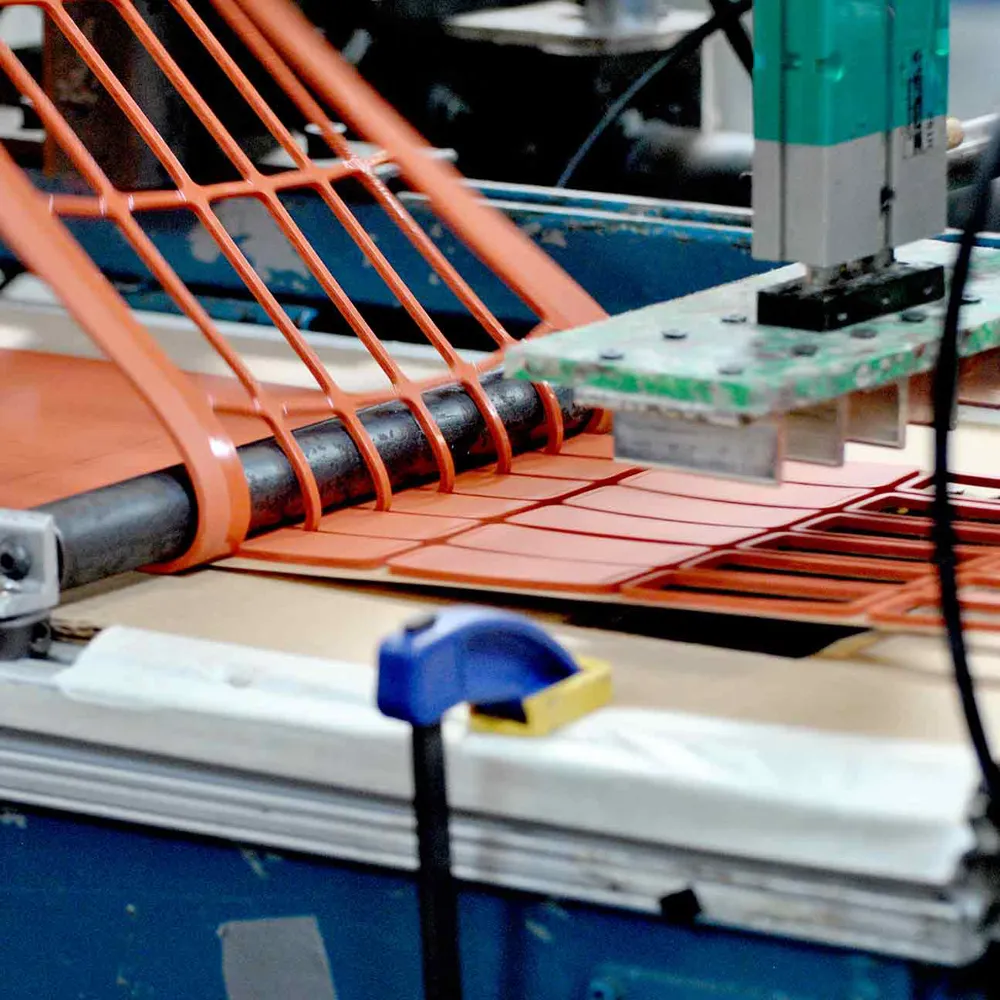 JBC Technologies has more than 30 years of experience sourcing, converting, and delivering custom-engineered die cut foam and sponge rubber parts. Available in many different thicknesses, densities, and chemical compositions, die cut foams and sponge rubbers are used in many automotive and industrial applications – from gasketing, cushioning, and sealing to vibration damping, sound absorption, and more.
Not only will we help you identify the best foam or sponge rubber material for your die cut application, we can also help you identify the right pressure sensitive adhesive and release liner, source the materials, and surface treat, laminate, slit, and construct the composite material in house to any of the foams we cut.
JBC laminates, slits, and die cuts many automotive grade foams for use in applications that range from foam trim to automotive insulation, sound absorption, cushioning, and high-grade vibration damping. Each product group offers distinct advantages. Let our experienced technical experts and engineers help you identify the best foam for your application. Some of the automotive grade foams we work with include Armacell's Ensolite®, Monarch®, and OleTex®, Nitto Denko's EPT-SEALER®, Legetolex™, and SCF®, and INOAC's Sealflex™, and CALMFLEX®.   
JBC has extensive experience sourcing, slitting, laminating, and die cutting high temperature foams such as Silicone, Fluorosilicone, Fluorocarbon, and ECH (Epichlorohydrin), for leading manufacturers across industries.
Chemical, flame, UV, and water resistant, closed cell foams have strong shock absorption properties and are ideal for applications that require a strong, leak-resistant moisture barrier. Compositions include Neoprene (CR), EPDM, SBR, Vinyl Nitrile, PVC, and XLPE.
Extremely soft and highly conformable, crushed EPDM/EPT foams are very common in automotive applications. They are very effective at sealing out water and dust in doors and windows and are a great option for applications that demand parts with resistance to weather conditions and corrosive environments.
Lightweight and flexible, open cell foams are good for good for mitigating NVH & BSR, sound-proofing, protective packaging, and applications where air and moisture permeability is needed. Compositions include Polyether (Ether), Polyester (Ester,) Reticulated, and Silicone.
Here are just a few of the many material partners we work with:
We also work with customer supplied material. If you have material that you need converted, please reach out to your sales representative or contact us for additional information.
JBC: A Premier Die Cutter of Foams
Sponge Rubber & Elastomers
The breadth of foam and elastomeric materials available today is large and growing. That's why it's helpful to work with a die cutting partner like JBC that has an extensive sourcing network, years of materials expertise, and the know-how to help guide you towards the best solution for your application. With hundreds of years of combined experience, we can help you choose the right material for the right application at the right cost.
Submit Your Project