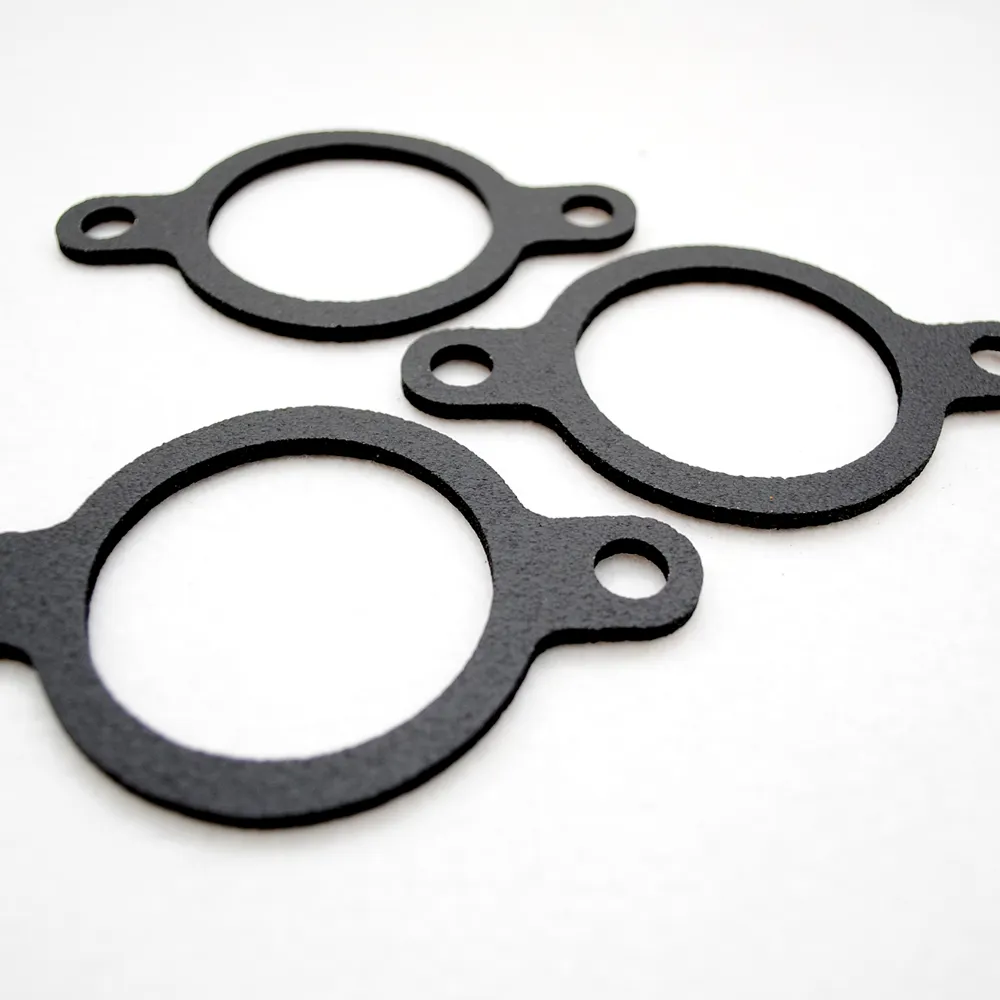 At JBC, our goal is to offer a gasket solution that provides the best form, fit, and function to achieve its intended end use. Often, design constraints dictate the need for specific material properties. Other times, a wide spectrum of choices are available to achieve success. The materials listed on this page represent a sampling of the gasket materials we die cut at JBC.
Don't see what you are looking for? Contact our technical support team today.
~ Temperature Range: up to 430°F continuous.
Cork rubber is a hybrid family of materials fabricated of cork and rubbers such as silicone, nitrile, or neoprene. It is compressible, flexible, has excellent anti-vibration characteristics, and demonstrates good oil, solvent, and fuel resistance.
Ethylene Propylene Diene Monomer
EPDM Gaskets
Typically a less expensive option to silicone, EPDM gaskets can also be made of solid or sponge materials and are available in a number of densities with varying degrees of hardness. They offer strong resistance to UV rays, oxygen, ozone, aging, water, and weather. The main disadvantage of EPDM is its poor resistance to petroleum products and other chemicals.
~Temperature range: -60°F to 300°F.
ECH (Epichlorohydrin)
Sponge Rubber Gaskets
Closed cell ECH gaskets provide strong resistance to weather, ozone, sunlight, and oxidation. They are also chemical resistant. As a result, they are used in many automotive and industrial applications that demonstrate a need for resistance to alcohols, oils, and other solvents.
~Temperature range: -65°F to 350+°F
Fish / Fische Paper / Vulcanized
Fibre Gaskets
Fish/Fische paper is a lightweight, electrical grade vulcanized fibre that is resistant to oils, grease corrosion, and solvents. It demonstrates strong dielectric properties and good mechanical strength.
~Temperature range: up to 239°F.
Flexible
Graphite Gaskets
Flexible graphite gaskets provide strong thermal resistivity, high compressibility, excellent resiliency, long life, and corrosion resistance. They dissipate heat evenly and rapidly across printed circuit boards (PCBs). Die cut graphite sheet materials are flexible and can be produced without fillers or binders.
~Temperature range: (Oxidizing Atmosphere): -400°F to +950°F
Natural rubber is both water and abrasion resistant and possesses strong fatigue resistance as well as high tensile and tear strength and good recovery properties. It is often used for anti-vibration gasketing applications.
~Temperature range: -20°F - 140°F
Neoprene is a synthetic rubber that demonstrates strong tear strength and compression set as well as resistance to UV and ozone damage. It is waterproof, corrosion, and flame resistant and, unlike EPDM, provides good resistance to petroleum-based products. Neoprene gaskets can be made of solid or sponge materials.
~Temperature range: -40°F to 250°F.
Also known as Buna-N, nitrile is an excellent gasket material for applications that require oil resistance.
~Temperature range: -40°F to +200°F.
PVC can be either flexible, semi-rigid, or rigid. It is available in multiple densities. Benefits include strong UV resistance, shock absorption, cushioning, and sound deadening.
~Temperature range: 20°F to 160°F
Styrene-butadiene rubber (SBR) a low-cost alternative to natural rubber gasket material. It is more resistant to abrasion and wear than natural rubber. It is also available in cloth inserted varieties.
~Temperature range: -50°F to 225°F.
Available in solid or sponge/foam compositions, silicone demonstrates outstanding properties at both high and low temperatures, as well as strong electrical insulating properties, and withstands UV, ozone and oxidation. It is also weather resistant, flexible, and shrink proof.
~Temperature range: -67°F to +500°F.
Urethanes come in a variety of different blends and formulations, with varying performance properties. General benefits include elasticity, tensile strength, weather resistance, and abrasion resistance.
~Temperature range: -22°F to 230°F.
Vegetable fiber gaskets are strong, compressible, exhibit a high tensile strength and are resistant to water, oils, grease, gasoline and other solvents.
~Temperature range: up to 250°F.
A high-performance fluoroelastomer, Viton™ is well known for its strong chemical, ozone, oxygen and temperature resistance. Viton gaskets are compressible, lightweight, and provide good thermal insulation.
~Temperature range: Up to 400°F continuous service.
Here are just a few of the many material partners we work with:
We also work with customer supplied material. If you have material that you need converted, please reach out to your sales representative or contact us for additional information.
JBC Technologies: A Broad Range of Materials.
Superior Custom Die Cut Gaskets and Seals
For more than 30 years, JBC has offered design and material recommendations to assist customers in making the best choice for their particular die cut application. Whether you need a gasket rated to 2,000 or 20 degrees, rigid or highly compressible, oil or ozone resistant, our combination of extensive expertise and large team of High Performance Gasket Material suppliers makes us confident that the right solution is available for your gasketing needs.
Contact Us