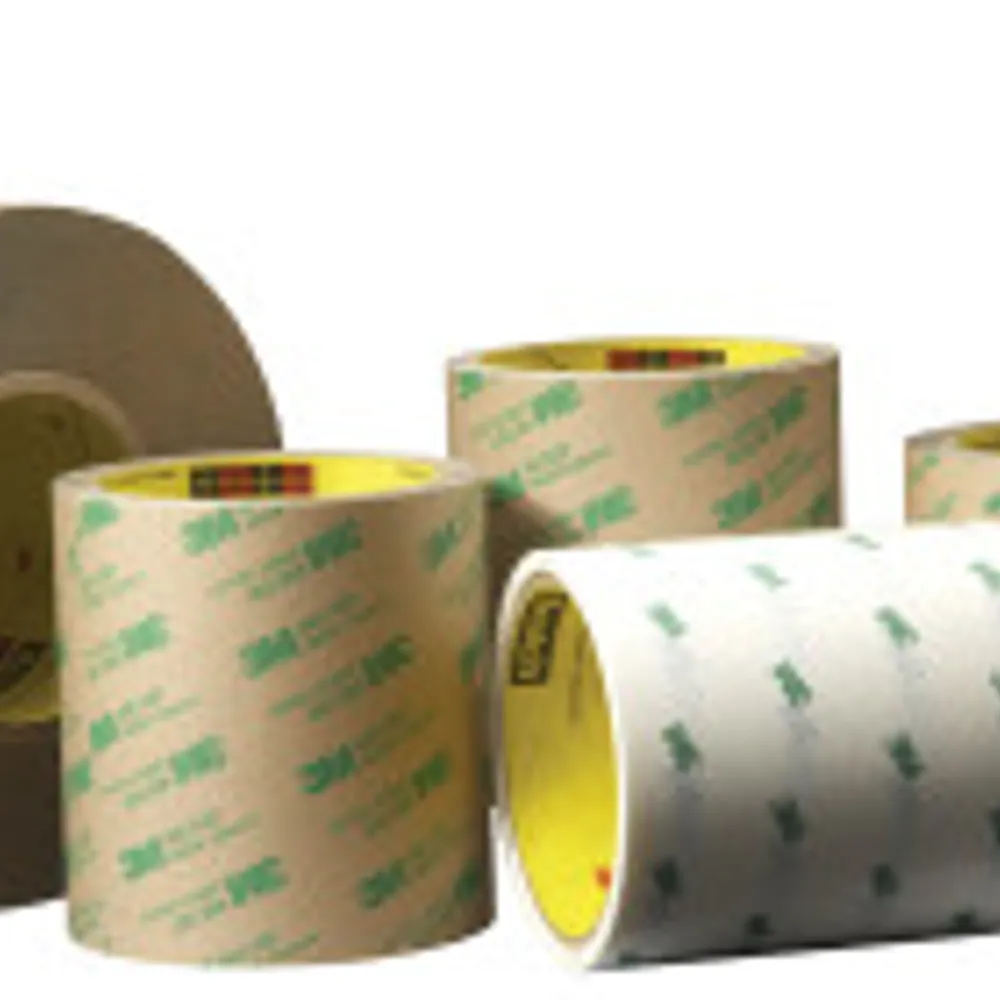 Pressure-Sensitive Adhesives
3M™Thin Bonding Tapes
for Custom Die-Cutting
Sometimes, it's what you don't see that can make all the difference, and depending on what you're trying to achieve with your die-cut double-coated, or transfer tapes, you may require a near-invisible bond line.  This is often the case with handheld electronics, digital displays, and membrane switches — all good applications for die-cut 3M™ thin bonding tapes precision die-cut, of course, by JBC Technologies.  As a 3M™ Preferred Converter with extensive platen and rotary die-cutting capabilities, JBC Technologies can cut your thin bonding tapes to the exact geometry you need, simplifying your assembly process and giving you production flexibility. 
Just How Thin are "Thin Bonding Tapes"?
Thin bonding is a category of acrylic tapes and adhesives made by 3M that have a thickness of 10 mil (0.254mm) or less.  Because the tapes are so thin, they are often used in finished products where a lower overall profile is desired. 3M's thin bonding tapes are highly conformable making them ideal for use on complex surface geometries.
The 100MP series is available in 2, 5, and 10 mil (0.051, 0.127, and 0.254mm) thicknesses. 
The 200MP series has adhesive transfer tapes and double-liner transfer tapes that range in thickness from 2 mil to 5mil (0.051mm to 0.127mm) and double-coated tapes with PET carriers that range from 5.9mil to 9 mil (0.149 mm to 0.229mm). 
The 300MP series has double-coated tapes that range in thickness from 4.8 mil to 5.5 mil (0.122mm to 0.140mm),  and adhesive transfer tapes that range from 2 mil to 5 mil (0.051mm to 0.127mm).
Precision Die-Cut 3M™ Thin Bonding Adhesive Tapes - Applications
3M™ thin bonding tapes can be die-cut into just about any shape imaginable and they are ideal for design applications that require a slim profile and/or a nearly invisible bond line.  Think about it, the last thing you want to show on your awesome product design is the adhesive tape, right? And because they're extremely durable and able to withstand some of the harshest environments that mother nature can put them through, they're also quite versatile.  Here are just a few places you can find die-cut parts made with thin bonding tapes:
Assembling membrane switches
Attaching LED signs to metal
Attaching decorative trim
Attaching air conditioning vent bags and occupant airbag sensors to seat foam
Bonding decals to motorbike mufflers
Bonding polyimide to aluminum in starter switches and more
Bonding polycarbonate to metal; metal to metal, and aluminum to metal
Bonding plastic to powder-coated metal
Bonding wood laminate to plastic 
Thin Bonding Adhesive Tapes - Options
Here is a quick synopsis of the 3M line of thin bonding tapes.
Extreme Environments: 3M™ 100MP – Designed to perform in operating temperatures up to 300°F (149°C) with short-term temperature tolerance up to 500°F (260°C), this durable acrylic adhesive is also resistant to chemicals, UV, and solvents and provides a high-strength adhesive with a thin profile.   Very firm adhesive with excellent shear that lends itself to die-cutting. Initially repositionable.
For Switch Actuators: 3M™ 200MP – The 200MP series features high shear strength, clean, tight edges, strong resistance to chemicals, slippage, channeling and buckling, and a temporary repositionable adhesive. Example applications include membrane switches for appliances, medical devices, general industrial, and fitness products.  Up to 400°F (204°C) short term temperature tolerance. A very firm adhesive that lends itself to die-cutting. Repositionable. Thrives in high-temperature applications.
Hard-to-Bond Textures: 3M™ Acrylic Adhesive 300MP. This versatile high-performance adhesive brings high initial tack and is a good choice for hard-to-bond textures and substrates such as microcellular urethane foam, textiles, and fabrics. This is a softer adhesive and will flow well.
Hard to Bond Surfaces: With high initial tack and high shear strength, 3M™ High-Strength Acrylic Adhesive 300LSE is a strong choice for bonding low surface energy (LSE) substrates and lightly oiled surfaces. It offers resistance to humidity, UV, drop shock, and short-term temperature fluctuations up to 300°F (149°C). This is a softer adhesive and will flow well.
Refer to this helpful 3M chart for more information that will help you select the right thin bonding tape for your next application.
Not sure which thin bonding solution is right for your product?   Check out this handy thin bond tape product selector tool. 

Partner
with JBC Technologies
a 3M™ Preferred Converter
For over three decades now, JBC Technologies has specialized in the die-cutting of thin, flexible materials like, well, like the thin bonding tapes and double-sided adhesive foams you've just read about here. And because we partner with and not just buy from world-class manufacturers like 3M, our materials know-how and product design expertise is second to none.
Make our team your team by contacting us today to discuss your next project.
Contact JBC Technologies Today!