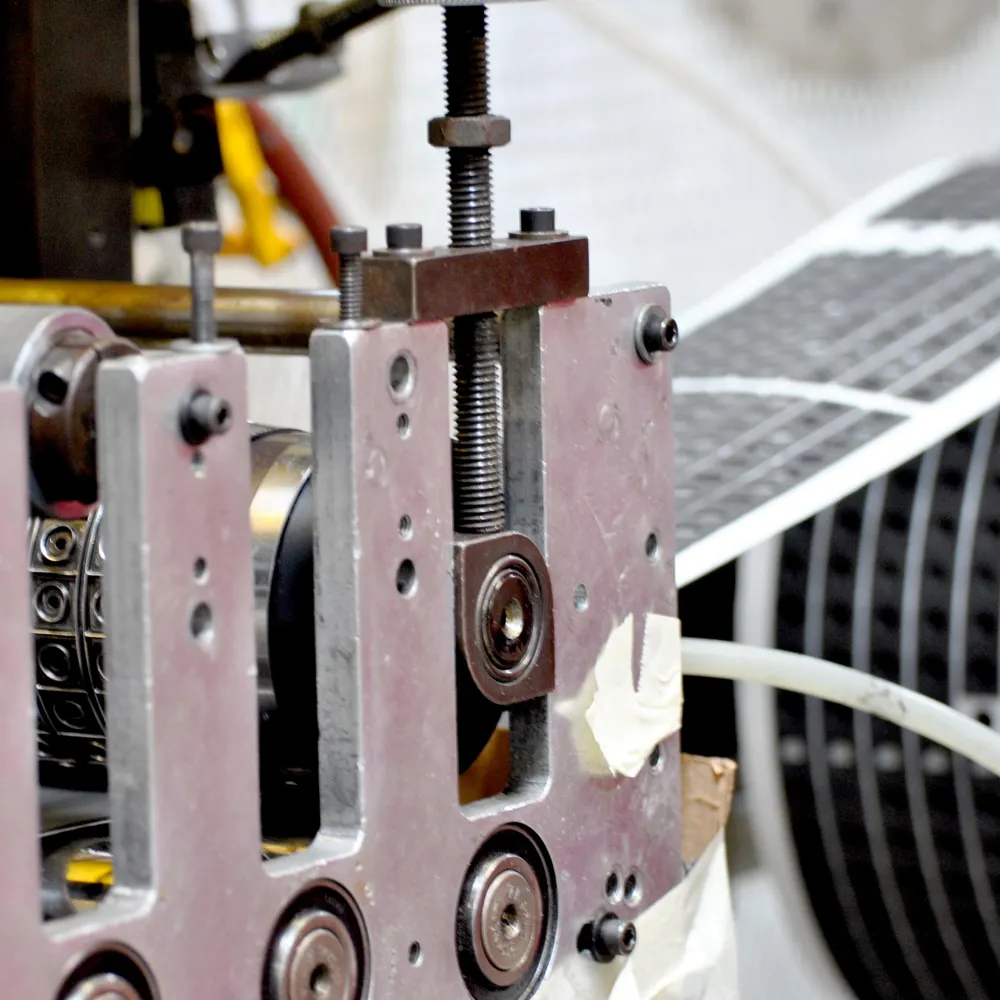 Rotary Die-Cutting
at JBC Technologies
Welcome to the JBC Technologies Rotary Die-Cutting page. This is where you can learn more about our precision rotary die-cutting capabilities and what makes this specialized industrial cutting process so unique.
Check out our general die-cutting capabilities if that's more your thing, but if you want to find out if rotary die-cutting might be a good fit for your next custom die-cutting project, you're in the right place.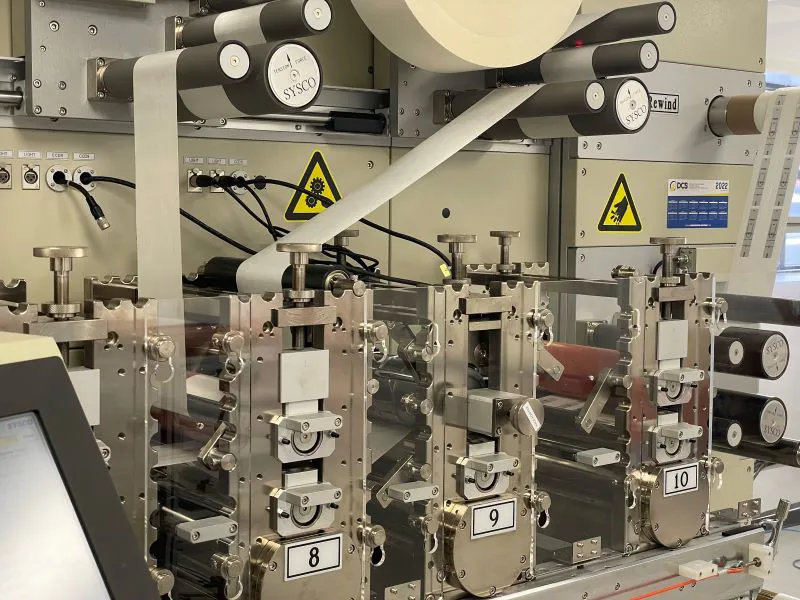 What is Rotary Die-Cutting?
Rotary die-cutting is an industrial manufacturing process that uses a cylindrical cutting head called a die and a specialized piece of equipment called a rotary die-cutting  press to cut large volumes of identically-shaped parts from rolls of thin, flexible materials.
A roll of material – often referred to as the "web" – is fed through the rotary die-cutting press through multiple stations that can perform various material converting activities like laminating, perforating, slitting, sheeting, utrasonic welding, printing and, of course, die-cutting.
Some specialty rotary die-cutting machines, like the 10-station precision Dorey Converting Systems press in use at JBC's medical-grade cleanroom facility, use in-line inspection and infrared light to align cuts and improve overall manufacturing tolerances and feature multiple stations that enable the in-line lamination of different materials.
Rotary Die-Cutting Features & Benefits
Rotary die-cutting has many benefits, including the ability to kiss-cut parts to an adhesive tape liner, island place one layer of material on another, gap parts, and hold extremely tight tolerances.
Other significant benefits include reduced material waste and high speed, high volume capacity. 
JBC's Precision Rotary Die-Cutting Presses Feature
The ability to rotary cut parts up to 24" wide

Inline laminating, slitting, and sheeting

4-10 stations enabling multi-material laminations

Computer-aided Vision Systems 

Inline Ultrasonic Welding
Rotary Die-Cutting - Material Considerations
Rotary die-cutting can convert a wide variety of thin, flexible materials with one significant caveat – the materials need to be in a roll.
One caveat: using a rotary die-cutting press eliminates the use of materials that typically come in sheets or cannot be converted readily into a roll.
Rotary die-cutting presses perform best with materials up to 1/8" thick but can be used to process thicker materials under special circumstances. Generally, thicker materials are best cut using one of our flatbed die-cutting presses.
As long as it's thin enough and in a roll, rotary die-cutting is pretty flexible materials-wise: fabrics, foams, silicone rubber, metal foils, plastic sheeting, adhesive tapes, even multi-layer laminates (e.g., foam with PSA on the back).
The choice of material being cut on the rotary die-cutting press will also influence the type - and typically the cost - of the cutting die needed for optimal performance.
Material properties like compression set and density can significantly impact the rotary die-cutting press' ability to perform correctly, and multi-layered and abrasive materials may also require special engineering consideration.
Pros & Cons of
Rotary Die-Cutting
Precision Material Converting
Rotary die-cutting is a very popular form of high-speed, precision manufacturing. The rotary die-cutting press feeds thin, flexible material, also known as a web, between two rotating cylinders - a cylindrical die imprinted with the shape of the part and a cylindrical metal cutting surface called the anvil.
The die's cutting edge pinches the material against the anvil producing cleanly-cut parts, slits, or perforations.
While rotary die-cutting is an exceptionally advanced and high-performance die-cutting method, it's not a one-size-fits-all application. Here are just a few of the pros and cons of rotary die-cutting vs. traditional, flatbed, or platen press die-cutting: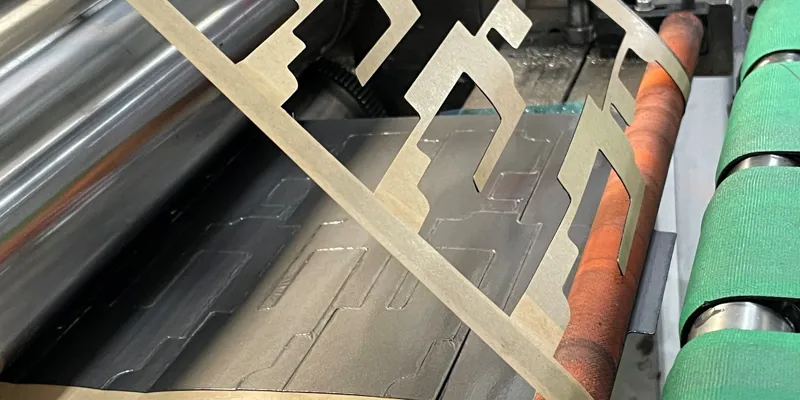 PRO
Efficiency
Rotary Die-Cutting
Compared to the stop-start stamping method of a flatbed die-cutting press or the near-constant adjustments needed on a laser cutter, rotary die-cutting is a much more efficient die-cutting operation.
Think high volume, fast production, continuous operation.
Some rotary die-cutting presses can also perform multiple fabrication operations in-line (lamination, printing, slitting, perforating, matrix stripping, etc.), further contributing to their rapid turnaround time reputations.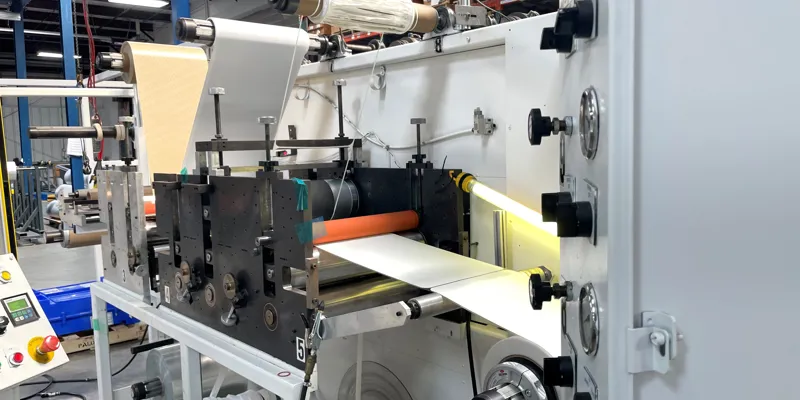 CON
Materials
Rotary Die-Cutting
Materials may be the most significant limitation when using a rotary die-cutting press. Not only does the material need to be furnished on a roll, but it should also ideally be less than 1/8" thick.
Making things a bit more complicated, rotary die-cutting presses have a maximum slit (web) width for the material they can handle.
This need for thin, slit-down, rolled materials often eliminates specialty materials that may come only in sheets or the production of parts made of thick foams or stiff, multi-layer laminations.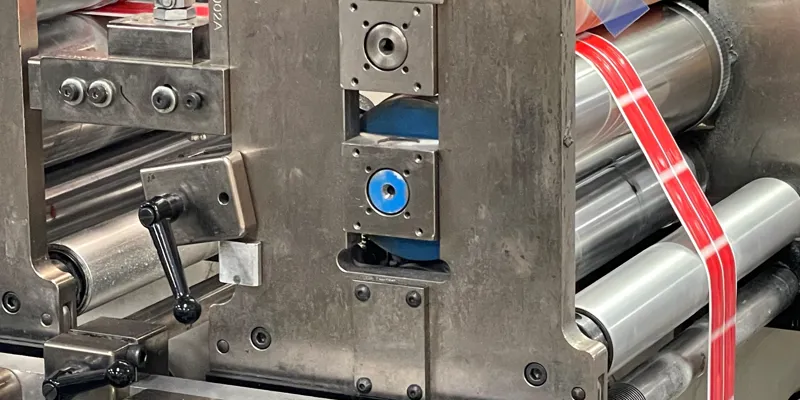 PRO
Precision
Rotary Die-Cutting
Rotary die-cutting is an exceptional choice for parts that have a complicated design, multiple internal cutouts or that simply require a high level of precision and accuracy in their dimensions.
Since the part design is permanently engraved into the cylindrical rotary die and the rotary press is generally a finely-tuned, relatively invariable machine, parts can be turned out in high volume and with high repeatability.
The rotary die-cutting process's inherent precision also helps reduce material waste since parts can be more tightly spaced while they are being cut.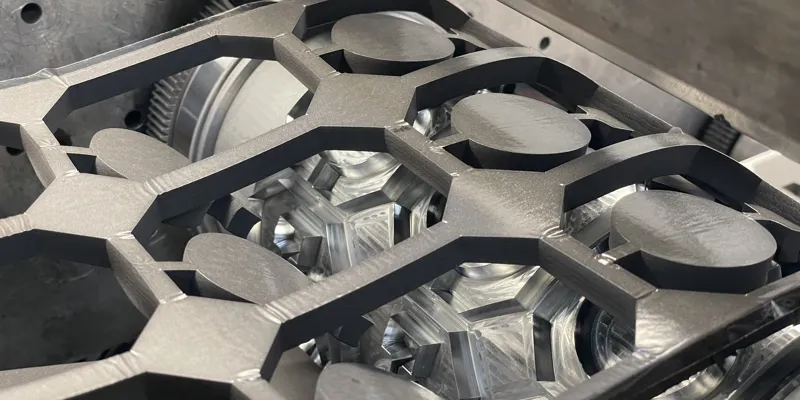 CON
Cost
Rotary Die-Cutting
Generally, the up-front production costs associated with rotary die-cutting are much higher than those for platen press die-cutting and it's nearly all because of the costs of the cylindrical die itself.
The rotary die costs are further exacerbated should the part require multiple cutting stations with each having associated die costs.
But it's not all bad - The use of a rotary die-cutting press can still be the most cost-effective choice depending upon variables like your expected production volumes, turnaround times and material cost.
Questions to Ask Your Materials Converter
Is Rotary Die-Cutting Right for Me?
How can you tell if Rotary Die-Cutting is right for your next project?
The next time you're having a project discussion with your materials converter (hopefully that's us) here are a few questions to help them decide if rotary die-cutting might be a good fit for the production of your die-cut parts:
Does your part require thin (<1/8") material(s)?
Are the materials your part needs available in rolls?
Do you need parts kiss-cut on rolls?
Do your parts have a low tolerance and/or require precision die-cutting?
Does your part have an intricate design?
Are your parts relatively small (≤12" for the longest dimension)?
Do you require multiple processes to make your part (laminating/printing/slitting/cutting)?
Is your expected production volume large?
Precision Converting
JBC Technologies for Rotary Die-Cutting
Production Capabilities
JBC Technologies is a leading materials converter and custom solutions manufacturer. We have over 30 years of experience with performance materials selection and custom die-cutting and our precision rotary die-cutting expertise is unparalleled. JBC has dozens of rotary die-cutting presses including a new in 2022 10-station, high-speed press located in our ISO 8/Class 100,000 cleanroom in North Ridgeville, Ohio.
If you think that rotary die-cutting might be a good fit for your next custom die-cut parts we'd love to discuss it with you today. Our in-house team of materials and industrial die-cutting experts are ready to hear more about your project today.
Contact Us Today