By Kate Gluck on
2/10/2021
Q & A with Berry Global: Adhesives for Wearable Medical Devices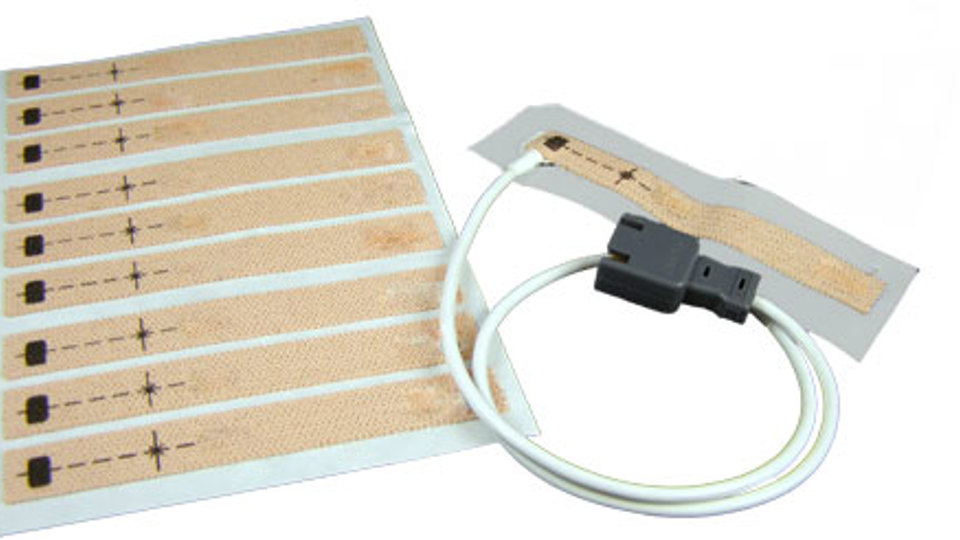 Imagine a situation where aging populations find it difficult to physically and logistically get to the doctor. Add to that an already stretched medical industry, with only so many doctors and a limited number of hospital beds to serve critical patients. Finally, introduce a global pandemic that threatens to overwhelm the system as more and more patients demand medical care. Today, these scenarios have culminated to produce increased demand for telehealth and remote patient monitoring solutions that allow for quick and easy access to a physician's care.
As the medical industry pursues remote patient monitoring products, the market for medical adhesive solutions is also expanding. Selecting the right medical adhesive is vital to the wearability and durability of any medical device, and is particularly important when patient comfort is of utmost concern. We recently discussed some of the most important factors in selecting the right adhesive for on-body wearable medical devices with Brian Hall, Business Development Manager, Medical, for Berry Global Inc., an industry-leading producer of specialty pressure-sensitive tapes and adhesives.
Q: What do you see as the biggest trends in the Wearable Device market?
The biggest trend in the wearable device market is on-body remote patient monitoring. Wearable sensors with stick-to-skin application include anything that can be worn on the body: insulin pumps, glucose monitors, pulse oximetry monitors, and other medical devices. These wearable devices are giving people better quality of life outside of hospitals while enabling doctors and medical staff to monitor a patient's vitals in real-time.
Q. Common applications within the wearable device market for Berry Global's Polyken® tapes and adhesives include electrodes, wearable sensors, and medical device attachment. Can you tell me which of your products you might recommend and why?
Selecting the best tape or application adhesive depends on the application itself, as well as factors like wear duration, construction, where a device attaches to the patient, and more. In a general sense, we might recommend:
For various on-body applications:
On-body applications require a highly moisture-resistant, flexible, conformable solution that can move with the skin. In these situations, we recommend starting with our Polyken 3614B, Polyken 9728, or Polyken 3585A. All of these products feature acrylic adhesives and are commonly used in the manufacture of:
Electrodes: ECG, EKG, TENS devices
AED defibrillator pads
For medical device attachment:
When it comes to selecting a tape or adhesive for medical device attachment it is important to consider the two surfaces that you will be bonding. We recommend exploring the benefits of our Polyken 3426A, Polyken 9730, and Polyken 9254M, all of which have been tested to ISO 10993 standards. These tapes feature an easy-release liner for quick removal and high speed converting operations, as well as a specially-formulated adhesive that bonds well without lifting or flagging. The tapes also remove cleanly without causing skin trauma.
For surgical dressing and incise drapes:
Surgical dressings and drapes require conformable solutions that promote patient comfort. Our Polyken 1731D and Polyken 2203R tapes feature non-sensitizing medical-grade acrylic adhesive. They are also conformable and flexible to ensure maximum patient comfort.
Q:  How does wear duration factor into the selection process?
Wear duration is a very significant factor in the adhesive selection process. How long a device or product will be on the body, exposed to heat, water, etc. will inform which tapes or adhesives are appropriate for an application. For example, some devices may only have a 24-hour wear target, while others have a 7-14 day wear duration.
Q: What applications are more suitable to cross-linked PE foam carriers? Non-wovens?
Electrode/Defibrillation pads, ECG/EKG, TENS pads are well-suited applications for using cross-linked PE foam carriers. Foam tapes with cross-linked PE carriers are not breathable and are typically less costly. Tapes with non-woven carriers are breathable, conformable adhesives that offer high moisture resistances and moisture vapor transmission rate (MVTR ) which makes them a better solution for on-body, direct-to-skin applications.
Q. What are some benefits of long-term wear acrylic adhesives?
Long-term wear acrylic adhesives such as Berry's Polyken 3621A uses a polyurethane non-woven carrier to offer optimal bi-directional stretch and flexibility, moving with the patient's skin, expanding, contracting, preventing moisture build-up, and ensuring long-term patient comfort. This product is unique to our company. It offers 14+ day wear durability with an aggressive bond to the skin, holding a device in place while causing minimal trauma.  Other options in this category include Polyken 3570A and Polyken 3614C, both acrylic adhesives on a flexible, non-woven carrier.
Q: In your opinion, what are the three biggest things the "right" converter of your products can bring to the table?
I would say the three most important things the right converter brings to the table are:
The right equipment, with many different converting capabilities -- specifically, high speed, high precision, rotary die-cutting, flatbed cutting, laminating, slitting, and the ability to manage complex tight tolerances and multi-layered constructions.
A high-class design engineer team with an in-depth understanding of medical-grade PSA materials and adhesive systems.
Exceptional quality programs, meeting and exceeding ISO standards.
JBC checks all of those boxes and more. I would also add that supply chain management expertise is vital, as at the end of the day Berry Global is just a raw material vendor. We make industry-leading tapes but we need to work with converters on design, and execution, which is key for any large OEM. Converters like JBC look at the entire process, from the way a part will function, to the manufacturability of a part, to how it will be applied in the next stage of the manufacturing process.
About JBC
JBC is a leader in providing the highest quality die-cutting and material converting solutions to the medical industry. From adhesive solutions for complex medical applications to medical diagnostic kits and pharmaceutical filtration components, we produce die-cut parts that match the highest standards.  Contact us today and we can help you determine the right adhesive solution, die-cutting process, and automated assembly system for your part or application.
Download our whitepaper today! Long-Term Wearable Medical Devices: How to Avoid Getting Stuck When Selecting Skin-Contact Adhesives.