By Kate Gluck on
9/17/2021
8 Things to Consider When Designing Multi-Layer Stick-to-Skin Products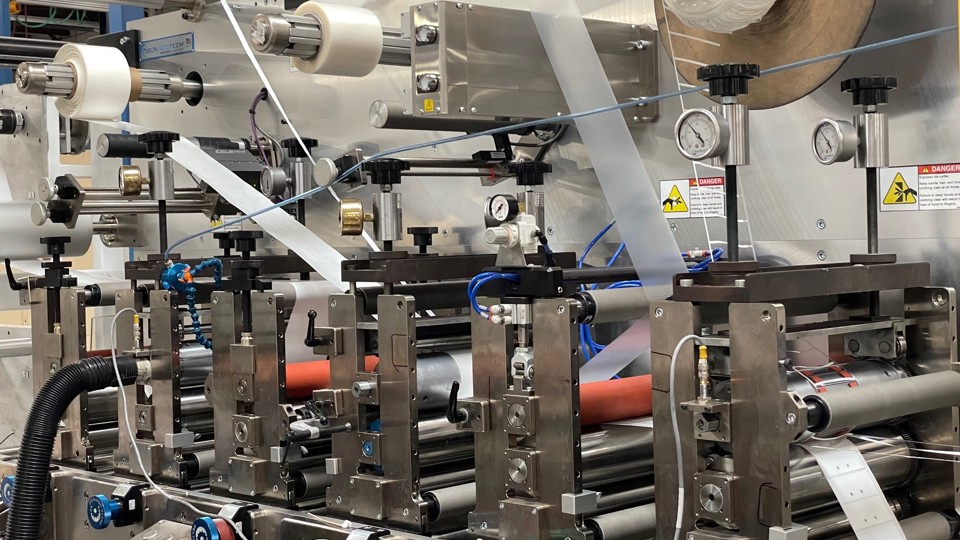 Advances in medical device design are driving lighter, smaller, more user-friendly stick-to-skin devices that enable physicians to monitor a patient's vital signs and health and fitness levels without interfering with a patient's daily life or comfort. These stick-to-skin adhesive patches have multiple applications and can be used in at-home settings as well as in a hospital or physician's office. But while they are easy to use from an end-user standpoint, they are not always simple to design and fabricate. Many "patches" are actually complex multi-layer material laminations. These products require significant thought on material selection and design for manufacturability. They also require the manufacturing expertise of a converter like JBC Technologies that has the ability to hold tight tolerances with multi-tool registration and strong relationships with medical tape manufacturers such as 3M™, DermaMed Coatings Company®, and Adchem.
This post examines 8 key things to consider when designing a multi-layered stick-to-skin product.
1 - Functionality
Functionality can be broken down into multiple buckets. From a "how well will it stick" and "how breathable does it need to be" perspective, you need to consider user demographics, wear duration, where the device is to be placed on the body if it will need to withstand excess moisture or sweat, skin types and skin condition, activity levels of the user during wear time, and more. Because the skin is a sensitive organ that changes over the course of an individual's lifetime, it is important to choose a skin contact adhesive with the appropriate peel adhesion values. Everyone's skin is different and adhesive sticks to skin differently than it does to Stainless Steel or HDPE. While Stainless Steel is the industry standard for peel adhesion tests, HDPE is thought to be a better prediction of adhesion to skin. It is always recommended that the end-user test the product and use the peel adhesion data as guidance.
From a user experience perspective, you'll want to consider the provider, the patient, and even the manufacturing supply chain.  For example, if the goal is to leave the wound or skin area viewable, you'll want to choose a tape with a clear carrier. If the goal is easier removal from the liner, you may want to consider having the parts kiss cut to a sheet or roll, adding a pull tab to the part, or both.   If the goal is automation at the next stage of the manufacturing process, you'll need to consider factors such as release liners, part placement, and more.
2 - Breathability
The longer you intend the device to be worn, the more important it is to take breathability into account. You'll find higher MVTR values and better breathability in PET nonwovens, polyurethane, and polyurethane nonwovens than you will in polyethylene, polyesters, polyolefins, PVCs, and other non-breathable materials.
3 - Elasticity
Bi-directional stretching, flexing, and moving with a patient's skin is an important part of ensuring patient comfort. Selecting materials that are conformable and can expand and contract along with a patient's skin, while preventing moisture build-up is key for stack products that need to adhere to the skin for longer periods of time.
4 - Biocompatibility
When choosing an adhesive for the stick to skin layer, you'll want to go with a medical-grade adhesive that passes bio-C. If it's a middle layer, you may be able to expand your options to include non-medical grade adhesives as long as they don't negatively impact your bio-c testing.
5 - Surface Energy
For an adhesive to reach its full bond strength, the surface energy of the adhesive must be as low or lower than the surface energy of the substrate it is bonding to. Skin is inherently a low surface energy material but the other materials that make up your adhesive stack may not be. Silicone and acrylic PSAs are suitable for most stick-to-skin applications. They both can be designed with high or low tack, as well as high or low peel adhesion. Silicone works well for repeat applications, or when a device must be repositioned. Acrylates are suitable for longer wear applications and can last up to 14 days or more, depending on the use case.
6 - Substrate Bonding
Each layer of a multi-stack product may require a different tape/adhesive combination as each adhesive will interact and bond differently with certain substrates. It's important to consider how each individual material will work together as your application may require the use of differential double-sided tapes.
7 - Liners
Designers can choose between transfer tapes, single-coated, or double-coated tapes. Single coated tapes may feature a layer of PSA laminated to one side of the carrier material and a removable liner on the other side. Double-coated tapes feature two layers of PSA laminated to either side of the carrier material and are typically protected by a removable liner. The liner you choose can significantly impact the manufacturability of the part as well as the end-user experience.
8 - Aesthetics
Last, but not least in some cases, you'll want to consider the appearance of the end product. This will be more or less important depending on where and how the product will be used. When image counts, consider aesthetically pleasing materials such as a white polyurethane nonwoven or a PET nonwoven.
There is a lot to consider when designing multi-layer stick-to-skin medical devices. That's where the right partners can make all of the difference. At JBC, we are experts at the converting process itself -- at using our engineering expertise and state-of-the-art converting equipment to take individual layers of materials and turn them into functional parts that provide the highest value for both our customer and the end-user. We in turn partner with material manufacturers that are experts in the art of designing and manufacturing medical adhesives for stick-to-skin applications.
Need a custom part presentation? JBC can help.  Need an adhesive/ liner combination that is not an "off the shelf" product? JBC can help there too.  We work in close collaboration with partners like DermaMed Coatings, who can customize tapes to meet your exact requirements by developing unique material stacks, adjusting adhesive coat weights, adding a dry edge or pattern coat adhesive, and much more. It's by working hand in hand with our supply chain partners, that we are able to help customers engineer optimum custom carrier and adhesive construction arrangements for even the most complex multi-layer products.
Partner with JBC Technologies for Your Medical Adhesive Converting Needs
At JBC Technologies, we work with customers from early-stage design through high-volume production, providing value-added value engineering solutions throughout the project lifecycle. Contact us today to get started.