By Bob Lesher on
12/17/2021
Die-Cut Solutions for Electric Vehicle Batteries: Thermal Management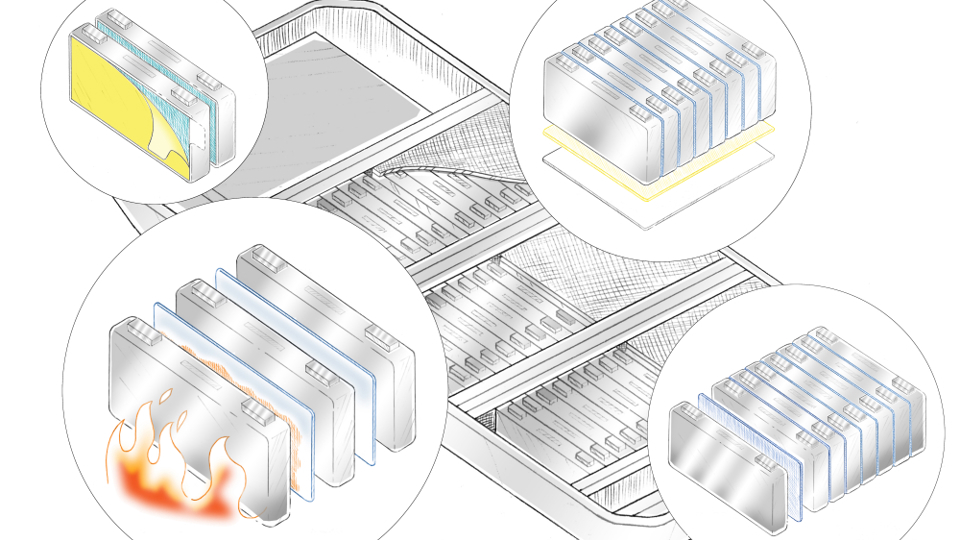 As we covered in our previous post, 6 Ways to Die-Cut Your Way to a Lighter Electric Vehicle Battery, there are a number of ways that lightweight die-cut solutions from JBC Technologies can contribute to a higher-performing, longer-lasting EV battery. In this post, we'll take a closer look at one of those applications – thermal management. We'll also touch on how JBC Technologies, with our over 30 years of materials selection and flexible materials converting expertise, can help solve even the most challenging thermal management problems.
The Importance of Thermal Management in EV Batteries
Thermal management of the EV battery and its systems is among the chief concerns of the electric vehicle industry. At its most basic, thermal management is all about putting controls in place that will ensure that the environment in which the batteries operate stays within the most optimal temperature window. For lithium-ion batteries, the most common battery chemistry found in EVs today, that is basically somewhere around "room temperature." This means balancing the removal of unwanted heat generated during the charge/discharge cycles with the desire to keep the batteries from getting too cold in cooler climates.
How Extreme Temperatures Can Impact Performance of and EV Battery
Here are a few ways that extremes of temperature can impact the performance of an electric vehicle battery:
| | |
| --- | --- |
| | Cold temperatures slow down performance – Below 32 °F (0 °C), electrochemical reactions slow with a corresponding decrease in power, acceleration, and driving range. Charging the batteries at very low temperatures also increases the potential for battery damage. |
| | High temperatures degrade the batteries and impact performance - Above 86 °F (30 °C), battery performance suffers, reducing the effective power density and acceleration capability. This problem is compounded by the fact that it's often at these temperatures where additional power is needed to operate the air conditioning system. As soon as you exceed 100 °F (38 °C), the battery may experience irreversible, potentially destructive damage. |
| | Isolated pockets of high temperature can lead to battery failure and thermal runaway – EV batteries often experience their highest levels of temperature exposure while undergoing fast charging or extra fast charging (XFC). It's during this process that the batteries may need even more cooling. Between 158 and 212 °F (70 and 100 °C), a thermal runaway event can begin, in which a chain reaction takes place that quickly moves from cell to cell, eventually destroying the entire battery pack and, if not extinguished, the whole vehicle. |
Thermal Management Through Die-Cut Specialty Materials
One of the biggest advantages of working with an experienced materials converter like JBC Technologies is gaining access to the collective knowledge of our experienced process engineering team and our strong network of performance materials manufacturers. JBC has relationships with the world's most well-respected thermal management materials manufacturers.
Let's take a look at a few of the ways that specialty materials can contribute to the effective thermal management of an EV battery system.
Getting rid of excess heat (heat sinks)
The strategic placement of highly conductive materials in and around the battery cells and modules can help facilitate the transfer of heat energy from the batteries into the active heat transfer medium, often some type of liquid, where it can be removed and expelled outside of the vehicle.

---

Consider 3M's thermally conductive silicone interface pad and heat transfer tapes both of which can be die-cut and placed either underneath the individual battery cells or in between and under the completed and assembled battery modules.

---
Preventing hot spots (heat spreading)
It's critical that heat is not allowed to accumulate in one small area within the battery module, but rather that it is dissipated and spread over a larger surface area where it can then be efficiently removed. Hot spots, if left untended, can quickly accelerate thermal decomposition within the individual cells leading to a destructive thermal event (aka runaway).

---

Consider die-cut inter-cellular inserts made using Flame Tough heat-resistant tapes from Avery Dennison and eGraf® SpreaderShield™ from NeoGraf flexible graphite.

---
Mitigating thermal runaway events (anti-propagation)
While the ideal situation is to eliminate the possibility of destructive chain reaction events like thermal runaway completely, it is often that the best case is to put in place materials to mitigate the damage by slowing the spread once such an event has started.

---

Consider die-cut inter-cellular/inter-modular inserts of die-cut Morgan Thermal Ceramics EST C Compression Paper, over-module/pack wall installations of Fi-Block intumescent foam from Seikisui.

---
Keeping the Cold Out (pack insulation)
As we've already mentioned, extreme cold can cause poor battery performance, slow charging and, even cause the battery reaction to stop completely. The best way to manage cold temperatures is through strategically placed die-cut pieces of insulation both inside and outside of the battery pack and modules.

---

Consider Morgan Thermal Ceramics low bio-persistant ceramic blankets, Autozorb, and QuietShield synthetic blankets installed over and under the pack lid and surrounding container.

---

 
1 + 1 = 3: The Power of Die-Cut Composites
The value of a skilled flexible materials converter like JBC really shines when dealing with composite material constructions. While we've already seen how individual materials or even a pair of materials can perform well on their own, it's often when they are used in a true multi-layer construction that the sum of their parts can transcend their individual contributions.
As a vertically integrated converter, JBC offers an extensive array of laminating capabilities, from inline laminating on our rotary die-cutting presses to hot roll and cold pressure laminating webs that can accommodate materials up to 74" wide. A few examples of how custom-laminated composites could find use within EV battery thermal management include:
What do you get when working with JBC for Die-Cut EV Battery Thermal Management Solutions?
When you choose to work with JBC during the early stages of your project, you're able to leverage our unparalleled network of industry suppliers and manufacturers from the very beginning, essentially making our connections your connections. For example, on the adhesive front, we're both a 3M Preferred Converter and an Avery Dennison ADVantage partner.
We also have decades-long relationships with North America's premier manufacturers of foams, films, flexible graphite, metal foils, insulation, and more. What all this means for you is expert advice and timely answers to your materials selection questions. And when an off-the-shelf material isn't enough, our manufacturer partners are here to help with the development of the custom materials that meet your specific design requirements. We'd love to hear about your EV battery thermal management project. Drop us a line today!
Content presented is intended for informational purposes only. Not all statements of use have been verified by JBC Technologies. Many factors beyond JBC's control and uniquely within the user's knowledge and control can affect the performance of a given product in a particular application. As a result, customer is solely responsible for evaluating the product and determining whether it is appropriate and suitable for its intended application.