By Kate Gluck on
11/10/2021
Thermal Insulation Product Spotlight: Superwool®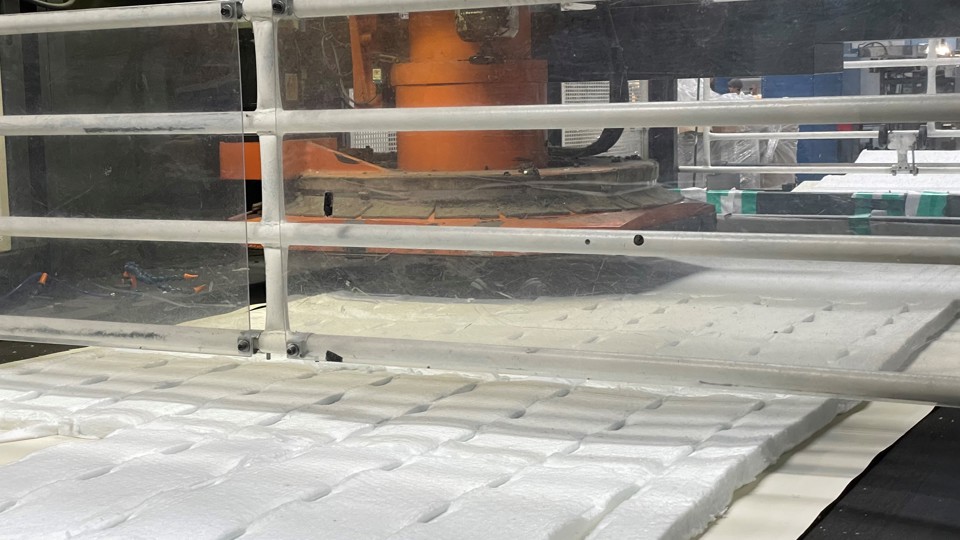 Appliance manufacturers are challenged with increasing functionality while maintaining or even reducing their product's existing footprint; automotive OEMs are challenged with improving vehicle performance and passenger safety without sacrificing aesthetics and increasing weight; and everyone is challenged with finding insulation material solutions that meet their performance requirements without negatively impacting the health and well-being of those who may come into contact with them.
At JBC Technologies we are all about finding and sharing solutions to problems such as these.
More Than Die-Cutting: Material Solutions for a Changing World
Today we are here to shine the spotlight on a specialty insulation material that we have been converting into custom die-cut solutions for quite some time now –  Superwool, by Morgan Advanced Materials. Superwool is an engineered low biopersistent alkaline earth silicate (AES) insulation solution developed as an alternative to traditional refractory ceramic (RCF) or fiberglass materials. Superwool fibers are not classified as carcinogenic by the IARC or under any national regulations on a global basis. Parts made from Superwool are commonly used for thermal insulation in high-end commercial and domestic appliances, automobiles, and industrial equipment.
But before we get too far into the applications and benefits of die-cut Superwool, let's first take a look at a few frequently asked questions.
What is an Alkaline Earth Silicate (AES) Material?
Developed in the late 1980s due to the perceived toxicity of refractory ceramic fibers1, alkaline earth silicate (AES) materials consist of amorphous glass fibers that are produced by melting a combination of calcium oxide (CaO−), magnesium oxide (MgO−), and silicon dioxide (SiO2). AES materials are classified as man-made, vitreous (amorphous) fibers (MMVF) and are known for their low biopersistence and high maximum performance temperature of 1800 °F (982 °C).  
What is Biopersistence? And Why Does it Matter?
Biopersistence is defined as the length of time that an intact fiber can remain intact in the lung and pleura (thorax)2. The term low bio-persistence means that any fibers that do manage to make their way into the lungs can be rapidly removed by the body's natural defense mechanisms before they can have a chance to accumulate and cause harm.
How Does Superwool Stack Up Against Other AES Fibers?
There are two primary categories of Superwool products designed for thermal insulation in applications that require very high temperature resistance: Superwool Plus and Superwool HT with Superwool HT having the higher maximum continuous use temperature specification at 2372 °F (1300 °C). Testing done at Morgan Advanced Materials has demonstrated the following benefits of these materials over other AES fiber insulations:
Up to 20% lower thermal conductivity
Up to 30% more fibers per unit area
Less dust and higher tear strength
Superwool vs Traditional RCF Materials
Historically, manufacturers have addressed thermal insulation challenges by using refractory ceramic fiber (RCF) materials.  RCF materials consist of small alumina silicate fibers that while providing excellent thermal resistance and low conductivity are also believed to be an inhalation hazard and potentially carcinogenic. Here's a quick rundown of how Superwool outperforms RCF materials:
Lower thermal conductivity. Higher insulating performance. Lower thermal conductivity over some RCF fiber materials results in up to a 20% improvement in overall insulation performance.
Less shot. Tighter fiber matrix. Improves thermal insulating properties without the need for increasing thickness or density.
Lighter weight. Using a lower density grade of Superwool in place of a higher-density RCF material can enable material weight savings of up to 25% without sacrificing performance.
Superwool fibers are exonerated and are not classified as carcinogenic by IARC or under any national regulations on a global basis. They have no requirements for warning labels under GHS (Globally Harmonized System for the classification and labeling of chemicals). In Europe, Superwool fibers meet the requirements specified under NOTA Q of European Directive 67/548. All Superwool fiber products are exempt from the classification and labeling regulation in Europe.
Superwool vs Fiberglass
Developed in the 1930s as a result of a laboratory accident3, fiberglass is an insulation material comprised of very fine strands of interwoven glass fibers. Here are a few points of comparison between Superwool and this long-time go-to thermal insulating material:
Higher operating temperatures – AES Fiber materials like Superwool® Plus™are capable of withstanding temperatures of around 1800 °F (982 °C), while fiberglass is only able to provide acceptable levels of energy efficiency and safety at temperatures below 1000 °F (538 °C). This makes AES Fibers the clear choice for high-end ovens that include an integrated self-cleaning function.
Improved aesthetics – To achieve smaller footprint, slim profile appliances with increased oven cavity sizes, designers need thinner materials. Looking at material thickness, to achieve similar thermal performance, fiberglass requires 1" - 3" (2.5 - 7.6 cm) whereas AES fibers can achieve the same result with a thickness range of only 0.25" - 2" (0.6 - 5 cm)4.
Lower thermal conductivity at higher temperature ranges – Because Superwool Plus has a higher fiber concentration per unit (tighter fiber matrix) than fiberglass insulation, it's not only thinner, it's also a more efficient thermal insulating material.
Applications for Die-Cut Superwool Insulation
Now that we've spent some time discussing AES fiber insulation and the many advantages of Morgan Thermal Ceramics Superwool insulation compared to traditional RCF materials, it's time we talked about die-cutting. JBC has years of experience converting our customers' insulation concepts into custom die-cut Superwool solutions. Here are just a few of the many applications where the high-performance of Superwool can reap big rewards:
Automotive & Aerospace-- Morgan's Superwool AES papers and blankets are used by manufacturers around the world in heat shields for the automotive and aerospace industries. Their thin, lightweight characteristics make them an ideal choice for these challenging industries. Microporous materials are also available for more extreme temperature applications.
Consumer Appliances - Superwool is a great choice for use in consumer ovens. Its low biopersistent fibers and lower dusting make for an improved user experience and when compared with fiberglass, Superwool feature an increased cavity space, improved thermal conductivity, minimal to no shrinkage, and upon heating to the highest possible cycle and no brittleness or odor of the fibers.
Electrical Vehicles – One of the biggest challenges being faced by the EV market today is the thermal management of the battery pack. A single battery failing and catching fire within the battery p[ack can quickly spread to neighboring batteries causing a chain reaction known as thermal runaway. By placing die-cut sheets of Superwool paper between and around the battery cells, thermal runaway can be controlled and potentially even stopped.
High-Performance Insulation Materials & World-Class Custom Die-Cutting
JBC Technologies is more than just die-cutting. We take pride in our ability to provide our customers with solutions to even their most difficult design challenges. Individualized custom solutions that combine our over 30 years of converting expertise with our vast knowledge of specialty materials and our unparalleled network of the world's premier materials manufacturers.
If you are a product design engineer looking for a unique and targeted solution to your thermal management problem, we're here to help. Give us a call or drop us a line on our Contact page, we'd love to learn more about your application and what you're looking to achieve. Our team of engineers and material experts will work with you and your team to select the right Superwool insulation material for the job and find the most cost cost-effective and timely solution to turn your concept into a reality.