By Kate Gluck on
3/2/2022
Material Spotlight: ISOLOSS LS Polyurethane Foams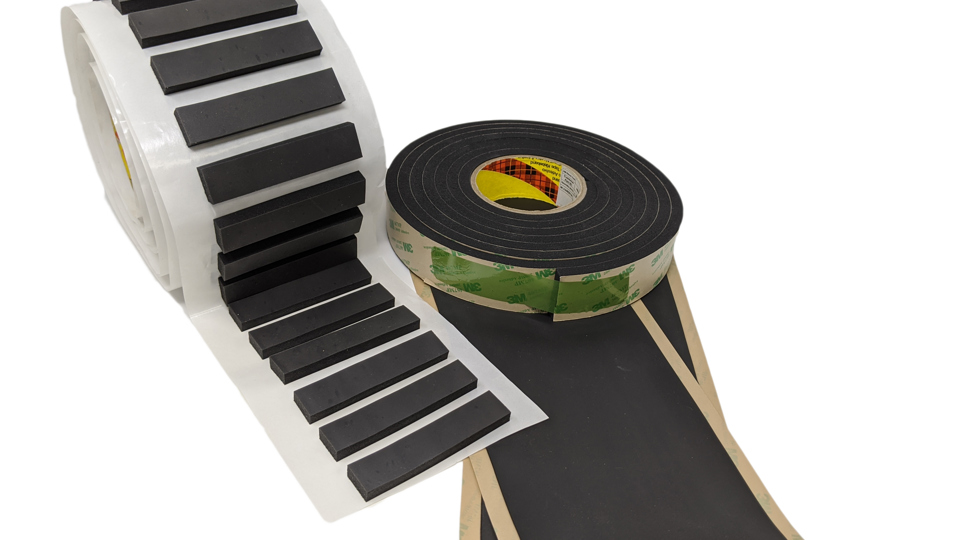 Can 3M™ ISOLOSS™ LS Polyurethane Foams Cushion Your Supply Chain Gap?
At JBC Technologies, we often speak with customers that need laminated and die-cut microcellular soft and very soft open-cell polyurethane foams. It's good to have options in today's volatile environment with tight supply chains and unpredictable lead times.
So for today's material spotlight, we've chosen to feature an option that checks quite a few boxes: ISOLOSS™ LS Polyurethane Foam, manufactured by Aearo Technologies LLC, an independent wholly-owned 3M™ subsidiary.
Not only are 3M™ ISOLOSS™ foams easily and cleanly processed using different types of equipment, but our partners at 3M™ are committed to assisting us in getting samples in your hands as quickly as possible. Another benefit: if you're already using a 3M™ adhesive tape, having one material manufacturer supply both foam and adhesive streamlines your supply chain.
Here's a short list of things you should know about these versatile polyurethane foams from 3M.
What are ISOLOSS™ LS Polyurethane Foams?
ISOLOSS™ LS represents a family of durable all-purpose microcellular polyurethane foams. ISOLOSS™ foams are ideal for applications that require a low compression set and consistent force deflection.
ISOLOSS™ foams are made in a range of densities, stiffnesses, and thicknesses and are UL gasket and seal-rated for continuous use in temperatures as high as 225°F (107°C) and as low as -40°F (-40°C). Thanks to these and other high-performance benefits, precision die-cut parts made with ISOLOSS™ LS Foams are often used for...
Applications
Gasketing • Sealing • Cushioning • Vibration Damping • Padding • Gap Filling • Tail Light Sealing
Markets
Appliances • HVAC • Automotive • Electronics • General Industrial • Medical Equipment • Power Generation
...essentially anywhere there is a need for lightweight, efficient vibration and energy control solutions.


Are ISOLOSS LS Foams Right for My Application?
The best way to determine if ISOLOSS LS Foams are right for your custom die-cut part application is to contact JBC to order samples for testing.
Still, in general, there are some pretty good performance guidelines that you can examine to make a rough approximation.
ISOLOSS™️ LS Foams might be a good fit for your application if you need a foam that..
Is soft/very soft and highly conformable to irregular and uneven surfaces
Performs well under changing compression cycles
Is resilient and durable under extreme environmental conditions
Has strong energy absorption characteristics
Top 4 Benefits of 3M™ ISOLOSS™️ LS Foam
3M™ ISOLOSS™ LS polyurethane foams have myriad features and benefits, all of which could make them a great fit for many common gasketing and cushioning applications. Selecting the most critical ISOLOSS benefits depends upon how it's used, but to help make things a bit easier for you, we've selected our Top 4.
1. Low Compression Set
One of the core differentiators of ISOLOSS™️ LS Foams is that they experience less than 1% compression set at room temperature per ASTM D1667. This low compression set, coupled with the exceptional durability of the foam, enables it to hold its shape under stress.
This means that the die-cut gasket, cushion, or seal will return to its original thickness after repeated/continuous compression, maintaining the same form, fit, and function throughout its entire operating cycle, providing consistent performance throughout the product's lifetime.
This is particularly important in long-term gasketing and sealing applications that experience constant use and changing compression, like an enclosure door opening and closing.
2. Wide Range of Densities & Thicknesses
Whereas some competitive microcellular polyurethane foams are available only in 15 lb/ft3 density and above,  ISOLOSS™️ LS Foams start at 10 lb/ft3 density. Because the lower-density foam will work in many applications that currently call for the 15 lb/ft3 density, it presents an opportunity for cost savings and lightweighting.
Available Densities (lb/ft3): 10, 15, 20, 25
3. Tight Compression Force Deflection Ratings 
For most gasketing and sealing applications, the chosen foam needs to be soft enough to compress and have enough pushback force to spring back. In many applications, foam is in different compressive states throughout normal use cycles, and it's important to know how the foam will perform at different compression levels.
This is measured through compression force deflection (CFD). CFD measures how stiff the material is when you squeeze it and is used to determine the performance of a seal or gasket by measuring the force required to compress the material to a specific thickness.
Most competitors provide the CFD at 25% compression. ISOLOSS™️ LS Foams provide a "sweep" of measurements every 10% from 0-70% compression, enabling product designers to design with tighter tolerances.
Achieving Compression Force Deflection Targets through Optimal product selection: density & thickness
You provide a CFD window with the minimum and maximum kPa and % compression.
Your JBC Technologies representative will work directly with you and our partners at 3M to select the LS Foam that meets your requirements.
4. Resiliency and Vibration Damping for Effective Noise Control
As indicated above, the low compression set properties demonstrate that LS foam is a resilient foam that can withstand repeated impact or energy forces without taking a set.  Its conformability, high strength, and controlled compression characteristics make it an ideal solution for vibration-damping and isolation applications. 
The air in the foam is inherently damping because it acts as a cushion upon impact, thereby reducing shock.   And, because it is so compressible, it can fill gaps between two hard or uneven surfaces that might otherwise produce unwanted sound.
As a result, ISOLOSS™️ LS Foam is quite effective at vibration isolation and damping to reduce noise, vibration, and harshness (NVH) and to mitigate buzz, squeak, and rattle (BSR).


JBC & 3M™: Your Partners for Custom Die Cutting and Flexible Materials Converting
As a premier flexible materials converter, JBC Technologies partners with industry-leading material manufacturers like 3M™ to provide our customers with the highest quality die-cut products made from only the best materials.
Whether your goals are lightweighting, noise reduction, thermal management, bonding, sealing, or gasketing, we can help. Contact us today to learn more about how our custom-engineered die-cut solutions can help you convert your design concepts into reality.
Further Reading
ISOLOSS LS Foams Material Summary Sheet
3M and ISOLOSS are registered trademarks of 3M Corporation.