By Kate Gluck on
7/25/2022
Solving Noise Problems with 3M™ Acoustic Management Materials & Precision Die-Cutting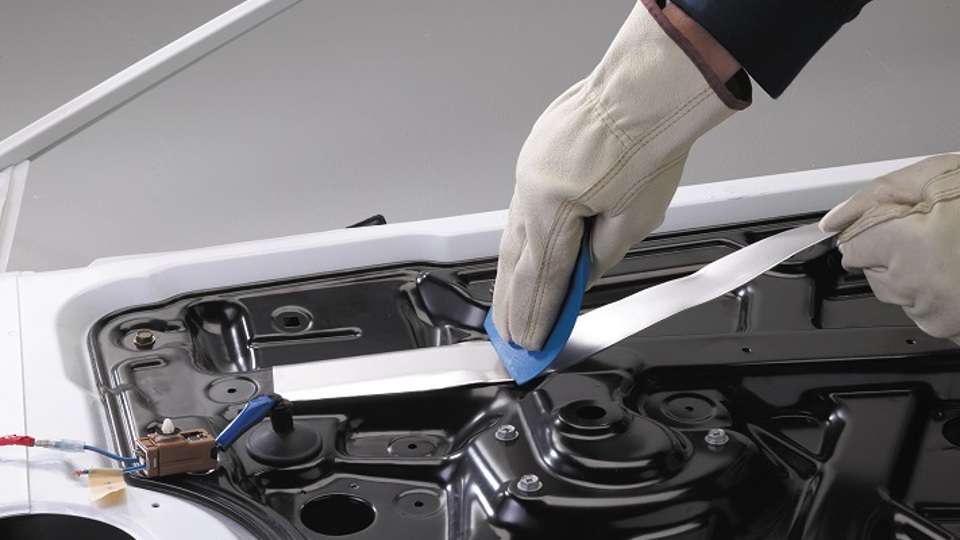 Sound Management with 3M™ Specialty Materials & Precision Die-Cutting
Buzz, squeak, and rattle are typically used to describe noise – specifically, annoying noise. While we live in a noisy world, consumer demand for quieter products is growing. From cars to dishwashers, noise is one of the top factors consumers consider when purchasing. Why? For most consumers, quiet equals quality. As a result, acoustic management is an increasingly critical part of product design, engineering, and manufacturing.
Today, as part of our partner spotlight series, we are pleased to be able to share insights offered by 3M™ Advanced Application Engineer Rodrigo Marmol, and Converter Markets Specialist Scott Piper on converted solutions for acoustic management -- and how 3M™ works with precision converters like JBC Technologies to help stop the buzz, squeak, and rattle before it starts.
The Basics of Noise & Sound
Before we get into the details of acoustic management, we think it is helpful to understand a bit about the science of sound.
Noise (sound) is energy produced when objects vibrate (shake back and forth). The energy (sound waves) travels from the source through the air, water, or objects as vibrations.
Once those vibrations reach the ears, the eardrums vibrate, and the brain interprets the sound.
The energy must be stopped somewhere along the way to reduce or eliminate sound.
Types of Noise
Equipment operation noise is generated from different places and requires different solutions to manage it. Before addressing how to mitigate or eliminate noise, it is essential to determine the type of noise transmission.
Structure-borne: occurs when vibration energy is generated by an object through physical contact
Air-borne: travels through the air as sound waves, and interacts with an object
So, how do you go about stopping noise? One way is with die-cut specialty materials like those we frequently convert at JBC Technologies. And, because the material you need is directly related to the source and type of noise you want to eliminate, we want to educate you on as many different solutions as possible.
"For acoustic management materials to yield peak performance, they must fit precisely. An experienced converter can die-cut custom shapes for gaskets, seals, tapes, foams, and other materials to extremely tight tolerances to ensure proper fit. They can also slit the product to custom widths, add tabs for easy liner removal, and assemble multiple layers. Working with a converter speeds up production and improves product aesthetics."
- Scott Piper, 3M™ Converter Markets Specialist
Methods to Mitigate or Eliminate Noise
Damping or absorption techniques are two primary ways noise can be mitigated or eliminated.
Noise Damping reduces the vibration or sound waves within a structure, component, or material.
Noise Absorption works to dissipate airborne sound waves or acoustic energy.
Based on transmission type, noise can be addressed in the following ways: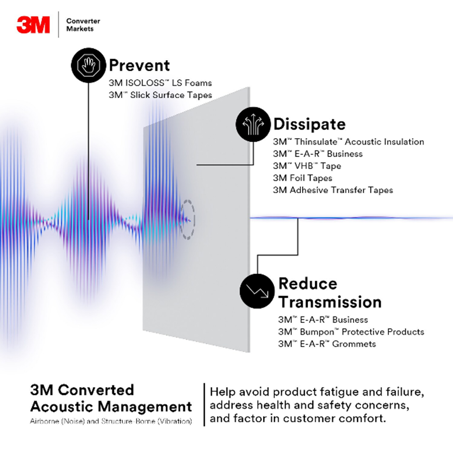 S
tructure-borne noise can be mitigated in three ways:
Prevent vibration from friction by placing a low friction surface between product parts that move against each other.
Dissipate vibration by attaching damping material to change how the structure vibrates.
Air-borne noise can be reduced by adding:
Barriers: solid materials that reflect sound.
Typical Applications for 3M™ Acoustic Management Materials
Acoustic management solutions are used across a wide variety of industries and applications. Here are some examples of how a few of the 3M™ acoustic management materials are commonly used:
AUTOMOTIVE Sound Management
Automotive applications benefit from using 3M™ Thinsulate™ Acoustic Insulation inside vehicles to absorb sound waves from the outside, providing a quieter experience for the occupants. It is often placed inside the door panels, in the trunk, and under the dashboard to eliminate noise from the road, tires, engine, etc. Here are a few additional products to help reduce automotive noise: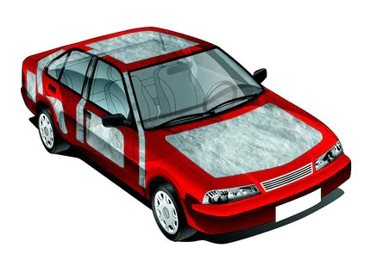 3M VHB Adhesive Transfer Tape F9469PC  is a double-sided, 5.0 mil VHB™ transfer tape often used for brake shim attachment. It features a thin profile and a high-strength acrylic adhesive for a long-lasting bond.
3M™ Flexile Acoustic Material FAB0910 can manage noise, vibration, and harshness (NVH) in automotive designs without adding weight. It is a thin product (12 mm) with a single layer of a non-molded absorber and barrier performance with high absorption in mid and high frequencies.
3M™ Engineered Damping Material EDM1029, 2.9 mm, Aluminum is ideal for reducing vibration and structure-borne noise in vehicle cabin areas such as the roof, door panels, trunk, floor, etc. It is a flexible, lightweight material with a stand-off layer featuring a low-density engineered stem web that optimizes damping performance.
HVAC Sound Management
HVAC products typically have a motor and a lot of metal parts which can create lots of vibration and sound propagation. Here are a few products to help reduce that vibration and prevent rattling from metal-to-metal contact.
3M™ single-coated foam tape or double-coated VHB™ Tape

to the panels. VHB for panel-to-frame or stiffener-to-panel attachment replaces mechanical fasteners such as rivets, eliminating the possibility for NVH.

ISOLOSS™ LS Polyurethane Foams are low compression set foams used to maintain fit, form, and function when maintenance is required, such as an AC filter rack seal.
APPLIANCES Sound Management
Appliances such as washing machines, clothes dryers, dishwashers, and more create a lot of noise and vibration when running. Here are a few products to help dissipate some of that tinny sound typical with appliances and add more value to the product: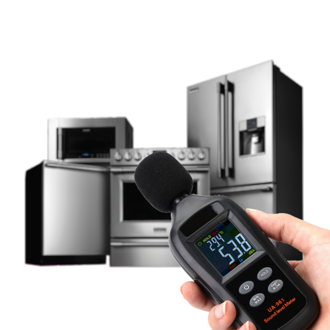 3M™ Damping Foil 2552

applied to the side/wall panel near the fan unit will mitigate vibration and noise. It features a viscoelastic acrylic polymer adhesive that withstands weathering, moisture, and UV exposure.

3M™ Damping Foil 2552 applied to pump or fan brackets to reduce operational noise and vibration. It meets flame retardancy requirements of F.A.R. 25.853(a) and is optimized to convert vibrational energy to negligible heat.
3M™ Adhesive Transfer Tape 9472LE is often used for the attachment of foams. It features an excellent bond to low surface energy substrates, high adhesion to metals and high surface energy materials, and good resistance to industrial chemicals, consumer chemicals, moisture, and humidity.
3M™ Thinsulate™ Insulation is lightweight, breathable insulation used for noise absorption and isolation in various appliance applications. 3M™ Thinsulate™ in Original, Flame Resistant, Featherless, and Water-Resistant
ELECTRONICS Sound Management
Electronics can have many moving parts that lead to noise and vibration. Here is one example of how noise can be eliminated in electronic applications:
3M™ Adhesive Transfer Tape 468MP is commonly used to eliminate fan hard disk drive noise and bond fan components and hard disk drives to the body of electronic devices. It provides good peel and shear strength for metals and high surface-energy plastics.
"3M™ products shine when matched with the solutions a converter provides. For example, pairing up different materials; It could be a gasket or foam for an HVAC panel that doesn't have adhesive. The converter adds one of our double-sided adhesives or VHB™ tapes, and now that gasket or foam can be held vertically inside the HVAC unit. I believe working with a converter adds a lot of value to our solutions."
- Rodrigo Marmol, 3M™ Advanced Applications Engineer
Finding the Right Acoustic Management Solution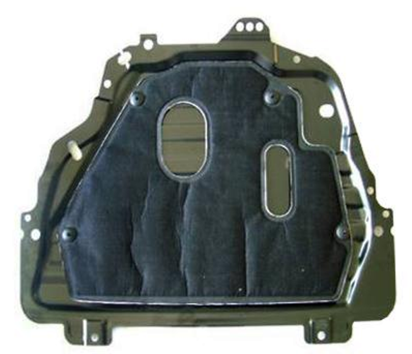 With so many acoustic management products available, selecting the right one can be challenging. All acoustic management products prevent, dissipate, and reduce sound.
However, the application will guide the solution choice. For example, laminating adhesives are often paired with foam or rubber to add thickness and gap-filling properties when needed.
"It is not a one-size-fits-all solution," said Marmol. The best place to begin is to work with an experienced converter like JBC Technologies and partners with suppliers like 3M™ to help narrow down the options and find the right solution for each specific application.
"Working together with a converter partner allows us to solve a lot of issues for customers. Anytime we can all be involved together, it helps the customer make a better product more efficiently," said Piper
Helpful questions to Ask Your Converter to Help Guide Your Acoustic Insulation Selection:
| | |
| --- | --- |
| | Will there be extreme temperature or chemical exposure? |
| Will the bond be permanent or removable? | What is the assembly/manufacturing process? |
| What are the surface type, shape, texture, and bond area? | Are there any industry standards or regulations that must be met? |
3M™ Acoustics Management - Product Usage Guide
 
 

Acoustic Management

 

 

 

 

Airborne (Noise)

Structure-Borne (Vibration)

 

 

Source


Prevent

Avoid

Buzz, Squeak, & Rattle (BSR)

► Laminated Foams

Avoid

Reduce Friction

► Slick Surface Solutions

Prevent

Source


Path


Dissipate

Absorber
Fibrous/Foams

► 3M™ Thinsulate™ Acoustic Insulation
► 3M™ E.A.R.™

Dampening
Viscoelastic Polymers

► 3M™ VHB Tapes
► Foil Tapes

Dissipate

Path


Receiver

Reduce
Transmission

Barrier
Metal
Hard Layers

► 3M™ E.A.R.™

Isolating
Hard Polymers

► 3M™ Bumpons Protective Products
► 3M™ E.A.R.™ Grommets

Reduce
Transmission

Receiver

 

 

3M™ Technology, Capability, Solutions

 

 
JBC Technologies + 3M = A Sound Management Powerhouse
Perhaps most importantly, involving a team that includes a leading materials converter like JBC Technologies and a world-class manufacturer like 3M™ early in the process can save a lot of time and money down the road. Collaborating during the design and engineering process can help prevent an unforeseen squeak or rattle.

"We see this a lot in the automotive industry. A squeak or rattle is discovered once the cars are already out in the marketplace, resulting in costly warranty repair work for manufacturers. So, being ahead of the curve is always helpful," said Piper.
However, if noise is discovered after a product is launched, many of these products can be added post-production to resolve issues quickly and cost-effectively.
JBC Technologies: The Acoustic Management & Materials Converting Choice
For over thirty years, JBC Technologies has utilized our engineering expertise and breadth of vertically integrated converting capabilities to turn rolls of sound insulation materials into custom die-cut parts. As a premier flexible materials converter, JBC Technologies partners with many industry-leading material manufacturers to provide our customers with the highest quality die-cut solutions.
Contact us today to learn more about how our custom solutions can help you convert your design concepts into reality.
Additional Acoustic Management Resources