By Mark Swanson on
12/5/2017
Die Cut EMI Shielding Foil Tapes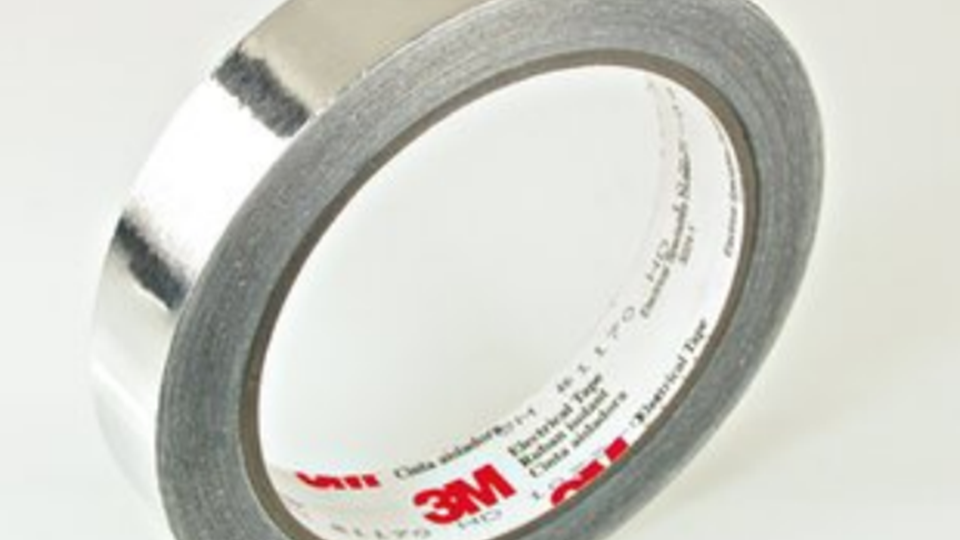 Die cut EMI shielding foil tapes have a metal foil backing that controls electromagnetic interference (EMI) and provides electrical conductivity. These die cut EMI shielding tapes have backings made of aluminum foil, aluminum foil laminated with polyester film, copper foil, or embossed foil. Each backing material comes in different thicknesses and is coated with a conductive or non-conductive acrylic adhesive.
JBC Technologies is a 3M™ Select Converter that can source the foil shielding tapes that you need, convert them cost-effectively, and then die cut tapes with speed and precision. JBC also helps you with material selection, including considerations such as whether you need single coated tape or double coated tape to support your electronic designs.
Aluminum Foil EMI Shielding Tapes
JBC die cuts 3M™ aluminum foil EMI shielding tapes that have a backing thickness between 1.9 and 4.5 mil, and a total tape thickness from 3.0 to 6.0 mi. The thinnest die cut tape, 3M™ 300PL, provides excellent adhesion and environmental resistance. The thickest tape, 3M™ 1115B, offers structural support. 3M™ 1120 electrical tape is a good choice for cable wrap.
EMI Aluminum Foil with Polyester Film     
3M™ aluminum foil with polyester film is a type of EMI shielding tape that provides resistance to oxidation, solvents, and oils. The total thickness of the backing material (foil and film) ranges between 1 and 2 mil. Thicker 3M™ EMI shielding tapes can aid with product assembly and are available by special order. These die cut foil shielding tapes also support static charge draining and grounding.   
Copper Foil EMI Shielding Tapes
JBC Technologies can source many types of 3M™ copper foil shielding tapes, including several specialized products. For example, 3M™ 1182 is a double-coated tape with an acrylic conductive adhesive that's used to bond two surfaces, both physically and electrically. 3M™ 1181 is flame retardant and UL 94 recognized. Die cut 3M™ CU-35C is a single-coated tape that can be soldered.    
Embossed Foil Shielding Tapes
JBC also die cuts 3M™ embossed foil shielding tapes that use aluminum foil, copper foil, or tin-plated copper foil as the backing material. Die cut copper foil shielding tapes with reverse embossing are also available. Typically, embossed foil tapes are used for transporting and storing electronic components that can be fed into automatic pick-and-place machines for surface mounting on printed circuit boards (PCBs). 
Find Die Cut EMI Shielding Foil Tapes
Do you need die cut EMI foil shielding tapes for wire and cable harnesses, multi-pair twisted-wire cables, or interconnect cables? Do you need reliable protection against EMI for cell phones, laptop computers, electronic housings, or RFID applications? The JBC Sales Team is ready to help. To get started, contact us.
3M™ is a trademark of the 3M company.