By Kate Gluck on
9/3/2019
Solving Dissimilar Materials Joining Challenges With Die Cut 3M™ VHB™ Tapes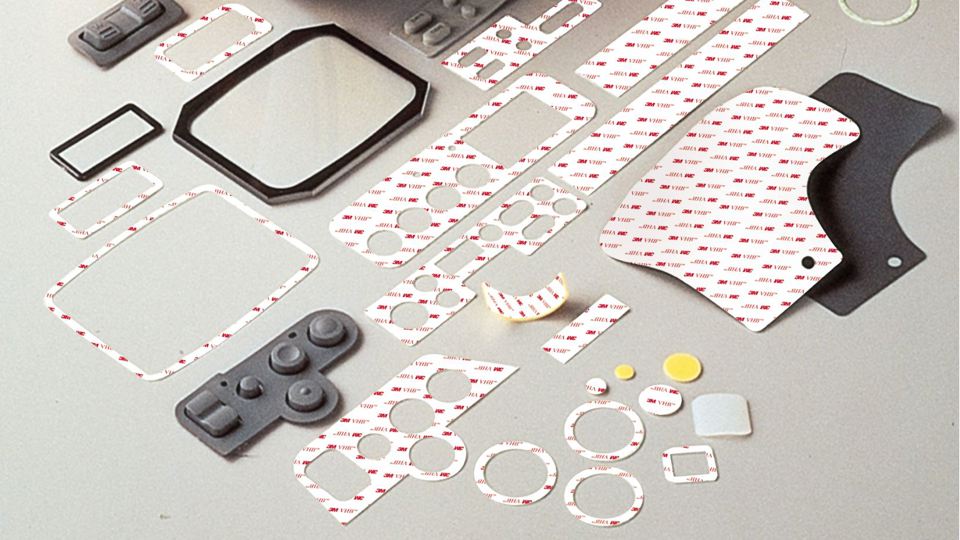 Engineers across industries are being tasked with finding solutions to lower production and labor costs while increasing quality and consistency of parts and products. When it comes to materials joining, designers face challenges with joining materials that have different coefficients of thermal expansion. Engineers also must find solutions that can both achieve tight bonds and remain flexible while sealing out moisture in extreme environments. High performing foam tapes and adhesives are helping to address these challenges and boosting manufacturer productivity, efficiency, and speed to market.
In this installment of our 3M™ Q & A series we highlight Reese Weber, Global Application Engineer for 3M™. Reese discusses one of the most popular 3M double-sided foam tape families on the market: VHB™ Tapes. This long-lasting acrylic adhesive uses closed-cell technology to offer higher performance and durability. Learn how VHB Tapes are an efficient 3M tape for metal and plastic bonding, the different ways they improve manufacturing efficiency, and why they're an industry-leading solution for the HVAC market.
Q. What is 3M VHB Tape?
A. VHB is a 3M double-sided tape made from high performance acrylic adhesives that can form bonds of exceptional strength. 3M VHB double-sided tape offers greater durability and elasticity than conventional double-sided foam tapes. These tapes can be used to replace mechanical fasteners for joining a variety of materials including aluminum, steel, glass, plastics and painted and powder-coated surfaces
Q. What makes 3M VHB Tapes so unique?
A. One of the most unique aspects of 3M VHB Tapes is their highly viscoelastic nature. It allows the tape to accommodate sheer, tensile, and compression loading and provide a 100% surface bond - while retaining its shape, absorbing energy, and resisting fatigue.
In addition, 3M VHB Tapes provide superior environmental resistance and durability. Their closed-cell nature can withstand the rigors of exposure, resisting hot, cold, cycling temperatures, UV light, moisture, and solvents. They also help to dampen noise, vibration, and harshness.
Q. What are the benefits of the 100% surface bond of 3M VHB Tapes?
A. The viscoelastic nature of 3M VHB Tape allows it to behave like both a very viscous liquid and an elastic solid. This allows the adhesive to flow into microscopic irregularities of a surface, whereas other tapes tend to sit on top. 3M VHB Tape sticks immediately to surfaces, providing immediate handling strength. After 72 hours, a 100% surface bond is created as VHB conforms to parts without requiring clamping or curing. Eliminating the need for clamping or curing means that handling strength with 3M VHB Tape is immediate – enabling manufacturers to move and ship parts to customers much more quickly.
Unlike screws or rivets – which join materials at a single point – 3M VHB Tapes permanently adhere one substrate to another while spreading the stress load across the entire length of a joint. Once materials are joined with 3M VHB Tape, a virtually indestructible bond is created.
Q. Tell us more about the conformability of 3M VHB Tapes.
A. The elastic properties of 3M VHB Tape allow it to absorb dynamic loads, accommodate differential expansion between surfaces and help distribute loads over the greatest possible area. Once the tape is bonded, it is immediately flexible and conformable, creating a tight bond when joining similar substrates like metal to a plastic or when bonding materials that expand and contract at different rates.
3M VHB Tape's elastic properties are maintained between -40° C and 90° C for most tapes, and up to 149 C for some tapes.
Q. Which 3M VHB Tapes are most suitable for HVAC applications?
A. In the HVAC industry, one of the most common priorities is to prevent water intrusion. As 3M VHB Tape is 100% closed-cell acrylic foam, there is very little chance for moisture to get through. The base polymer of 3M VHB Tape is also resistant to moisture, ensuring a 100% bond and seal.
Mechanical fasteners like screws and rivets require puncturing materials, which allows for corrosion and moisture inclusion. 3M VHB Tapes allow for seamless adhesion of substrates, sealing at the bondlines without puncturing or damaging substrates.
We offer a variety of 3M VHB Tapes suitable for the HVAC industry, including our:
4941 family of tapes: These offer the best combination of adhesion, holding strength, and durability for the most critical applications, such as areas that will be under the highest amount of stress.
5952 family of tapes: These are softer, easy to use tapes that can achieve adhesion to many more substrates without an adhesion promoter. While not ideal under critical stress requirements, they do offer higher performance on paints and plastics.
RP family of tapes: These tapes are good for general purpose applications seeking a cost-effective bonding solution.
GPH family of tapes: This is our newest 3M VHB Tape. It can withstand up to 450 °F for short time periods and 300 °F long-term, allowing certain parts to be bonded pre-powder coating. This can significantly cut down on production and delivery timelines.
Q. Can you provide some example HVAC applications where 3M VHB Tape would be used?
A. 3M VHB Tape is ideal for a variety of HVAC applications, including attaching parts or panels of flatter areas, roof panels, side panels, or pieces that can be permanently sealed and do not need to be accessible.
Q. How does 3M VHB Tape perform under high and low temperature fluctuations?
A. We have specific temperature ratings for all 3M VHB Tapes for both short and long-term temperature tolerance. Typically, most of our tapes can resist around 250-300 °F short term, or up to 450 °F with the GPH line of tapes. Once bonds are made, long term exposure can reach from -40 up to 200-250 °F, depending on the tape.
We also have real-life durability studies where 3M VHB Tape was used in applications and left in controlled environments for 10 years in Florida, Minnesota, and Arizona. We measured the strength both at application and after 10 years. In all environments, 3M VHB Tapes showed minimal reduction in strength over time and some tapes even gained adhesion strength.
Q. How does 3M VHB Tapes help with dissimilar materials joining?
A. When joining dissimilar metals like aluminum to steel, the materials are susceptible to galvanic corrosion due to the different galvanic potentials between the two products. In addition, dissimilar substrates can expand and contract differently with temperature variations. This can cause wear on bondlines. When you use a dissimilar metal tape, like 3M VHB Tape, it acts as a barrier between substrates, preventing that galvanic corrosion. 3M VHB Tape can also flex and move with substrates, protecting bonds and seals.
Q. How does using 3M VHB Tape increase manufacturing efficiency?
A. 3M VHB Tape eliminates the need for curing. If manufacturers have to wait for a sealant or adhesive to cure or dry, they have to wait hours or even days before handling or joining. With 3M VHB Tape, manufacturers can immediately handle products, pack them, ship them, etc. This significantly improves production timelines.
3M VHB Tape also facilitates pre-taping of parts and materials. This enables manufacturers to carry out half of the material bonding process at any point. If the liner is left on 3M VHB Tapes, they can last months or even years before being attached.
Q. Are there any specific application requirements with 3M VHB Tape?
A. We do have application requirements for each of our tapes in the VHB family, depending on the application. The greatest issue with using 3M VHB Tape is to make sure customers use the right tape for their application, making sure the given tape sticks to the surfaces, and making sure enough tape is used to handle the stresses of the given application or environment.
We do also have specific design guidelines for static versus dynamic loads. Static loads (i.e. holding a dead weight on a wall) require 0.25 psi, or need 4 in 2 per 1 lb. of weight. For dynamic loads (i.e. resisting wind gusts, thermal expansion/contraction, etc.), design guidelines jump to 12 psi, which is nearly 50 times the strength in a static load.
Q. Why is it better to use a die-cutter like JBC Technologies that has high speed, precision capabilities when sourcing die-cut 3M VHB Tape?
A. In general, high speed, precision die-cutting capabilities add to the ease of use, value, productivity, and convenience of using 3M VHB Tapes. With die-cutting, manufacturers get exactly what they need and don't need to cut or splice our tapes. They can just apply the 3M die-cut tape and ship parts out.
Die-cutting is also ideal for intricate parts, when customers need premium seals or have a large run of thousands or millions of parts.
Q. Why is JBC Technologies a good partner for die-cutting 3M VHB Tape?
A. JBC is a very reliable partner that does what they say they will do. They go out to their customers and help them get the exact converted part or kit they need, which is a service that is invaluable! Their team has access to almost the entire 3M product line (which is critical to our customer base as not every die-cutter has that) and can convert most of the 3M products that we carry.
Contact JBC Technologies Today!
As a cutting-edge flexible materials converter, JBC Technologies utilizes precision die-cutting and non-metallic fabrication skills to cost effectively produce parts to exact specifications. We partner with industry leading material producers and suppliers to provide solutions for a variety of industries - from automotive to appliance, electronic, HVAC, and more. Contact us today to learn why our custom engineered die cut solutions are best for your application.