By Kate Gluck on
5/7/2020
Die Cut Flexible Graphite: Thermal Management in Next-Gen Appliances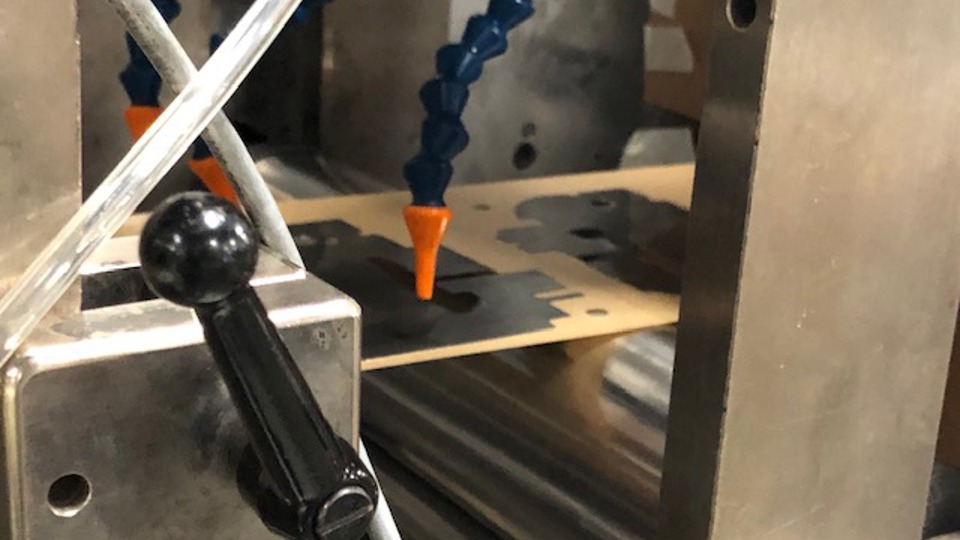 IoT continues to rapidly transform products across industries. The home appliance market is no exception. Even the most rudimentary machines are becoming smart, efficient, interconnected devices. The latest ovens can both cook and connect users to instant recipes. Refrigerators cool food, show who's ringing the doorbell, and mirror what's on the living room TV. Keeping up with these technological advances, however, can present challenges for design engineers that must solve issues outside of their typical technical purview. Access to the right partners can make all the difference, for engineers as they strive to understand and implement cutting edge solutions that may be new to their industry, but tried and true in another.
As part of our ongoing Partner Series, we continue to highlight our strategic partners, industry experts that have the know-how necessary to overcome the latest technological challenges presented by today's rapidly evolving marketplace. Today we are speaking with Jon Taylor, Product Manager for NeoGraf Solutions, about how NeoGraf's flexible graphite products—long used by the consumer electronics industry to produce high performing, thin, lightweight devices—are an ideal thermal management solution for today's high tech home appliances.
Q: What can you tell us about flexible graphite and what are its main selling points for the appliance market?
A: In general, flexible graphite is an ideal solution for a variety of thin, lightweight applications that need to achieve superior thermal management. It is an easy to install, high performing, long-lasting material that doesn't add significant mass. It provides:
Directional heating spreading, cooling or shielding
High temperature stability
Thermal uniformity and responsiveness
Noise and vibration reduction
Insulation enhancement
And more
Flexible graphite has been used for decades in consumer electronics to help cooldevices, spread heat to achieve a lower uniform temperature, and to shield heat from either users or from one component to another. These same features make flexible graphite ideally suited for today's interconnected, high tech, next-generation appliances.
Q:What can you tell us about the different product lines that Neograf offers?
A: Since introducing our GRAFOIL® flexible graphite in the 1960's as the first fluid sealing material made exclusively from pure, natural graphite flake, flexible graphite has been incorporated into many of today's most technologically advanced products and applications.
As a high quality, reliable, high performing thermal management solution, our flexible graphite products serve a variety of industries, including consumer electronics, telecommunications, automotive, aerospace, building and construction, transportation, nuclear energy, and more.
Designers and engineers of next generation of appliances are utilizing NeoGraf's eGraf® SpreadShield™ and NeoNxGen™ heat spreading products as well as eGraf® HiTherm™ thermal interface materials to manage their thermal challenges.
Q: What makes NeoGraf's flexible graphite products unique?
A: NeoGraf Solutions is a world-leading global supplier of North American sourced flexible graphite material. We also offer the widest range of flexible graphite products in a variety of thicknesses, performance grades, and more. We have the capability to meet even the most demanding customer specifications in terms of performance, space constraints, weight, and budget.
Our products are consistent, high quality, high-value flexible graphite products that meet the most stringent global environmental sustainability standards.
Q: Where do you see opportunities to leverage flexible graphite solutions in the appliance industry?
A: Manufacturers are implementing technologies historically limited to smartphones, TVs, and computer applications into home appliances. The appliance industry is increasingly producing interconnected machines and devices that must do more than just cook food, store food, or dry your hair. Flexible graphite has become an ideal solution for managing heat transfer, temperature stability, and more in these next generation appliances. For example, NeoGraf's:
NeoNxGen™ and SpreaderShield™ heat spreaders are lightweight, thin solutions helping to spread and manage heat in refrigerator defrosters and ovens. They are also lightweight, induction capable solutions that boost the uniform heating and fast responses (cool down and heat up speeds) of cookware and stovetops.
HiTherm™ Thermal Interface materials help manage heat transfer, user comfort, and high temperature stability in hair straighteners and blow dryersNeoNxGen™, SpreaderShield™ and HiTherm™ products foster heat spreading, noise and vibration reduction, insulation, and motor drive TIMs in dishwashers.
Q: What are the major challenges flexible graphite helps design engineers solve?
A: Design engineers in the appliance market face similar challenges that confronted those in the consumer electronics space two decades ago. For example, advanced smartphones and laptops had to achieve higher performance speeds which generates more heat but become lighter and thinner than legacy devices. Today, appliance manufacturers are looking to manage the time it takes a product to heat up or cool down, while also ensuring proper insulation that both shields users from heat and reduces an appliance's energy usage. As a lightweight, long-lasting solution, flexible graphite doesn't add to a product's weight or bulk but significantly boosts thermal management, heat spreading, temperature uniformity, and more.
Flexible graphite also helps manufacturers facilitate user comfort. Graphite is used to minimize temperature fluctuations and to spread heat generated by advanced technological features.
Q: How does flexible graphite compare in performance to copper or aluminum?
A: Flexible graphite is a flexible solution that weighs 80% less than copper and offers up to 4x better thermal conductivity. It weighs 30% less than aluminum and offers up to 9x the thermal conductivity.
Graphite is also anisotropic, meaning it has much different properties in its plane versus through its thickness. Metal, in contrast, is the same in any direction. That is why one of our product lines is called SpreaderShield™, because it spreads heat in the plane and shields heat from flowing through the plane. So, our product acts both as a heat spreader and insulator.
Q: What is the biggest misconception about graphite as a thermal management solution?
A: Some companies view flexible graphite as an exotic solution that is in limited supply. That's not true at all. It is actually an abundant, naturally occurring material that has been around for a long time—right under our feet.
Q: How does the way flexible graphite material is converted impact its overall effectiveness and/or ease of installation and use?
A: How flexible graphite products are converted has significant ramifications on the effectiveness of the product. For example:
Edge Seals fully encapsulate materials into a plastic insulator, protecting graphite materials from exposure to environmental elements and insulate against electrical currents and dust.
Peel and Stick Backing boosts ease of installation, eliminating the need for clamping.
Part Presentation affects packaging and handling as well as part installation method and efficiency. Depending on an application, parts will need to be presented as individual die cut parts, parts on a sheet, or parts on a roll as they may be installed manually or by automated equipment
Q: Why do you feel it's important to partner with a converter like JBC?
JBC Technologies has been converting NeoGraf's flexible graphite materials into solutions for customers in various markets for over 20 years. They have the capabilities to service high volume manufacturing and the technical expertise to handle complex part constructions such as envelope edge sealing and multi-layer laminates. JBC has experience working with all of NeoGraf's flexible graphite products from the ultra-thin materials to the widest rolls and even sheets. They not only have the expertise in processing flexible graphite but they understand  how other materials such as plastics, metals, and adhesives can be joined with the flexible graphite into a finished part.
About JBC
JBC is a flexible materials converter that works with numerous advanced materials to provide custom die cut parts for a variety of applications. We work directly with NeoGraf Solutions™ to develop efficient die cutting, packaging, and delivery solutions for their high quality graphite heat spreading materials that reduce costs and simplify the use and assembly of these parts. Contact us today to put our manufacturing know-how to work for you.