By Kate Gluck on
12/17/2018
Die Cut Gaskets 101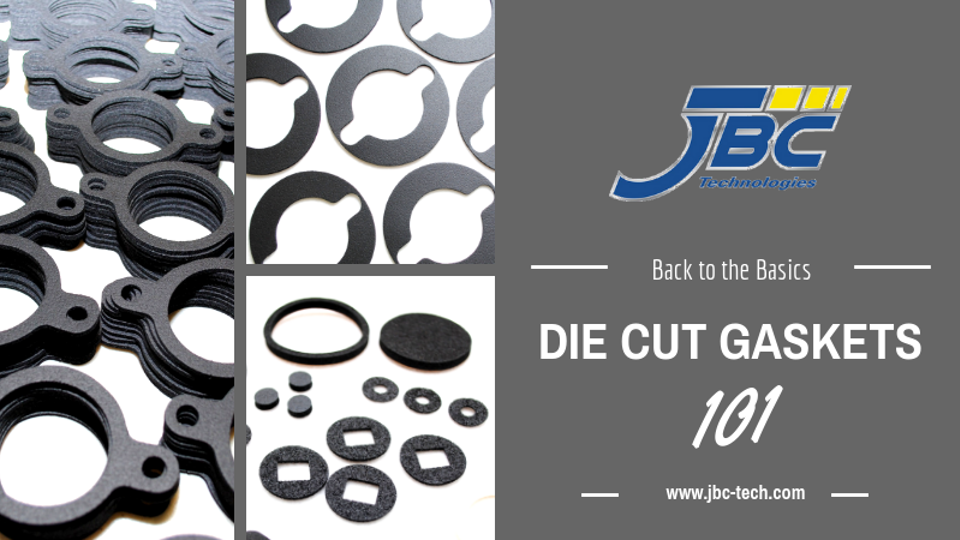 Often one of the last parts considered when designing a product, gaskets fulfill important functions in an array of machines, medical devices, automobile engines, and even household appliances. These essential components are employed to resist various media, temperature, pressure levels, and more in order to prevent leakage, protect against dust and other environmental contaminants, inhibit vibration frequencies, or ensure part integrity. Despite their importance, gaskets rarely command the attention they deserve. Understanding the most common properties, materials, and capabilities of these essential, though often unseen components, helps manufacturers design the best gasket for an application.
Common Gasket Materials and Applications
Most commonly made of foam, rubber, fibers, technical papers, cork, and (although not our specialty at JBC) metal or semi-metallics, each gasket material type has unique compressibility and face adaptability, recovery, strength, relaxation, and chemical and temperature resistance.
Soft, non-metallic gaskets are suitable for a variety of applications and are most commonly composed of such materials as:  
Foam/Sponge Gaskets
 Lightweight, compressible, and low compression set, open or closed cell foam (often referred to as sponge) gaskets can be made of a wide range of materials including polyurethanes, microcellular polyurethanes, PVC, polyethylene, silicone, and more. Open-cell foams are generally more flexible than closed-cell and can easily conform to applications in low-pressure environments that need to seal out air, dust, or light. Open-cell foams can be manufactured at both high and low densities. More durable than open-cell, closed-cell foams are ideal for applications that require the sealing of liquid under higher-pressure.
Rubber & Elastomeric Gaskets
 Pliable and reliable, solid rubber gaskets adapt well to irregular surfaces, have excellent thermal and chemical properties, and provide a tight seal against liquids and gases. Rubber gaskets are ideal for sealing against the leaking or ingress of liquids, protecting against dust or other environmental contaminants, and dampening vibration frequencies.
Synthetic rubber materials such as silicone elastomers provide the material base for many gaskets and are ideal for applications requiring electrical conductivity, thermal conductivity, electromagnetic interference shielding, and electrostatic discharge protection.
Fiber Gaskets
Easy to cut and punch to size, die-cut gaskets made out vegetable fiber, vulcanized fiber, fish paper, and more typically have a rubber binder that makes them more elastic. These gaskets have high tensile strength and are corrosion resistant, making them ideal for environments exposed to oil, gasoline, water, and steam. Fiber gaskets are best for applications where a low temperature and/or high internal pressure will be present.
Technical Paper Gaskets 
 Paper gaskets are useful for a variety of applications specifying parts with high temperature, high dielectric strength, mechanical toughness, and flexibility. Ideal for electrical insulation applications such as those required by transformers, wind turbine systems, electric vehicles, motors, slot insulators, water heaters, stoves, and more, paper gaskets have a high arc and solvent resistance. Nomex ®, ManniGlas ®, and other paper gasket materials are also suitable for applications requiring heat and electricity resistance.  
Graphite Gaskets
Graphite gaskets combine strong thermal resistivity with resistance to thermal shock in response to rapid changes in temperature. Graphite's mechanical properties increase with temperature and can also resist cooler temperatures. Across planar surfaces, such as printed circuit boards (PCBs), graphite dissipates heat both evenly and rapidly. Graphite's many advantages include high compressibility, excellent resiliency, long life, and corrosion resistance. Die-cut graphite gaskets are ideal for electrical, electronic, and mechanical applications that require a combination of reliable electrical grounding and strong thermal conductivity.
Cork Gaskets
More compressible, flexible, and lightweight than some gasket materials, water-resistant cork gaskets can expand to hold a strong seal when combined with rubber composites such as EPDM, Neoprene, Nitrile, and silicone. When combined with elastomer bindings, cork gaskets are ideal for applications involving oil, fuel, solvents, or water in high vacuum, high-temperature environments.
The Important Roles Gaskets Play
Gaskets operate behind the scenes to perform a variety of crucial functions. While applications vary, in general, most gaskets are used to:
create a strong seal and barrier between two conjoined, irregular surfaces, preventing leakage from or into the surfaces while under compression,

reduce friction and disrupt vibration frequencies, protecting internal components from damage, and reducing noise and wear, or
ensure a secure mount, protecting devices from shock, dust or moisture.
Without gaskets, it would be nearly impossible for two imprecisely designed mating surfaces to come together and function properly. Gaskets fill irregularities or gaps between two surfaces to create a tight seal, preventing leakage, reducing friction, and ensuring the security of joined surfaces under compression and high temperatures.
Gaskets make equipment safer to use and increase the life of components. Often sealing the weakest joints or links between parts, gaskets serve as an important safety device designed to fail in response to loads reaching critical pressure levels or temperatures exceeding material limits. This reduces the likelihood of burst pipes or parts, fires, explosions, chemical leaks, and other dangerous scenarios. The right gasket also reduces wear and facilitates essential maintenance of sealed surfaces, allowing parts to be separated and reassembled.
Choosing the Right Gasket
Designing the right gasket or seal for your application depends on the specific temperature, pressure, and chemicals that will be present, as well as on the application's functionality (e.g., geometry, surface area, and condition of joints and flange surfaces.) Careful selection is vital to part longevity, safety, overall performance, and cost savings. Failing to install the best gasket for the given application can result in tens of thousands of dollars in costs, repairs, and delays.
JBC Technologies is a leading producer of a variety of custom die-cut gasket solutions. We help clients choose the right material to ensure that the finished gasket is reliable and fully fit for purpose and function. Our design assistance team can help you select the ideal material for your application. Contact us today to get started.