By Kaley Lucien on
9/7/2023
Faces of JBC: Get to Know Christian Hanson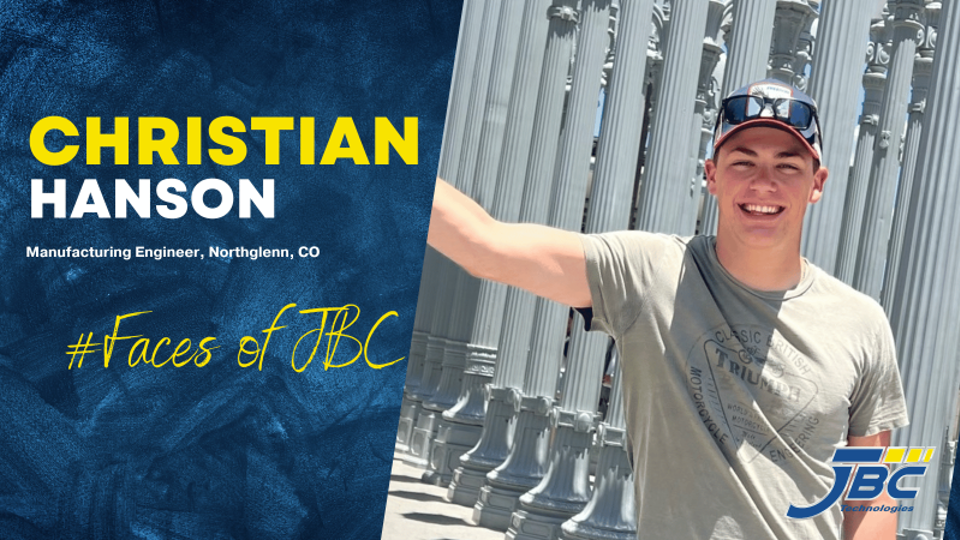 Welcome to the September 2023 edition of "Faces of JBC Technologies"-- a series that features the folks who work day in and day out to make sure our customers receive impeccable service and high-quality gaskets, seals, heat shields, acrylic foam tapes, and other custom die-cut products. 
Today, we have the privilege of introducing you to Manufacturing Engineer, Christian Hanson, a key player  at the Northglenn, Colorado facility. 
Let's get to know Christian! 
Why did you decide to go into Engineering ?
I decided to go into engineering because I really enjoy projects and solving problems. I really love finding solutions to create new parts for our customers.
Why JBC?
I was attracted to JBC by the work environment and the great people and that's turned out as expected.  The best part about working at JBC is the community. The people here are supportive and happy to help wherever possible.  
Describe your role at JBC Technologies' Northglenn division and how it fits with the big picture.
My role is to create new processes and find new ways to make parts for our customers using Continuous Improvement. My favorite part is prototyping and using the CNC machines. 
Tell us about the team you work on.
I work on the Engineering team at JBC. It's a great group of people all dedicated to helping each other with projects that range from Aerospace, to Medical, to Automotive, and whatever else comes our way. We work together from all four facilities. I have certainly grown as an engineer since I started back in June of 2022.
What has been your favorite project since working here?
My favorite project so far has been working with SpaceX to create parts that were critical to getting satellites into space. They needed parts as quickly as possible and we delivered functional parts within a week.
Can you describe your job/company in three words?
Interesting. Diverse. Meaningful.
What are you most proud of while working here at JBC?
I am most proud of this facilities' ability adapt and overcome while in the middle big changes and adversity.
What is your greatest motivation?
My greatest motivation at work is seeing the results of what we create in all industries.
What are some of your interests outside of work?
Camping, dirt biking, fishing, hunting, skiing, and anything else outside!
What is something about you that most people don't know?
I enjoy line dancing and go on a weekly basis.