By Mark Swanson on
4/13/2018
ITW Formex® Materials: Properties, Processing, Products, and Applications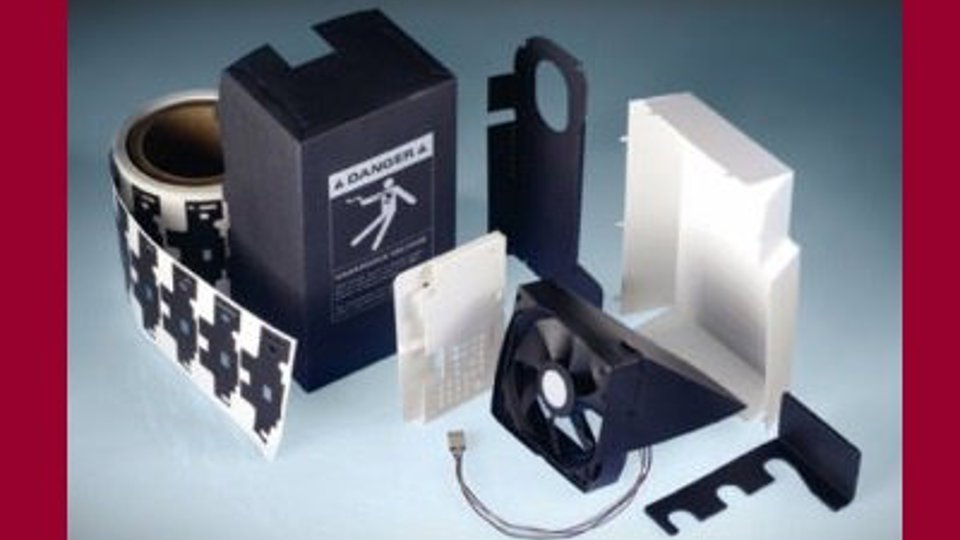 ITW Formex® materials are flame retardant, electrically insulating, and chemically resistant. They are made of polypropylene or polycarbonate and can be laminated with aluminum or copper foil for shielding against electromagnetic interference (EMI) and radio frequency interference (RFI). ITW Formex® materials are also cost-effective to die cut and can dissipate electrostatic discharge (ESD), a sudden flow of electricity that can damage circuits. 
With their unique properties and processing strengths, ITW Formex® materials are replacing electrical papers, injection molded parts, and thermoplastics in many industrial, commercial, and consumer applications. Die cut parts are flat, but ITW Formex® materials can also be scored and folded into 3D shapes. By shipping and storing flat parts and then assembling them into finished structures, ITW Formex® materials can save space and reduce costs. 
ITW Formex® Products 
ITW Formex™ supplies four different types of Formex™ products: GK, GL, GS, and N3. These flame retardant, electrically-insulating materials come in different thicknesses and colors for the cost-effective fabrication of laminated and die cut parts. Formex™ GK, a well-known product, comes in black or natural colors with thicknesses of 0.005" and 0.030". Formex™ GK has both a UL 94 VTM-0 flammability rating and an F1 rating that demonstrates its suitability for outdoor use. 
Formex™ GL has a UL 94V-0 yellow card and a dielectric strength of 1,880 volts/mil. Formex™ GS combines a UL 94 VTM-0 flame rating with protection against ESD. Formex™ N3 is a thin-gauge, halogen-free, multi-layer polycarbonate with excellent dielectric strength and a UL 94V-0 flame class rating. All four ITW Formex® materials are RoHS compliant. Formex GS and Formex GK also meet FMVSS 302-75 requirements for the automotive industry. 
ITW Formex® Applications 
In automobiles, die cut ITW Formex® is used for electric-vehicle battery insulation. Other Formex™ applications include the air flow baffles in HVAC systems and the wire and cable organizers in televisions and consumer appliances. Because ITW Formex® is a flame-retardant electrical insulator, die cut Formex™ materials can be found in computers and computer peripherals, conventional and uninterruptible power supplies (UPS), electrical and power distribution systems, and telecommunications equipment.    
Additional applications for ITW Formex® materials include medical equipment, lighting systems, and 3D printers. Formex™ can also form barriers between printed circuit boards (PCBs), or between PCBs and housings. This electrical insulation material is ideal for protecting the delicate components within LED lighting, IP security cameras, access control systems and digital signage.  
Laminated and Die Cut ITW Formex® Materials
JBC Technologies laminates and die cuts flame retardant ITW Formex® materials that provide electrical insulation, EMI/RFI shielding, and ESD protection for 3D printers, LED lighting, the automotive industry, and many other applications. To request a quote or to learn more about JBC's capabilities, contact us. 
ITW Formex® is a registered trademark of ITW Formex
Formex™ is a trademark of ITW Formex