By Brenda Doskocil on
3/9/2017
What JBC Learned at Foam Expo 2017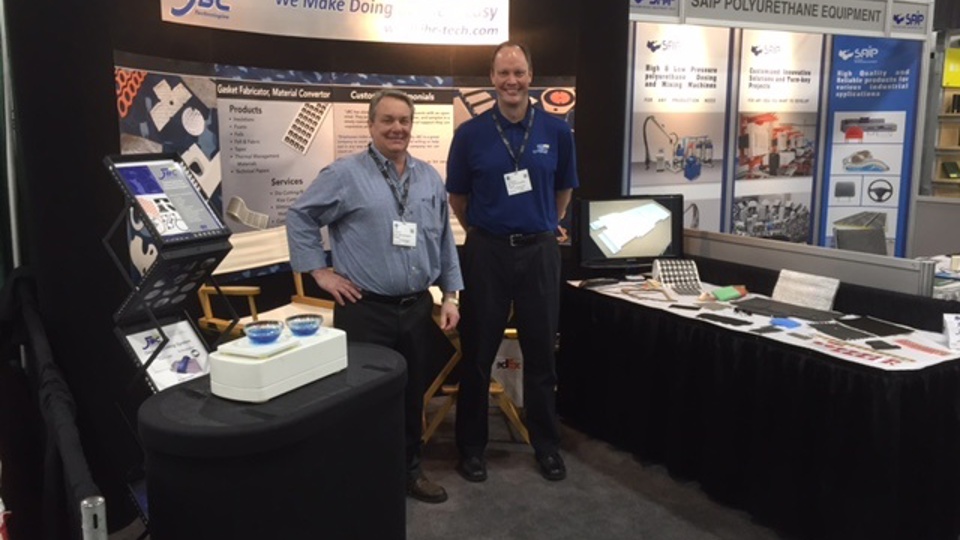 Recently, JBC Technologies exhibited at Foam Expo 2017, North America's first free-to-attend exhibition and conference for the technical foam industry. From February 28 to March 2, JBC joined over 200 exhibitors and as many as 4500 visitors at the Suburban Collection Showcase in Novi, Michigan. For suppliers, buyers, and design engineers from across the technical foam industry, the Foam Expo was an opportunity to connect with other professionals, share knowledge, and build business relationships.    
At Foam Expo 2017, suppliers of foams, adhesives, and converting equipment were joined by foam fabricators and converters who use various technologies to produce foam parts. At the JBC Booth, design engineers from OEMs like Ford, GM, and Toyota asked questions and received answers about custom die cutting for technical foams. The JBC Team also displayed samples of die cut foam parts for design engineers and sourcing managers to review. Supplier representatives, chemists, scientists, and end-users also found technical solutions at the Foam Expo.
Die Cut Foam for Noise Reduction and Sound Absorption
Beyond the tradeshow floor, industry professionals learned from featured speakers at various conference events. On Day 2, over 150 members of the technical foam industry listened to Mark Swanson, Senior Account Executive at JBC Technologies, present "Optimizing Noise Reduction and Sound Absorption with Foam Materials." By using die cut foams, the automotive industry can eliminate buzz, squeak, and rattle (BSR) and noise, vibration, and harshness (NVR) from vehicles.
As Swanson explained, BSR and NVR can hurt the bottom line. According to a technical paper from SAE International, J.D. Power surveys show that unwanted interior sounds (noise) can cause consumers to question vehicle quality. Design engineers and sourcing managers can use die cut foams to absorb impact and eliminate vibrations, but choosing the right foam is critical. Density, compression, and the use of open cell or closed cell materials all affect noise absorption and vibration mitigation.
Material Selection and Value-Added Die Cutting
In general, open cell foams are better at absorbing ambient sounds and closed cell foams are better at absorbing vibrational sounds. There are exceptions, however, which is why it's important to choose a die cutter who can help you with material selection. JBC Technologies has a full-time engineering staff and a focus on problem solving. Matt Weiss, JBC's Technical Sales Manager, is an industry leader who serves as Vice Chair of the Technical Committee for the Gasket Fabricators Association (GFA).  
Do you have questions about technical foams, BSR and NVR, or die cut foam products? Would you like to learn more about Mark Swanson's presentation at Foam Expo 2017? JBC Technologies is a custom die cutter that provides value-added solutions such as engineering and design support, material selection, and assembly automation. To learn more about us, contact the JBC Team. We'll be back at the Foam Expo next year too, so see you at Foam Expo 2018!