By Kate Gluck on
10/18/2019
5 Reasons Pressure Sensitive Adhesives Fail: A Guide to Preventing PSA Failure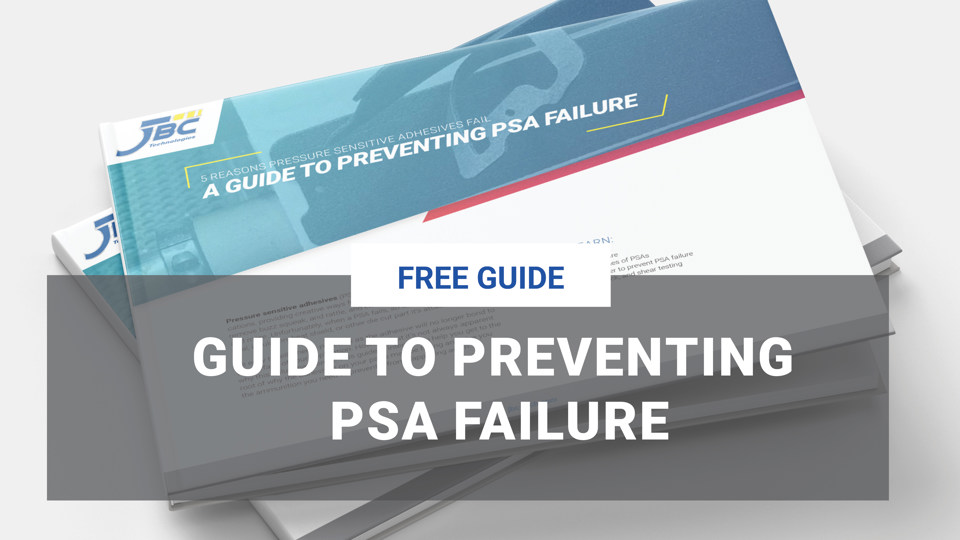 Pressure sensitive adhesives (PSAs) allow for easy application without the fuss of fasteners, which can loosen and cause buzz, squeak, and rattle. However, when the adhesive fails, it could mean problems for whatever it was attached to. 
Knowing why PSAs fail and how you can prevent that failure can keep a die cut part working the way it was intended to. This JBC Technologies PSA guide will walk you through the types of bond failure and what factors cause those failures to happen. 
READ IT TO LEARN:
Two types of bond failure

Three primary categories of PSAs

Five factors to consider to prevent PSA failure

The basics of peel, tack, and shear testing
Learn about pressure sensitive adhesive failure >>
At JBC Technologies, we can provide you with advice on which PSA will work best for your needs. But we don't stop there. We have the vertically integrated processes and expertise necessary to take your project from concept to completion in house and the value added value engineering and supply chain solutions to determine the best, most cost-efficient way to produce, deliver, and deploy parts into your production system. And with our quick turnaround dieless cutting process, we can turn around prototypes quickly, so you can be certain that your choice of PSA and die cut parts are exactly what you need. 
For further guidance on choosing a PSA that's right for your specific applications, contact JBC Technologies today.