By JBC Technologies on
11/19/2015
Top 6 Applications for Custom Die-Cut ManniGlas® Thermal Insulation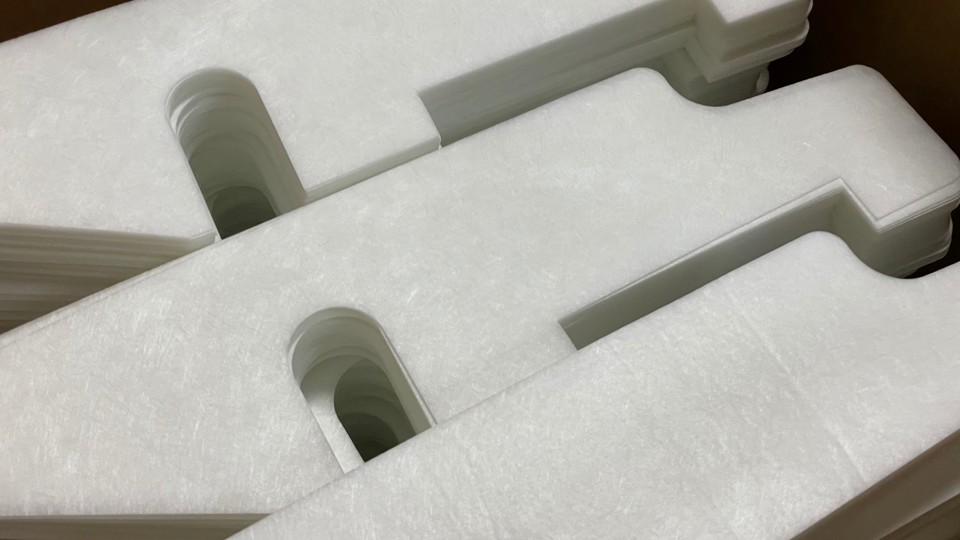 ManniGlas® is suitable for a variety of applications, and can be die cut into custom shapes. As a non-woven made from extruded glass fibers, it can withstand temperatures of up to 1200°F. Performance integrity coupled with its light weight makes Die Cut ManniGlas® a serious contender for:
Stoves, Ranges and Warmers - The extraordinary heat tolerance of 

ManniGlas®

 offers extra protection for, ovens, buffet warmers, and restaurant equipment. It can be die cut or shipped in rolls of various sizes  specific to customer applications.

Electronic Shielding - Electronic devices are especially susceptible to heat, but have strict clearances to meet the packaging demands. Electronics manufacturers, including Texas Instruments, have and continue to use ManniGlas® in high heat devices. The ability to be cut into precise shapes or bend at 90° angles exceeds industry standards, and the inherent rigidity of the material means it is acceptable for use in self-supporting applications.

Other Household and Industrial Appliances – When laminated with foil, ManniGlas® can be used in many household and workplace devices, including light receptacles, microwave ovens, electronic tools and more. The ability to die cut pieces for product specifications works especially well in assembly-line environments.

Engine Compartments - Ease of processing and high heat tolerance is also beneficial with motors and engines. Lining sensitive compartments with ManniGlas® contains heat at a minimal cost. It is ideal for gaskets and seals, and related industries such as high temperature filtration for vacuum cylinders.

Furnace - The flame resistant coating used can withstand sustained temperatures and temperature bursts of up to 1200° without shrinkage, and has achieved 94V-0, the UL's top rating for fire resistance. The heat reflective white surface can be layered for thickness conformity, and ManniGlas® does not produce smoke or formaldehyde-related vapors. It is also approved for use in government facilities, including the Securities Exchange Commission.

Fireplace, Flue and Chimney - When clearances are tight, ManniGlas® provides an excellent heat barrier that can be custom cut, supports some of it's own weight, and requires a minimal amount of ongoing maintenance. For prefabricated gas fireplaces, flues and chimney caps, it can add years to an installation at a reasonable cost. ManniGlas® is approved by the EPA as a substitute when replacing asbestos products.
The composite fiber base and inorganic laminate shielding are a popular combination for applications that require dependable heat shielding without sacrificing valuable space or weight. It can be used as containment for combustible materials, and has the versatility to be custom engineered for specific thickness and part dimensions. If you need unique thermal solutions that stay within project budgets, Die Cut ManniGlas® is definitely worth serious consideration.