By JBC Technologies on
8/16/2021
6 Reasons to Work with JBC Technologies for Your Pulse Oximeter Bandage Converting Needs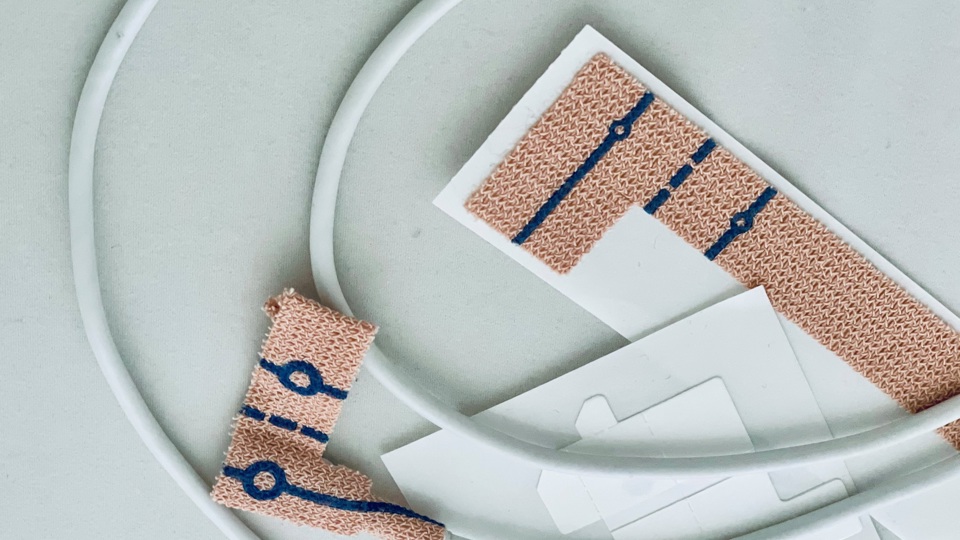 Adhesive skin patches are becoming more and more prevalent in short and long-term patient monitoring applications. Not only does their disposable nature ensure cleanliness, some advocate that because the adhesive patch is in direct contact with the skin, the measurements are also more accurate than you'd get with a band or other option.
Yet skin is complex to bond to for a number of reasons – the surface energy of the skin, the need for flexibility and bi-directional stretch, and more. It is especially difficult when you are trying to design for patients of all ages. And, turning skin-friendly tapes and adhesives into finished pulse oximeter bandages requires state-of-the-art equipment and engineering prowess that many converters don't have.  
It is important to work with a converter that has strong relationships with multiple adhesive manufacturers as well as the high speed, precision die-cutting equipment needed to produce complex parts… and one that will go the extra mile to ensure customer success.
Here are six reasons to consider JBC Technologies for your pulse oximeter bandage converting needs:
1 - State-of-the-Art Converting – JBC has extensive converting capabilities including multiple high-speed rotary die-cutting presses designed to hold tight tolerances and fabricate intricate multi-layer parts, with part presentation optimized for your end-use requirements.
2 - Strategic Sourcing — JBC's direct relationships with diverse material manufacturers like 3M, Berry Global, and DermaMed give us the knowledge and leverage to help our clients find the best material, with the best yield, at the best price.  We understand that skin contact adhesive requirements differ depending on patient demographics and will work with our partners to ensure you get the right adhesive for your products.
3 - Engineering Acumen — Our team of engineers and technical specialists have a demonstrated ability to improve processes and provide solutions to complex designs and fabrication challenges.
4 - R&D Assistance/ Rapid Prototyping –We'll work with our material suppliers to quickly sample materials and leverage our digital cutting machines to quickly produce any part that would normally be die-cut. 
5 - Flexible Capacity – At JBC, we build redundancies to systems, processes, equipment, and personnel to minimize risk and maximize on-time delivery.
6 - Continuous Improvement Framework – ISO 9001/2015 certified, JBC uses Fortune 100 level quality systems and processes to ensure manufacturing excellence.
Learn More About Why Customers Choose JBC Technologies.