By Kate Gluck on
6/15/2020
Acrylic Foam Tapes: Replacing Screws, Rivets, and More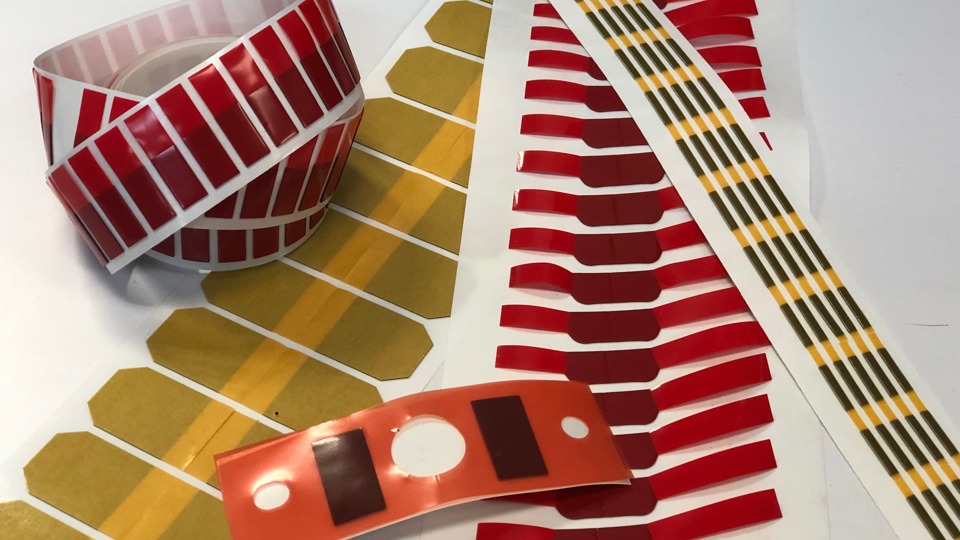 Consumer demand for interconnected, high performing devices, cars, and home appliances that are also sleek, lightweight, and quiet continues to grow worldwide. In order to keep up with consumer demand, manufacturers need innovative, high performing, long-lasting materials that also help reduce cycle time. Die cut acrylic foam tapes are a means to achieving all of these goals.  
What is Acrylic Foam Tape (AFT)?
Acrylic foam tapes are typically made of a solvent acrylic foam that is laminated with a paper release liner or film release liner. Acrylic foam tapes provide strong, reliable bonds and are often used to replace mechanical fasteners such as rivets, bolts, and screws. Acrylic foam tape solutions, including 3M's popular VHB family of tapes, are an ideal bonding solution for both indoor and outdoor applications. Most tapes can typically withstand temperatures ranges between -40℉ to 300℉. 
Acrylic foam tapes:
Provide an ideal combination of conformability and flexibility
Bond to a variety of substrates including metal, glass, composites, plastics, and ceramic
Maintain excellent resistance to heat, UV light, and chemicals
Achieve instant bonding and handling strength
Perform within a broad temperature range
Offer high load bearing ability due to high shear strength
Seal, dampen against shock and noise, and resist moisture
Simplify assembly
Applications for Die Cut Acrylic Foam Tapes:
Acrylic foam tape is commonly used for fastening, joining, bonding, gasketing, and sealing. The tapes are designed to enhance both appearance and performance of products. While applications for acrylic foam tape are virtually limitless, some examples include:
Replacing mechanical fasteners in specialty vehicles
Designed for a smooth side and a durable ride, 3M™ VHB™ Tapes withstand the extreme heat and cold, vibration, moisture and UV light specialty vehicles encounter on the open road. Unlike rivets and screws, 3M VHB tapes provide a barrier sealed against any kind of weather. 
Attaching nameplates, logos, emblems to vehicles, appliances and more
Avery Dennison AFB™ 6164B and 6164W acrylic foam tapes are ideal for applications requiring weather, solvent, and UV resistance, as well as durability. These tapes offer strong lamination properties and good weather and environmental resistance for applications including large domestic appliances, nameplate or sign bonding, and control panel mounting. 
Bonding TV screens, computers, tablets, and other consumer electronics devices: 3M™ VHB™ Tapes provide design flexibility while meeting the high standards of the electronics industry. VHB tapes have been used to bond everything from high-definition television screens to moisture-sealed nautical navigational systems. 
Attaching rear-view cameras, trim, brackets, weatherstrip, and other automotive components
3M has developed an array of adhesives and tapes that bond almost anywhere on a vehicle. Avery Dennison also offers foam tape adhesive solutions; bonding solutions that help secure badges, emblems, mirrors, moldings and decorative trim. Whether attaching trim, brackets, weatherstrips and more in places unsuitable to traditional fastening methods, AFTs provide a highly conformable and stable bond across wide-ranging conditions. 
Assembling household appliances
3M™ VHB™ Tape LSE series offer appliance manufacturers a distinct bonding advantage by spreading stress loads across the entire length of the joint, permanently adhering materials with a powerful bond. 3M tapes are easy to apply and can be custom die cut to precise shapes and sizes. AFTC® Group's SilverTape™ is a double sided, viscoelastic, 100% solid acrylic adhesive that is extremely durable and provides outstanding age and environmental resistance for home appliances. It is an ideal match when bonding such materials as aluminium, steel, plastics and glass, as well as low surface energy materials like ASA, ABS, PP/PE EPDM, POM and many more. 
Selecting the Right Acrylic Foam Tape for Your Application
Taking the time to select the right acrylic foam tape for your application can make all the difference. Paying attention to surface energy, environment, end-use requirements, and more is vital to the long-term success of your products. Working with an experienced materials converter helps to ensure you select the best material for your budget and end-use application.
JBC Technologies provides innovative die cut solutions to leading manufacturers. We partner with the world's leading manufacturers of the latest technologies in specialty pressure sensitive tapes and adhesives, offering a wide range of high performance gasketing, sealing, and shielding materials. We also offer state-of-the-art converting equipment, including 9 high speed rotary presses that enable us to die cut small precision parts up to 30" with tolerances as tight as 0.005".