By Kate Gluck on
7/22/2019
Automotive Heat Shielding - Top 5 Reasons to Choose TABshield Over Traditional Metal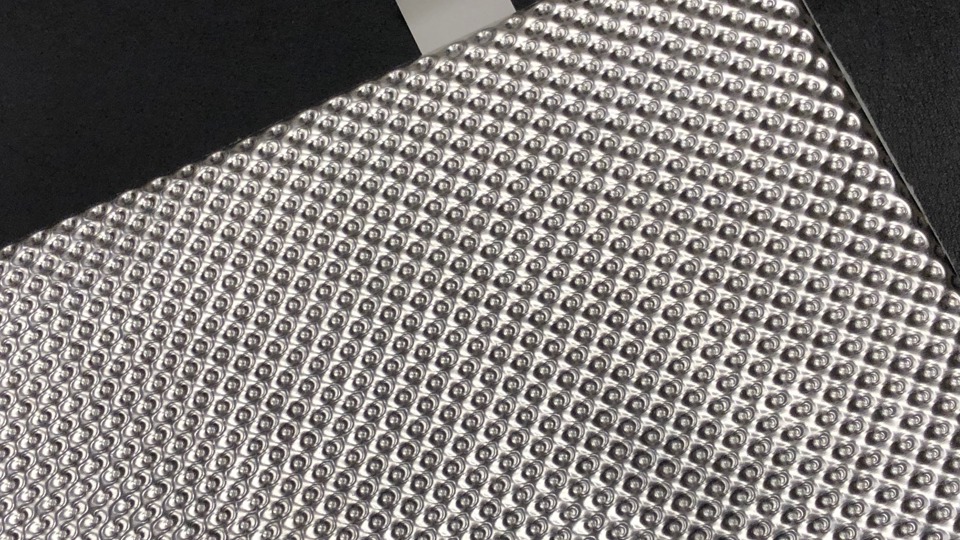 Can a lightweight, composite, peel-and-stick thermal acoustic barrier material replace traditional metal heat shielding?
When it comes to heat shielding, today's automotive marketplace continues to shift away from the traditional metal shield. In the past, large, inflexible, cumbersome metal shields effectively served the purpose of suppressing heat.
As today's automakers strive to achieve increasingly stringent lightweighting requirements, CAFE standards, and safety laws, however, the use of alternative materials is rising. Key factors make certain solutions more effective than others. These include the ability to reduce a part or product's weight, lower tooling costs, speed to market, and more.
JBC's TABshield is such a solution. A high performing alternative to the traditional metal heat shield, TABshield is easy to install, flexible, and conformable. It can replace or reinforce traditional heat shields for superior targeted noise and thermal suppression, helping manufacturers achieve:
1. Lightweighting
Reducing vehicle weight without sacrificing performance, comfort or safety is a common priority for today's auto engineers. Every component of the vehicle is a key factor in achieving this goal. Heat shields are no exception.
TABshield is a lightweight thermal and acoustical management material that can function as a heat shield in tight spaces such as engine compartments, transmissions, tunnel insulators, exhaust systems, dash and hood bodies, and more.
Constructed of a fiberglass and polyester insulation core, a light gauge aluminum foil, and PSA, it achieves superior targeted acoustical and thermal protection without adding the weight of a traditional heat shield.
2. Improved Speed-to-Market
Shorter lead times and faster prototyping for proof of concept enables manufacturers to proof, test, and get a product to market quicker.
While it can take up to 12 weeks and extensive tooling to produce a prototype for a traditional heat shield, TABshield prototypes can be turned around in as little as one to two days. JBC's dieless cutting facilitates on-the-fly changes to dimensions or features and eliminates special tooling, eliminating the wait time associated with the use of stamped, molded tools.
3. Targeted Thermal Protection
Traditional metal heat shields are built as one large, solid metal sheet. Hot spots frequently occur, reflecting heat and sound back to the source, increasing safety risks and reducing passenger comfort.
TABshield patches are ideal for targeting hot spots in metal heat shields. It can be cut to even the smallest measurements and added to a main heat shield for additional thermal protection.
TABshield includes an aluminum foil facing to help reflect radiant energy, quickly absorbing high heat and reducing temperatures. Its low thermal conductivity slows the transfer of heat as the foil reflects radiant heat away from hot spots in a heat shield — increasing safety and passenger comfort.
4. Heat and Noise Suppression in Even the Tightest of Spaces
Reducing heat and noise in tight spaces requires thin, flexible, formable materials that can be bent and shaped to securely align with parts and materials. While solid metal foils reflect sound and heat back to their source, micro-perforated foils allow sounds to pass into the acoustically absorbent fibrous core, reducing unwanted noise, vibration, and harshness (NVH).
Available as both micro-perforated or embossed, TABshield is a formable, flexible, thin-gauge material that also eliminates acoustical resonance.
5. Superior Radiant Heat Reflection
Reflecting radiant heat directs dangerous heat levels away from a particular area or object, increasing safety and passenger comfort.
TABshield slows the transfer of heat in concentrated areas, reflecting it back to its source. Concentrated areas of heat spread across the entire surface of a TABshield patch, rapidly reducing temperatures.
Selecting the right heat shield material can determine whether your part or product achieves long-term safety, performance and efficiency. Whether your goal is lightweighting, improving speed to market, or achieving optimal thermal and acoustic suppression, JBC can help. Contact JBC Technologies today to learn more.