By Mark Swanson on
2/16/2017
Case Study: Kiss Cut Parts Save Time and Money, Increase Productivity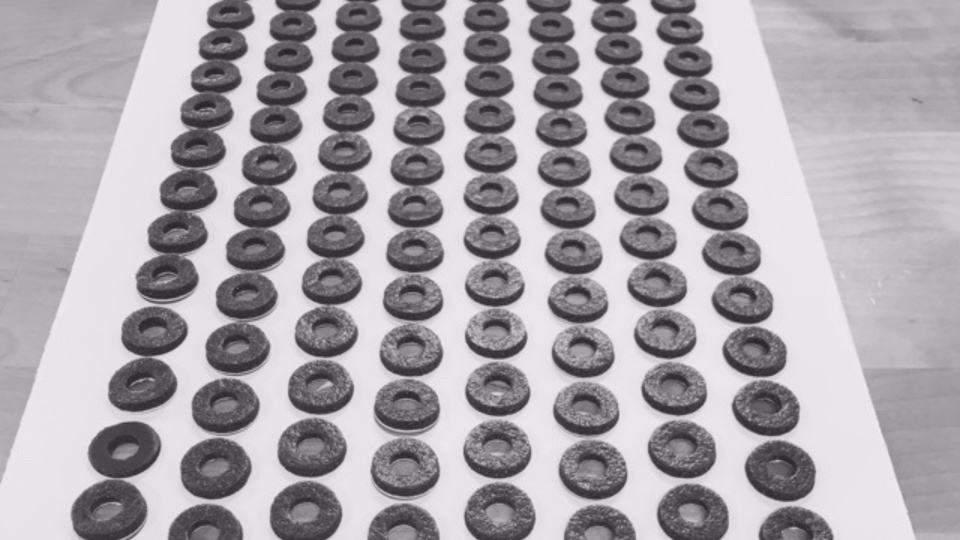 Kiss cutting produces die cut parts that an operator can quickly and easily remove from a liner or backing. Unlike other die cutting methods, kiss cutting cuts-through only the first layer (or layers) of material and down to, but not through, the release liner. By applying light finger pressure, an operator can peel-away each part for subsequent installation. When all of the kiss cut parts on a sheet or pad are used, the operator discards the plastic backing or liner. Because there's just one backing for multiple parts, operators handle fewer liners. There's less waste, too.
Kiss Cut Parts: The Savings Add Up
When a company wanted to increase efficiency operations, JBC Technologies suggested kiss cutting as a way to reduce costs and speed production. The small, square die cut products that the manufacturer used measured 10 mm x 10 mm and had an adhesive on one side. Each part was supplied on a 10 mm x 15 mm release liner, which meant that operators removed parts with individual pull tabs. By using kiss cut parts from JBC Technologies instead, the company saved nearly 105 labor hours per year. 
The solution that JBC provided involved supplying rows of kiss cut parts on pads with 30 parts each. Using kiss cut products instead of parts with pull tabs saved about a half-second per part, an amount that may seem insignificant at first. When this half-second savings is multiplied across the number of parts (750,000) that the customer uses per year, however, the total time savings is just over 104 hours. That's the equivalent of 13 eight-hour shifts, a significant amount in terms of both time and money.   
Kiss Cut Parts: Count All of the Benefits 
JBC's customer realized other benefits, too. Productivity increased and waste decreased. For operators, working with small parts with pull tabs can be challenging. Each die cut product has to be separated from the liner, and each liner requires disposal. Sometimes, static electricity can cause a plastic liner to stick to an operator's finger. An operator can shake off the liner, of course, but a liner that accidentally falls to floor must be cleaned up. Discarded liners that fail to reach a trash can must be swept up, too. 
Kiss cutting also created less waste because of the elimination of pull tabs. The physical dimensions of the usable part remained the same, but kiss cutting didn't require the use of excess material so that an operator could grip and pull the part. Reducing the amount of material helped to cut costs, which allowed JBC to pass along the savings to the customer. To learn more about kiss cut parts and how they can save your company time and money, contact JBC Technologies.