By Mark Swanson on
7/5/2016
High Speed Kiss Cutting for Higher Volumes and Lower Costs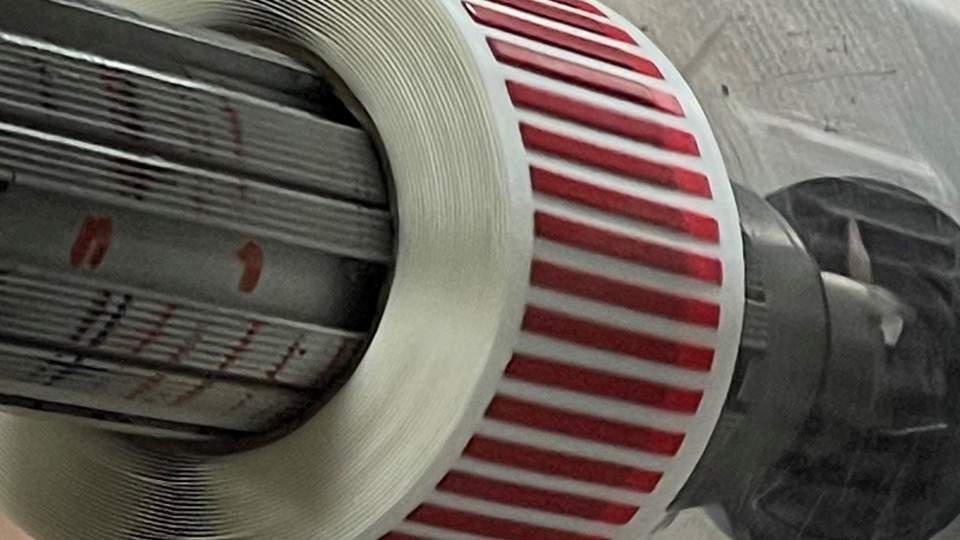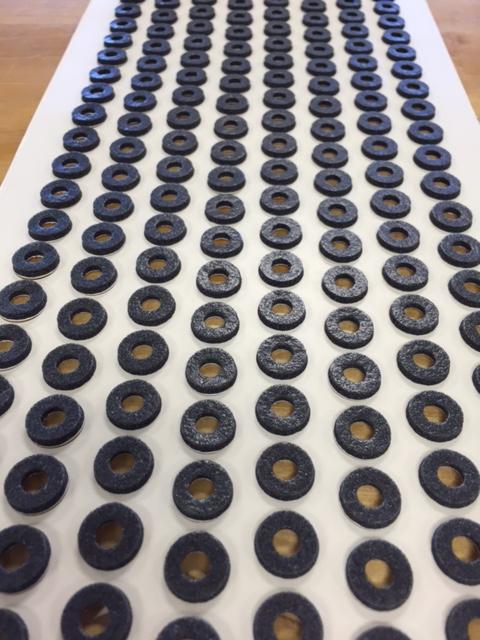 Kiss cutting is a precision die cutting technique that allows for the conversion of a die cut part without cutting through the release liner or backing, like stickers but with flexible materials for gasket applications. Suitable materials for this technology include foams, felts, rubber, Manniglas®, tapes, graphite, thermal management materials, and plastics – just to name a few. Often, kiss cutting is used to produce peel-and-stick parts that have a pressure-sensitive adhesive (PSA). These die cut products can be applied by hand on an assembly line, or with automated equipment such as industrial robots.
As a manufacturing method, kiss cutting creates precise components that arrive ready-to-install and that support faster production throughputs. Kiss cutting eliminates the handling of each individual part to remove the liner and allows for faster deployment by simply peeling the part from a sheet or roll and sticking it to a substrate allowing for and supporting ease-of-installation. There are many reasons why engineers like high speed kiss cutting, but is this die cutting method right for your application?
Understanding the Total Value of Kiss Cut Parts
JBC Technologies' converting capability can support high-volume, high-speed, kiss-cutting using various methods such as rotary die cutting for fast, efficient production of your parts. Kiss cutting requires a little finesse, well maintained & modern equipment, and experience. JBC has been converting kiss cut parts for decades because this is an important option for our customers. Kiss cut parts will typically have a PSA, or a material with a PSA. A kiss cut part is cut through the material, and just down to the top of the liner. This allows you to roll up the die cut parts after processing and vastly improve your ability to dispense your tape, foam, fabric or gasket. You can easily setup a roll fixture at an assembly work station and allow a worker to just pull parts off and apply. Compare that to digging through a box or a bag, separating parts that are stuck together by adhesive or static, removing the liner, and applying the part. Utilizing high speed kiss cutting technology reduces the overall labor costs in both the production of the gasket and installation by the customer thereby reducing the total cost of the parts.
Choose High Speed Kiss Cutting from JBC Technologies
JBC Technologies is a custom die cutter with the technical knowledge and application experience to meet your application and business needs. The kiss cut parts that we provide are die cut according to your precise specifications and supplied on sheet or rolls for manual or automated assembly. JBC Technologies has deep application knowledge in the automotive, appliance, HVAC and electronic industries, and can help you with material selection and engineering support.
To learn more about our capabilities and how they can help you, please contact us.