By Joe Bliss on
3/17/2016
Pressure-Sensitive Adhesives (PSAs) for Die Cut Products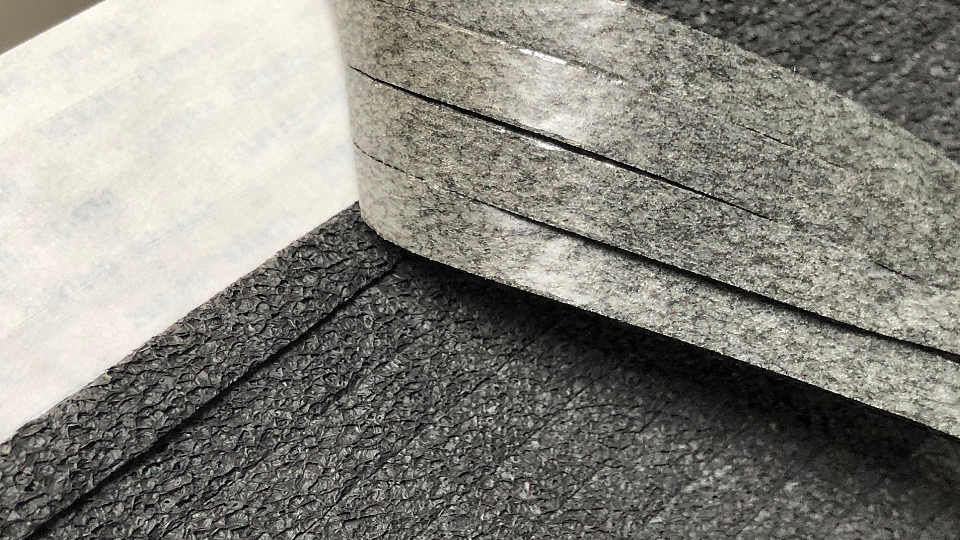 Pressure-sensitive adhesive (PSA) is the sticky surface commonly applied to gaskets and die cut products used to join parts through surface contact when forced together with external pressure. They can provide temporary or permanent fastening. The type and construction of PSA is extremely diverse and can be generalized in three major chemical categories; acrylic, rubber, and silicone. Some well-recognized manufacturers of PSAs include; 3M, Avery Dennison, Mactac, Scapa, Sekisui, Nitto, and Tesa. Regardless who manufactures the pressure-sensitive adhesive, JBC Technologies can assist in selecting the right PSA that satisfies performance requirements at a competitive cost using state of the art die cutting or rotary cutting systems. Another important aspect is customer deployment or installation cost. A die cutter with experience in processing pressure-sensitive adhesives can offer delivery methods that significantly enhance ease of use by the customer. Some of the more common methods include; split release liner, kiss cut roll-fed gaskets or adhesive patches, pull tabs, island placement, finger lift and even in-house assembly of the adhesive patch or gasket to the customer's part.
PSA Types and Forms
The cost of a pressure-sensitive adhesive is often predicated on the chemical type.
Rubber Based Adhesives
Rubber-based PSA in general is in the lower-cost category and often used for less critical applications. It is limited by its resistance to temperature but can feel quite sticky to the touch. It can be a good choice as an assembly aid where it holds parts together until they are mechanically fastened.
Acrylic Adhesives
The Acrylic family of PSA is probably the workhorse of all PSAs. Advancements in acrylic chemistry have resulted in a wide range of cost and performance options extending its use from temporary to permanent fastening applications. Certain acrylic PSA chemistries allow excellent performance to up ~350ºF.
Silicone Adhesives
Finally, silicone PSA is at the high end of the cost spectrum. Although what it lacks in bond strength it makes up in its ability to work at temperatures approaching 500ºF.
Transfer Films vs Double Coated Tapes & Adhesives
Regardless of the PSA chemical category, it is available in two different constructions: transfer film and double coat. Transfer films consist of an unsupported adhesive layer that is applied to a die-cut part. This type of construction allows the part to remain flexible and elastic. When coated to a foam gasket, it remains as elastic and stretchy as it was without the addition of PSA. On the other hand, a double coat PSA is exactly as described, it is constructed of a super-thin carrier, commonly a ½ mil polyester film coated on both sides with a thin layer of adhesive. It is impossible to physically see a difference between a transfer film and a double coat but with the addition of a non-extensible carrier, the double coat PSA will eliminate stretch and provide dimensional stability to soft stretchy die cut foam gaskets.
Another type of double coat is acrylic foam tape. This type of acrylic PSA uses a viscoelastic foam core and is used as an attachment tape to achieve a permanent bond. It is most commonly used to attach automotive accessories and trim parts. Its construction provides conformance and gap filling properties to seal out water and dust. Acrylic foam tape is on the higher cost of the acrylic spectrum and can be difficult to die cut.  It is important to select a die cutter like JBC Technologies that is proficient in processing acrylic foam tape.  
Value-Added Solutions for Die-Cut Products
Do you need pressure-sensitive adhesive for a die cut product? JBC Technologies has extensive experience and the best converting equipment to process all types of PSA.  We have experience die cutting, converting, and laminating PSA from some of the best-known manufacturers in the industry.  We would be happy to discuss your PSA application and if you're looking to optimize the value stream map of your die cut product, JBC Technologies' approach as a value-added solutions provider can be a valuable addition to your supply chain.  To learn more, contact us today.