By Kaley Lucien on
7/27/2023
Faces of JBC: Get to Know Andrew Frederick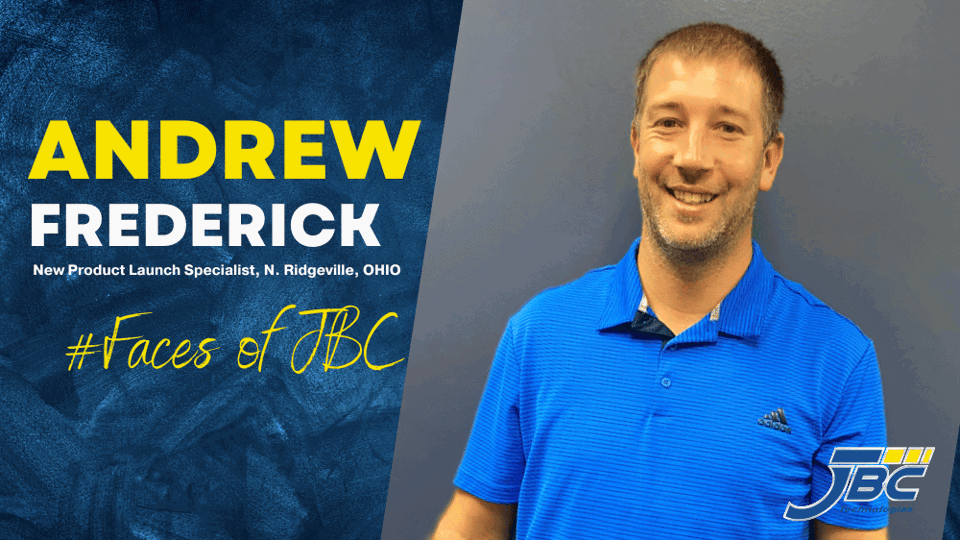 Welcome to this month's version of Faces of JBC, our monthly spotlight on the individuals who make up the fabric of our organization − working behind the scenes to make sure that we continue to exceed customer expectations. 
Today, we feature Andrew Frederick, a longstanding member of the team that has made a huge impact over his 12 years with the company. 
Without further ado, let's get to know Andrew!
Where did you work prior to JBC?
I've been at JBC Technologies for over ten years.  Prior to that I worked with my aunt and cousin at A-1 Concrete Leveling.
What attracted you to JBC ?
Initially, the main draw of JBC Technologies was the hours... and the fact that it was different from the seasonal work I'd done in concrete leveling.  I was originally hired to work in the plant in a Manufacturing role and have had several different jobs during my time at JBC, including Production Associate, Lead, Master Scheduler, and my current job as New Product Launch Specialist.  
Describe your role in the New Product Launch team and how it fits with the big picture.
New Product Launch (NPL) is a department JBC formalized over the last two years. Our job is to get parts set up efficiently and effectively to ensure that all first runs are completed on time and as intended. 
This means wee need to be involved at multiple phases of new programs, from R&D to first delivery.  NPL sets up prototypes and samples, trials, and new parts. We help move a new program in to the next stage of full production. I like it because every day is different and because I learn a lot by working closely with folks from multiple departments. 
Whether on the manufacturing side or engineering side, every day gives a new test.
Tell us about the team you work on.
Right now, it is myself and my boss Matt, in the NPL role. We are a great team that works together daily. We work with the rest our Supply Chain group closely, including our facilities in Madison, WI, Elk Grove, IL, and Denver, CO.
What is the best part/ most unique about working at JBC?
Every day is different, so that is great. I also really appreciate the quality of the team we have here. Everyone from the  President to the Production Associates on the plant floor are very good at what they do.   It's fun to work with them all. I also really appreciate the chance to meet the new team members we have been able to bring on board in the other facilities.
What are you most proud of while working here at JBC?
The trust my co-workers have put in me. They believe in me and know I will work hard to get any job asked of me done.
How do you feel you have grown professionally/expectations for professional growth?
I feel good about the strides I have made to get where I am today. Personally I am sure it was a little difficult to work with me at times, as I had my opinions that I thought were right or someone couldn't understand what I envisioned. Today I feel I can work with almost anyone and we can accomplish any goal we want to, together.
So far, what has been your favorite project since working here?
My favorite project so far? I would say teaming up with SpaceX and the medical fields JBC is getting into and what we can do to help that part of the industry.
Can you describe your job/company in three words?
Family. Team. Driven.
What is your greatest motivation?
My family, wife and two kids, are my greatest motivation. I want to give them the best possible life and future. Showing my kids that the sky is the limit and encouraging them in anything they want to achieve.
What are some of your interests outside of work?
My wife and kids. Basketball. Volleyball. Golf. Baseball. And, of course, going on vacation to any beach!
What is something about you that most people don't know?
Geography and storms intrigue me. Any time a map or something with the weather pops up, I bug my wife with information she does not want to hear about.