By JBC Technologies on
5/1/2023
Faces of JBC: Gwen Jackson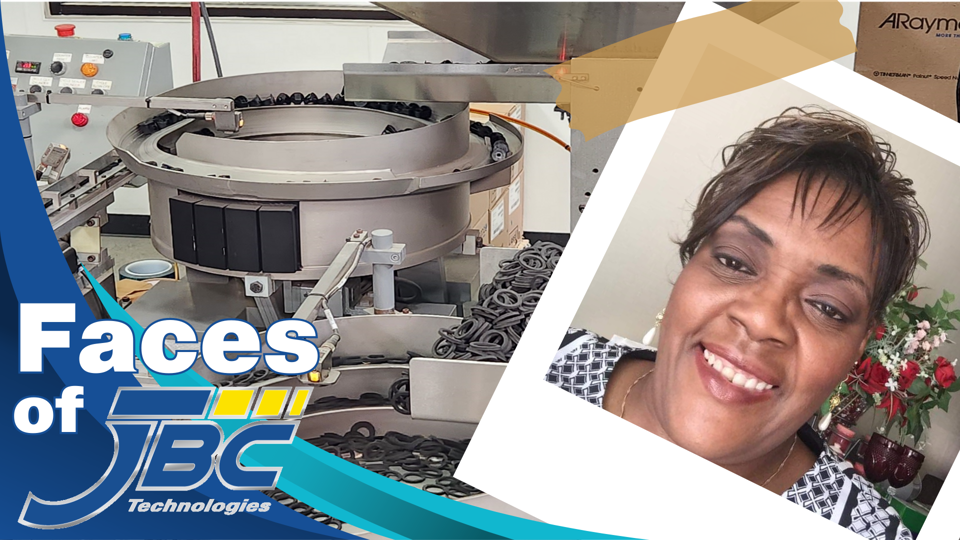 Welcome to the latest edition of the Faces of JBC blog series. In this ongoing series, we take a moment to introduce one of the team members responsible for making JBC one of the country's leading die-cutters and material converters.
We aim to share the names behind the roles here at Team JBC and, hopefully, to teach you more about our people and their stories.
Today, we venture to our North Ridgeville, Ohio headquarters and manufacturing plant to introduce you to
JBC-North Ridgeville Production Associate Gwen Jackson.
Where did you work before JBC?
During the pandemic and before joining JBC, I had worked several different contract positions.
During this time, and because I enjoy helping others, I was also working towards earning my physical therapy degree. Recently, I've been considering a return to school to get complete occupational therapy certification.
Describe your current role at JBC Technologies.
I am a production associate, and I work in the automation department.
How did you find yourself at JBC? What are a few of your favorite parts about your job?
I initially came to work at JBC as a contract employee. A couple of things about my job that I really like are the friendly and respectful management and co-workers and being able to re-connect with past co-workers.
Tell us about the team you work on.
As a first-shift production associate, I work mainly in the automation or packaging departments.
What's been the best part about working for JBC Technologies?
Unfortunately, I've suffered much loss during my short time at JBC. When I started, my father and aunt passed away 13 days apart. JBC supported me and showed great empathy throughout this trying time.
I recently lost my mother, and JBC was, once again, very sympathetic and understanding.
What are some of the things you've learned while working for JBC Technologies?
I've learned to take things at face value. I'm better at asking for help when it's needed. No question is a stupid question.
Can you describe your job or the company in three words?
Nice, respectful, and family-oriented
What's one of your proudest accomplishments at JBC?
During the pandemic, I worked at JBC assembling protective face shields for front-line healthcare workers. I was proud to know I was doing something to help the greater good.
What is your greatest motivation?
My greatest motivation is my family. With them and God's help, I've kept my sanity throughout all the losses I've experienced in the past few years.
What are some of your interests outside of work?
Outside of work, I like to focus on self-care. I enjoy activities like getting my nails done, going to concerts, and spending time with family.
What is something about you that most people don't know?
Most people don't know that I've actually got a pretty decent singing voice. I also think I've got a great deal of patience.