By Mark Swanson on
4/4/2018
Thermal Interface Materials: Graphite Gaskets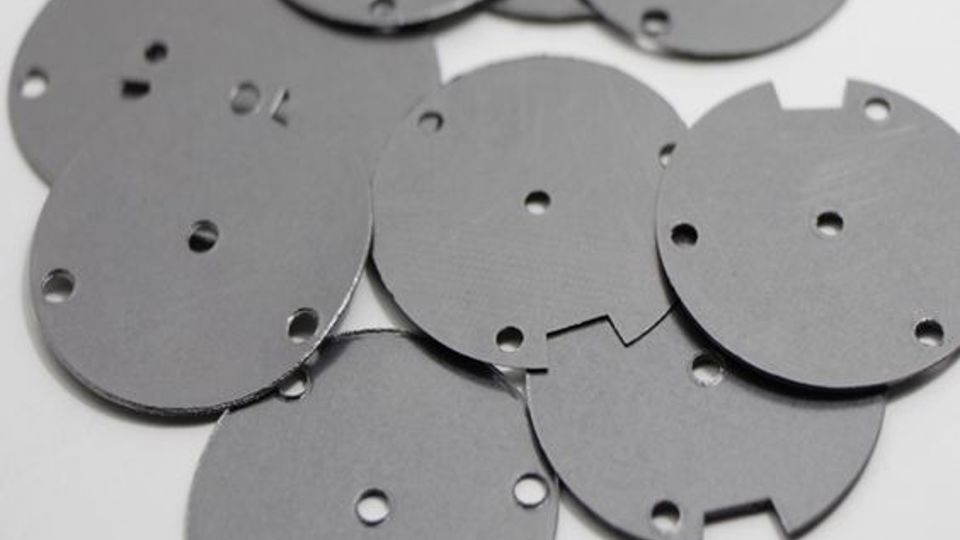 Thermal interface materials (TIMs) are used in computers, lighting, power electronics, and other systems that generate excess heat. They create a thermal path from a heat-generating component to a heat sink, an active or passive device that dissipates heat. In products such as cell phones, LED lights, and automotive batteries, heat that's not discharged properly can reduce service life. In some cases, excess heat can even cause component failure. 
Engineers who need thermal management solutions have a variety of TIMs to choose from. Unlike thermal greases, die cut products aren't messy and will conform to surface irregularities. They don't require expensive dispensing equipment or time-consuming cleanups either. Examples of these die cut products include thermal tape, thermal pads, phase-change materials, gap filler pads, and heat spreaders. Die cut thermal interface materials also include graphite gaskets that provide numerous advantages. 
Graphite Gasket Advantages 
Graphite gaskets combine strong thermal resistivity with resistance to thermal shock, a type of damage that occurs with rapid changes in temperature. Graphite's mechanical properties increase with temperature, but graphite gaskets resist colder temperatures, too. Across planar surfaces such as printed circuit boards (PCBs), graphite dissipates heat both evenly and rapidly. Graphite's many advantages include high compressibility, excellent resiliency, long life, and corrosion resistance. 
Graphite is also flexible and can be produced without fillers or binders that can impart rigidity. Flexible graphite gaskets are die cut from expanded sheets or foil-core materials in a range of thicknesses. Thin, lightweight TIMs made of die cut graphite sheets are ideal for heat spreading applications where space is limited. Die cut graphite gaskets also support the use of pressure-sensitive adhesives (PSAs) for ease-of-installation.      
Thermal Interface Applications for Graphite Gaskets 
Die cut graphite gaskets are used in electrical, electronic, and mechanical applications that require a combination of reliable electrical grounding and strong thermal conductivity. Examples include mobile computers, handheld devices, power supplies, and power conversion equipment. Flexible graphite gaskets are also used in high-performance computers, large telecommunications switching hardware, and electronic displays.   
In the lighting industry, graphite gaskets are made of expanded sheet materials with low levels of outgassing, a condition that releases volatile organic compounds (VOCs) that can cause clouding and reduced brightness. In the automotive industry, graphite gaskets that incorporate metal foils are used with chip on-board LEDs for engines. These thermal interface materials can be supplied on assembly-ready rolls, too. 
Ask JBC Technologies for Thermal Interface Materials 
Are graphite gaskets the right thermal interface materials for your application? The Sales Team at JBC Technologies is ready to answer your questions. To get started, contact us.