By JBC Technologies on
5/12/2016
JBC Converting Capabilities: Digital Die-Cutting & Rapid Prototyping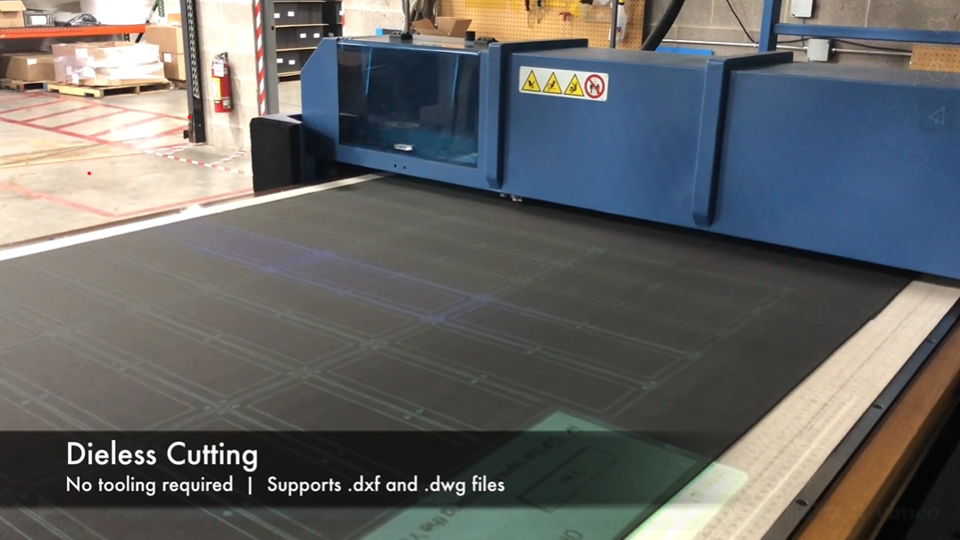 The phone rang at 4 PM. The caller, a JBC Technologies customer, asked if we could do what seemed impossible. The engineer needed die-cut insulation – and fast. These parts wouldn't be finished products, but they were due at a testing facility halfway across the continent. Could JBC Technologies produce prototype parts rapidly? The answer, we explained was, "yes".
By 10 AM the next day, the engineer had prototype parts in hand. How did we do it? Regular readers of this blog know that JBC Technologies specializes in precision die cutting. Converting is an important part of our capabilities, too. Then there are our value-added solutions. For rapid prototyping, we provide die-less part fabrication at all four of our locations.
Is Digital Die-Cutting Right for Your Application?
Digital die-cutting is suitable for most flexible materials – including the type of foam that our customer needed for acoustic insulation. This rapid prototyping technique can accommodate parts up to 2" thick, and that measure as large as 5' x 10'. For materials that we keep in stock, JBC Technologies offers a 24-hour turnaround time on parts. This includes prototypes, of course, but also low-volume production runs and projects that require in-field testing of multiple parts. In addition to non-metallic flexible materials, digital die cutting is perfect for prototyping light-gauge aluminum for heat shield applications.  
Digital Die Cutting vs. Traditional Die Cutting
Digital die-cutting, or rapid prototyping, starts with a CAD file and ends with a finished part. Other parts production methods follow a similar workflow, but digital die-cutting is different. Unlike flatbed die cutting or rotary die-cutting, digital die-cutting doesn't require metal tools called dies. Instead, reciprocating knives provide the cutting action. JBC Technologies maintains a complete inventory of these knives, which means that we don't have to wait for tooling to arrive to get started on your project.        
Learn about our digital die cutting options 
Fast and Flexible Prototyping
Digital die-cutting is fast and flexible, too. Prototype parts are cut to their actual specifications so that you can test them for form, fit, and function. If your part design requires revisions, a digital die cutter can make on-the-fly changes to dimensions or features. Because this manufacturing process doesn't require special tooling, you won't have to order new tools or modify existing ones either. Digital die-cutting doesn't just save you time and money, it produces parts with speed and precision.
Choosing a Digital Die Cutter
Digital die-cutting is an engineer's best friend. It's fast, accurate, repeatable, reliable, and lets you try actual, physical parts during testing. Plus, since metal dies aren't required, there's no tooling investment. If parts don't perform as required during testing, you can change your designs without paying for (and waiting for) new tooling. All digital die cutters aren't the same, however, so it pays to choose one that specializes in rapid prototyping. As the example in this blog entry shows, that's JBC Technologies.
How can we help you? To learn more about our digital die-cutting capabilities, please contact us.