By Kate Gluck on
1/23/2022
JBC Expands Digital Cutting Capabilities with Die Cut Technologies Acquisition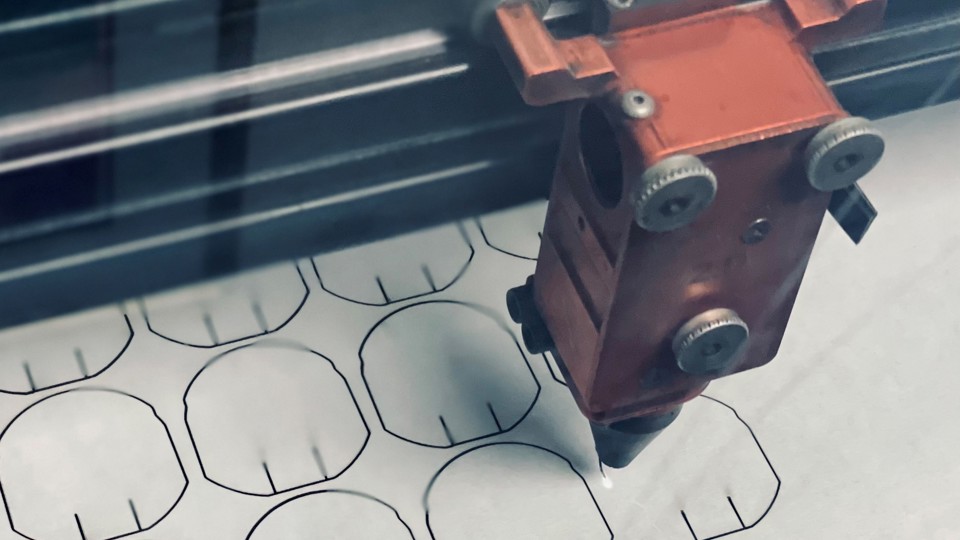 Early December, JBC Technologies announced the acquisition of Colorado die-cutter, Die-Cut Technologies. Today, we want to provide a bit more detail on what that means for our customers in terms of digital dieless cutting.   The Colorado facility has a number of digital cutting machines that not only expand our ability to provide rapid prototypes, but also enable us to cut parts with tighter tolerances and thicker, more dense materials than we've been able to do in the past.  
Here's a bit more detail of what these dieless cutting machines have to offer you: 
Tighter Tolerances and Intricate Geometries 
The Die-Cut Technologies facility has a Universal X2-660 Super Speed laser cutting machine that can cut films and plastics up to .125" thick and some foams up to .50" thick, efficiently fabricating parts with unique geometries that cannot be produced with conventional hard tooling. Common materials that DCT currently cuts on the laser include Teflon, Viton, FDA grade silicone and thermal gap pads. The list of materials that can be laser cut is extensive, however.  
What this means for you is that JBC can now offer you:  
Greater precision on intricate parts with a more diverse array of materials
High precision, quick turn prototypes without the expense for tooling
Quick kiss-cut samples
Large Format Parts Made From Hard-to-Die-Cut Materials
Another piece of equipment new to JBC is Die-Cut's Eastman's Static Table System. This dieless cutting table is ideal for cutting materials like cotton, nylon, and vinyl, polystrand and fiberglass-polyester blends – even the adhesive-backed reflective material used in some highway marking applications. The Eastman, which is an excellent solution for large format parts with simple geometry,  can handle material up to 72" in width and unlimited length sheets or rolls. 
What this means for you is that in addition to high quality die-cut seals and gaskets you can now turn to JBC Technologies for quick turn prototypes on large parts with an even broader range of materials than we can cut on our existing dieless systems.
Precision Cutting of Dense, Rigid Materials
DCT's  Multicam CNC 3000 Series Router is ideal for cutting dense, rigid materials such as .50" thick plastic, phenolics, wood, aluminum and more.  The router, which is capable of  meeting the needs of custom aerospace and metal parts requiring high tolerances, has a very high degree of accuracy.
What this means for you is that we can now provide you with: 
Precision cutting of dense, highly rigid materials
Quick turn prototypes on dense rigid materials
In addition to the expanded digital cutting capabilities mentioned above, Die-Cut also has  a flashcutter similar to the two that we have at our North Ridgeville facility. They also have numerous traditional die-cutting presses. All of this equipment will serve to expand our capacity and operational bandwidth. 
Also noteworthy is an ISO 8/ Class 100000 clean room for producing die-cut components in a controlled environment. This facility will augment the Class 8 Cleanroom that is currently under construction at our North Ridgeville Facility. 
DCT has a strong track record serving the transportation, medical and electronics markets. It was one of the first small businesses in Colorado to receive the  ISO 9000 certification, and has since achieved TS-16949, MIL-I-45208A, and IATF quality certifications. You can rest assured that when you receive parts produced at the DCT facility  you will receive the same high-quality and responsiveness you are accustomed to at JBC. 
Let Us Help You Convert Your Design Concepts Into Reality
For over thirty years JBC Technologies has utilized our engineering expertise and breadth of vertically integrated converting capabilities to turn rolls of flexible materials into custom die-cut parts – helping manufacturers turn their design concepts into reality. The acquisition of Die Cut Technologies enables us to do this on an even greater scale.