By Kate Gluck on
9/6/2021
Pattern Coated Adhesives & Long-Term Wear Stick-to-Skin Applications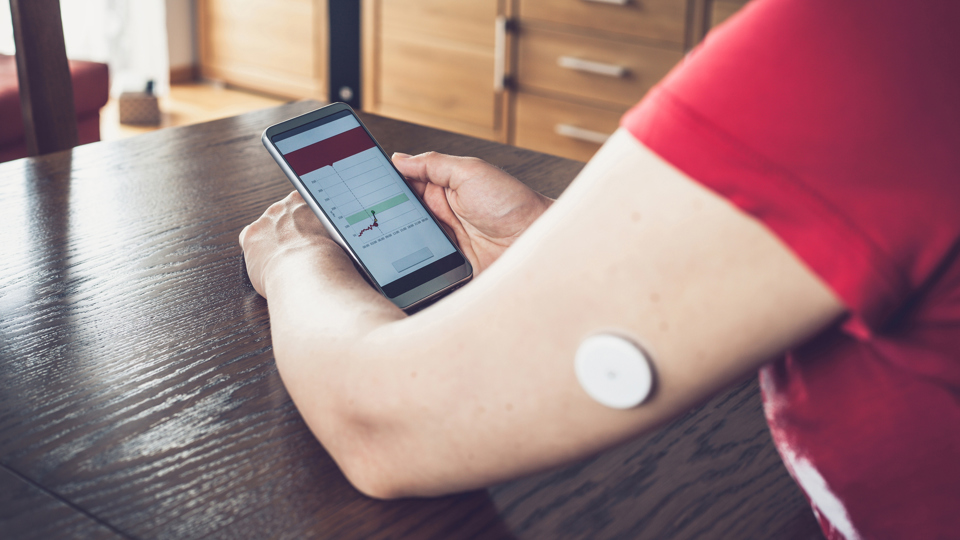 Moisture Vapor Transmission Rate (MVTR) is one of several considerations for design engineers when selecting a medical-grade adhesive for long-term wear skin contact applications. When attachments, devices, or medical-grade tapes are worn on the skin for extended periods of time, moisture can become entrapped in the covered area, prevent healing and even damage the skin.
It is important to select a carrier that balances breathability and moisture transmission from the skin surface with an adhesive's ability to seal out contaminants. Materials with the right balance will stay adhered to the skin while minimizing moisture build-up, improving patient comfort, and reducing the risk of infection.
This article examines which carriers offer higher MVTR levels for long-term wear stick-to-skin applications and how pattern-coated adhesives can benefit MVTR.
Medical Tape Carriers with Higher MVTR
Some stick-to-skin applications require medical-grade tapes and pressure-sensitive adhesives (PSAs) that offer a lower probability of skin trauma and higher breathability. Good examples include devices or products geared toward the sensitive skin of geriatric or neonatal patients, wound care applications, and IV securement.
Choosing an adhesive-coated medical-grade tape with higher MVTR starts with selecting one with a film or carrier that has a higher MVTR value uncoated.
Carrier materials with low to no MVTR values — Polyesters, polyolefins, Polyvinyl chloride (PVC) and other tightly woven materials resist airflow and tend to have lower to no MVTR values. As a result, they are not good choices for long-term wear or other applications that require a more breathable carrier.
Carrier materials with higher MVTR values — Polyurethane films, and polyurethane nonwovens and some PET nonwovens are more suitable for long-term wear stick-to-skin applications requiring breathability.
The carrier is not the only consideration, however. Another way to achieve a higher MVTR is by using a pattern-coated adhesive. For instance, DermaMed 4202 is a 1mil Polyurethane Film with an acrylic diamond pattern adhesive. The diamond pattern consists of a normal and reduced coat weight of adhesive. The diamond ridges have a normal coat weight while the inner part of the diamond has a reduced coat weight. The areas of reduced coat weight enhance the ability for air and moisture to pass through the Polyurethane film. The area with a heavier coat weight allows the device to bond securely to the skin.
More on Pattern-Coated Adhesives
To really understand pattern coated adhesives, it is important to step back and talk about the differences between a standard flood coat and a pattern coat:
A standard flood coat typically applies an adhesive to a tape or carrier via a knife over roll system. The carrier is pulled through a tray of adhesive to pick up the wet adhesive. The material then goes through a process to smooth the adhesive to a specific thickness, finally traveling through a number of ovens to dry the adhesive and ensure one even coat weight is applied.
When applying a pattern-coated adhesive, an etched cylinder is used to coat out the pattern of adhesive onto the carrier. The etched cylinder creates the diamond pattern found on DM 4202. The highs or ridges of the diamond pattern maintain a 100% coat weight providing a good bond to skin. The lows of the pattern could be as low as 20-30% of the adhesive coat weight. This can help boost breathability, MVTR, and provide lower trauma upon removal.
While a flood coat could possibly achieve a similar MVTR, a pattern-coated adhesive can help boost breathability while decreasing the opportunity for pain or skin trauma upon removal.
Partner with JBC Technologies for Your Stick-to-Skin Tape Converting Needs
Whether your end product is a pulse oximetry bandage, a medication delivery system, a health and beauty patch, or other stick-to-skin product, JBC Technologies can help you effectively transform rolls of medical tapes, adhesives, and other materials into finished parts. We have an experienced team of processing engineers, state-of-the-art precision die-cutting and other converting equipment, and strong relationships with some of the best material manufacturers in the industry—including 3M, Berry Global, and DermaMed.
Download our whitepaper today! Long-Term Wearable Medical Devices: How to Avoid Getting Stuck When Selecting Skin-Contact Adhesives.