By Bob Lesher on
6/7/2022
Precision Die-Cutting Material Spotlight: 3M Dual Lock Reclosable Fasteners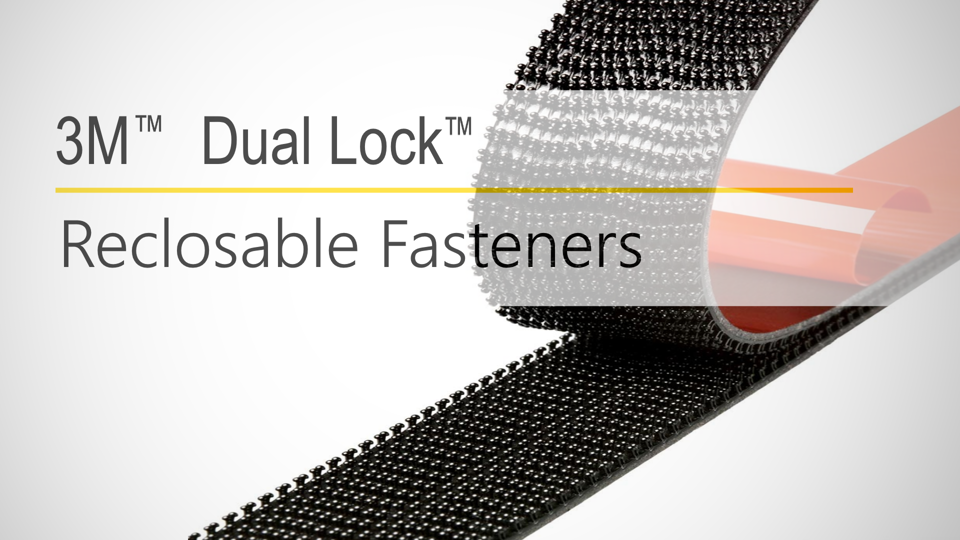 From transportation to appliances, reclosable fasteners are a critical design component for various industries and applications. Unfortunately, your typical hook and loop fasteners may not provide enough closure strength for specific industrial applications. Traditional mechanical fasteners can slow installation and removal and damage surfaces during attachment.
Dual Lock™ from 3M™ is an innovative alternative to traditional hook and loop reclosable fasteners and mechanical fasteners. Dual Lock™ provides a robust and reliable attachment method for industrial applications that require repeated opens and closes.
In this post, we'll learn more about what sets the 3M™ Dual Lock™ reclosable fastener system apart from other hook and loop fasteners and how it just might be a good fit for your next fastening application. We spoke with 3M™ Senior Applications Engineer, Pam Vannelli, and Converter Markets Specialist, Scott Piper, to discover what sets Dual Lock™ apart from other reclosable fasteners on the market.
Ready to get started? Let's go!
3M™ Dual Lock™: A Strong, Reliable, Reclosable Attachment
Here on the Dual Lock™ product landing page at 3M™, you can see how their unique mushroom-shaped (stem with a little cap) heads slide past each other, locking into place with an audible snap. This mechanical connection forms a strong attachment that can also easily be pulled apart and reclosed up to 1,000 times, after which it loses about 50% of its original tensile strength.
This unique design provides up to five times the tensile strength of typical hook-and-loop products. "Dual Lock™ provides the security of knowing it is fully engaged since you can feel and hear it snap into place," said Vannelli.
Dual Lock™ vs. Traditional Hook and Loop Reclosable Fasteners
There are two significant differences between Dual Lock™ and Hook and Loop fasteners—engagement and strength. Hook and loop fasteners create immediate engagement. While that may seem like good quality, in many industrial applications, perfect alignment is paramount. The quick engagement of hook and loop can result in misalignment. Dual Lock™ allows the user to ensure correct alignment before the product is engaged by sliding it around and pressing it into place.
In addition, hook and loop can sag when weight is applied, causing it to shift as much as an eighth of an inch. There are a lot of applications where this may not matter; however, many industrial applications depend on a secure attachment that stays perfectly aligned.

▲ Return to Table of Contents ▲
Choosing the Right 3M™ Dual Lock Reclosable Fastener
With 3M™ Dual Lock™, the stem densities can be mixed and matched to achieve the ideal closure strength. According to 3M™, the best way to begin product selection is to start with 250:250. Evaluate the strength and see how difficult it is to engage the product. If it is not strong enough, consider 250:400. If it is too strong, try 170:250.
3M™ advises against using 170:170 because the attachment will be very weak. 400:400 is also not recommended because it may be difficult to fully engage the two sides or disengage them without damage.
"Stronger isn't always better. You want to make sure the product is fully engaged and strong enough for the application, but you also want to be sure that you can easily disengage it when needed", said Vannelli.
Once you have the right stem density combination, selecting the right product requires looking at the application and the environment in which Dual Lock™ will be used. As with all adhesive products, questions must be answered to determine the best choice for each application.
3M Dual Lock Product Selection - Asking the Right Questions
"Once I have the answer to these questions, I can help customers narrow down their selection to find the best one. For example, a rubber-based adhesive is great because it sticks to a variety of surfaces. However, it won't be as durable if it will have a lot of long-term outdoor exposure or any long-term chemical exposure, etc.
In that case, you would want to go with an acrylic adhesive. Or, if a customer needs high heat and chemical resistance but is trying to bond to a low surface energy material, we can discuss using surface adhesion promoters to increase the bond. Simply put, there are no one-size fits all answers, said Vannelli."

▲ Return to Table of Contents ▲
The 3M™ Dual Lock™ Reclosable Fastener Product Family
Dual Lock™ offers different adhesive and color options to meet specific application needs, match design parameters, and withstand temperature and environmental exposure. This video from 3M entitled "Why 3M™ Dual Lock™?" demonstrates how the unique fastening system of 3M Dual Lock takes reclosable fasteners to a new level:
Here is the complete Dual Lock™ product family from 3M™.
| | | | | | | | |
| --- | --- | --- | --- | --- | --- | --- | --- |
| Product Family | Adhesive Type | Substrates | Indoor/Outdoor Use | Color (Stems, Adhesives) | 170-type | 250-type | 400-type |
| SJ3540 | Rubber Based | HSE, MSE, LSE | Indoor | Black/Black | SJ3542 | SJ3540 | SJ3541 |
| SJ3550CF | Conformable Acrylic | HSE, MSE | Indoor/Outdoor | Black/Clear | SJ3552CF | SJ3550CF* | SJ3551CF |
| SJ3560 | Firm Acrylic | HSE, MSE | Indoor/Outdoor | Clear/ Clear | SJ3562 | SJ3560* | SJ3561 |
| SJ3870 | Conformable Modified Acrylic | HSE, MSE, Powder Coated Paints | Indoor/Outdoor | Black/ Black | SJ3872 | SJ3870 | SJ3871 |
*tested against the DIN EN 45545-2 and R1 requirements for hazard level HL3 the relevant FST Norm for the Rail Market in Europe


▲ Return to Table of Contents ▲
Substrate Compatibility and Common Applications 
Dual Lock™ bonds with a wide variety of substrates, including metals, glass, plastics, and powder-coated paints. It will adhere to low, medium, and high surface energy materials.  The wide range of adhesive options also makes Dual Lock™ an excellent option for joining dissimilar materials.
Dual Lock™ is used across various industries, including transportation, appliances, construction, sign and display, and general industrial.
Typical applications for die-cut 3M™ Dual Lock™ include:
Interior Panel Attachments (Passenger rail cars, buses, ambulances, marine vessels and elevators)
Removable Access Panels (Water and natural gas valves, electrical junctions, elevator control boxes, and recessed lighting)
Mobile Mounting (Windshields, vehicle dashboards, electronics, sensors or trackers, and motorcycle or RV accessories)
3M™ Dual Lock™ Installation: No Tools Required
Dual Lock™ installation is as easy as applying a piece of tape, requires no tools, and eliminates surface damage caused by mechanical fasteners. The pressure-sensitive adhesive requires a clean, dry surface and firm pressure to engage the product. 3M™ suggests starting with four square inches per pound of dead load.


▲ Return to Table of Contents ▲
Converting 3M™ Dual Lock Saves Time and Money
Dual Lock™ is converter friendly and can be die-cut into complex shapes with tight tolerances required for industrial applications. "It is particularly helpful to work with a converter on high volume runs to save time and money. An experienced converter like JBC Technologies can also slit the product to custom widths, add tabs for easy liner removal, die-cut custom shapes, and assemble multiple layers," said Piper.
3M™ Dual Lock™ Reclosable Fasteners: Additional Resources
Convert Your Design Concepts Into Reality With Die-Cut Parts from JBC
For over thirty years, JBC Technologies has utilized our engineering expertise and breadth of vertically integrated converting capabilities to turn rolls of flexible materials into custom die-cut parts. As a 3M Preferred Converter, JBC Technologies partners with many industry-leading material manufacturers to provide our customers with the highest quality die-cut products.
Contact us today to learn more about reclosable fasteners like 3M's Dual Lock and how our custom solutions can help you convert your design concepts into reality.