By Kate Gluck on
11/18/2019
PVC Foam, An Economical Solution for Die Cut HVAC and Appliance Applications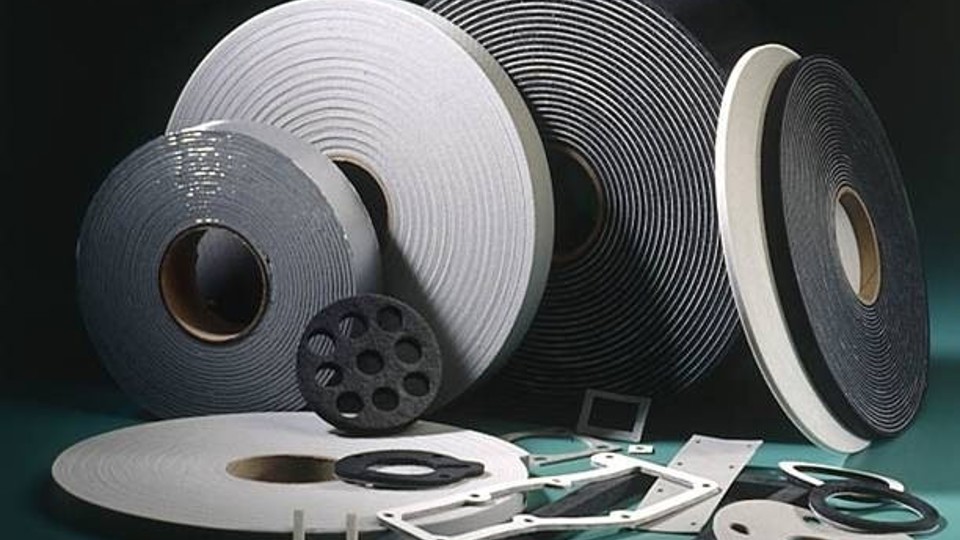 Today's design engineers and production teams are constantly challenged to produce long-lasting, high-performing products while managing costs. Identifying cost-effective materials that can perform in even the most demanding environments is one way to achieve these goals.
In the home appliance and HVAC markets, PVC foams are an economical, high-performing alternative to EPDM, neoprene, and other more expensive materials. PVC foams can outperform these more expensive alternatives, giving design engineers the needed performance while simultaneously managing costs.
This installment of our material Q & A series features John Berchulc, Regional Sales Manager for FoamSeal, Inc. In it, John discusses the features and benefits of FoamSeal's custom-engineered PVC (Polyvinyl Chloride) foams as an economical solution for various common appliance and HVAC applications.
What are examples of where and how PVC gaskets are used within the appliance and HVAC industries?
Compressible PVC foam gaskets provide a long-lasting seal against moisture, drafts, dust, and light while cushioning vibrations and providing sound insulation. Their soft, pliable nature helps them conform well to irregular surfaces. Gaskets fabricated from PVC are used in many home appliances, including clothes washers and dryers, refrigerators, and dishwashers.
PVC gaskets provide ideal sound and vibration absorption in HVAC applications as well, helping to address buzz, squeak, and rattle (BSR) issues in AC and heat units. PVC provides excellent UV resistance and withstands exposure to elements like salt, rainwater, dirt, sunlight, and more without breaking down, cracking, or changing color.
Because PVS is moisture-resistant, it's good at preventing condensation or moisture buildup on surfaces to which it is applied. PVC is also an effective thermal insulator.
Can you tell us which Foam Seal produc­ts work best for these applications?
Foam Seal offers a variety of materials for many different applications and usages. From low to medium and high-density products, our materials are cost-effective solutions that can stand up to many different environments.
For example, we offer:
70 P UL, a low-density industrial PVC foam for applications requiring UL 94 HF-1/HBF conformance.
HT 70 is high temp UL 94HF1 rated material that is also flame retardant. It is high performing for electrical close-out panels and other internal HVAC parts.
Aluma-Seal is an effective thermal insulator that prevents condensation or moisture build-up on its applied surfaces. It is available in low- and medium-density PVC foam.
Aluma-Seal UL 723 adds heat resistance and conformability. It is used as an insulator for HVAC plenums, pipes, and pans to prevent condensation build-up on surfaces to which it is applied.
What else can you tell us about Novagard Foam Seal PVC foam products?
Novagard Foam Seal PVC foams are a cost-effective solution that achieves performance levels usually reserved for more expensive materials. In general, Foam Seal closed-cell PVC foams are ideal for an array of home appliance and HVAC applications because they:
Feature closed cell structures that seal out light, air, dust, and moisture
Provide cushioning against shock and vibration
Resist most solvents and chemicals
Achieve service temperatures of -20°F to +180°F
Promote fire resistance (Meeting MVSS 302)
Offer inherent ultraviolet resistance
Flex at low temperatures, preventing cracking so that the material remains intact and keeps its integrity
What are the benefits of Foam Seal PVC products compared to standard alternatives?
As for alternatives, ​EPDM blended materials, PVNs, or neoprene blended materials are often used in similar applications but are typically more expensive and don't stand up as well as PVC foams due to condensation or UV light.
Foam Seal PVC foams are sulfur-free, making them low VOC products that don't off-gas or create fogging or moisture runoff. All Novagard Foam Seal PVC materials are also California Prop 65 compliant.
Our line of PVC foams is resistant to most solvents and chemicals. They won't lose their integrity if they come into contact with anything.
Are there any temperature limitations to the Foam Seal products? How do they compare to similar products on the market?
Temperature ranges for Novgard Foam Seal ​industrial-grade PVC products are -4°F - 172°F (-20°C - 78°C)
Temperature ranges for our HT70 foams are -30°F - 230°F (-22°C - 446°C)
Aluma Seal and Aluma-Seal UL 723 products can take temperature ranges of -4°F - 172°F (-20°C - 78°C)
Other products may perform under higher temperatures, but when you look at actual comparisons among product offerings, there is a variance. Overall, the Novagard Foam Seal products can manage temperature ranges similar to EPDM, neoprenes, etc. but are a more cost-effective alternative to those materials.
Tell us a bit more about Aluma-Seal PVC Foam.
Aluma-Seal PVC foam is an industrial medium-density product cast on an aluminum liner. The foam adheres to the aluminum making a material that conforms to irregular surfaces with a protective aluminum barrier. It is used as an insulator and prevents condensation build-up. It also reduces vibration and deadens sound in many HVAC applications.
Aluma-Seal 723 UL 723 is a PVC foam cast 52" wide on a 54" aluminum liner. The foam adheres to the aluminum making a material that will conform to irregular surfaces with a protective aluminum barrier. It reduces vibration, deadens sound, and seals ductwork, holes, and seams in HVAC applications. Aluma-Seal 723 is available in gauges 1/8″ to 1/4″.
How does JBC Technologi­es - a custom material converter and precision die-cutter - add value to the Novagard products?
JBC is a valuable partner that provides Novagard with industry-leading die-cutting services. JBC is able to expertly convert our products into small, medium, and large seals and gaskets for many engineered applications. With JBC, we get the best capabilities and strengths regarding material converting.
About JBC Technologies
As a premier flexible materials converter and die cutter, JBC offers a variety of die cut parts that go into thousands of different products, addressing critical requirements for sealing, gasketing, noise reduction, vibration elimination, heat shielding, electrical, thermal and acoustical insulation, and much more.
When you partner with JBC, you don't just get an average die cutter – you get a vertically integrated flexible materials converter that can help you take your project from concept to completion and beyond. Contact us today to learn how our team of experts can help you manage the flexible materials converting process from beginning to end.