By Kate Gluck on
7/2/2021
Wearable Adhesives for Stick-to-Skin Applications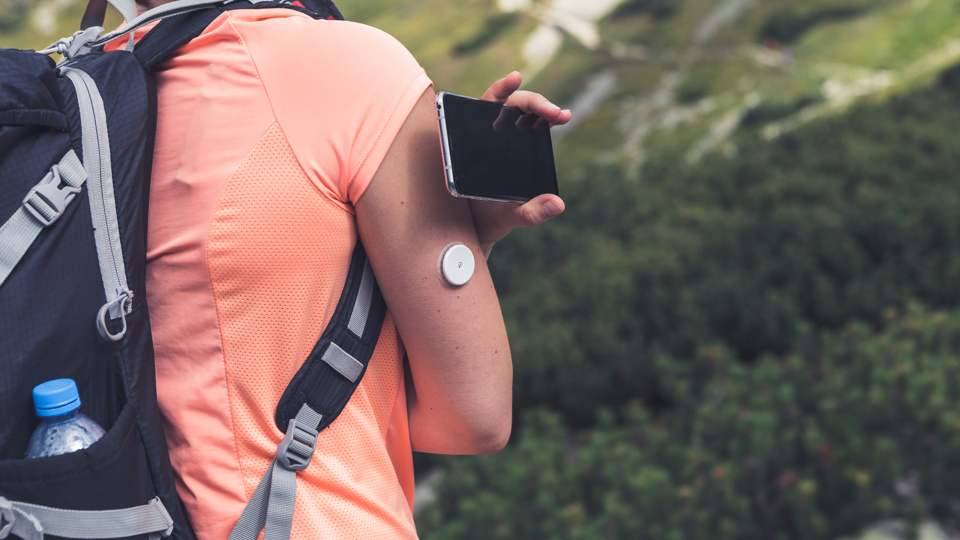 Advances in wearable adhesives have transformed many markets over the last two decades. Diabetic patients can monitor glucose levels with non-invasive on-body, continuous monitoring systems that allow them to go about their lives relatively unhindered. Individuals can gradually quit smoking through the use of die-cut transdermal patches that deliver a specific amount of nicotine through the skin and into the bloodstream. Stick-to-skin wearable device tapes are also appearing in the health and beauty markets, as consumers strive to avoid too much UV sun exposure or reduce wrinkles. The applications are nearly endless when it comes to stick-to-skin wearable device tapes and adhesives.
What Are Wearable Adhesives?
Unlike industrial pressure-sensitive adhesives (PSAs), wearable adhesives are designed for use on human skin. Skin-friendly adhesives support applications requiring short- to long-term wear. They can also endure exposure to factors including sweat, UV light, water and moisture, and even dynamic movement. Stick-to-skin wearable device tapes are designed for easy application and removal, breathability, and durability. 
These wearable skin tapes and patches are designed to ensure individual comfort. This is true whether applied to an infant, adult, or elderly individual.
Wearable adhesives are used in many industries and products, including:
Healthcare - Medical grade adhesives and tapes are used in continuous glucose monitoring devices, drug-delivery applications, pulse oximeters, temperature monitoring patches, adhering components of medical devices (e.g., EKGs and fetal heart rate monitors), and more
Beauty and Fitness - Sun and skincare monitoring devices, diagnostic beauty masks, wearable environmental trackers that connect to your smartphone, smart watches, fitness trackers
Additive - Soft and flexible nicotine, CBD, and aromatherapy transdermal patches 
How Are Wearable Adhesives Different?
Wearable adhesives must be designed to adapt to one of the most dynamic organs of the human body: the skin. Adhesives for stick-to-skin applications typically must provide a balance of adhesion and ease of removal; breathability and moisture resistance; resistance to friction and conformability. Adhesives for stick-to-skin applications must comply with ISO10993 testing, in terms of cytotoxicity, sensitization, and irritation, ensuring they are compatible with short- or long-term exposure to skin. Adhesives for wearable applications must also achieve certain performance and versatility (MVTR, conformability) standards.
Selecting the right wearable adhesive for an on-body monitoring device or stick-to-skin tape requires the consideration of many factors, including:
the age and activity level of the individual, 
how long a device or tape must stay attached to the skin, 
whether the device or tape must be exposed to water, sweat, friction
where a device or tape must attach to the body, 
component materials
shape of the device 
end-use/application 
Each of the above factors will play into which wearable adhesive is right for your application or product. 
Specialty Die-Cutting: Transforming Tapes and Adhesives into Medical Device Components
While these tapes and adhesives come from the manufacturer in basic roll form, most   wearable skin tapes and patches require a more specialized solution before they are ready for consumer use. That's why engineers rely on JBC Technologies to transform rolls of tape into finished parts.  Using our state-of-the art laminators, slitters and rotary and flatbed die-cutting equipment, we can laminate multiple layers of different materials together, kiss-cut tapes to a roll, perform complex island placements, and much more. 
Just let us know what you need and our team of technical specialists and engineers will find a solution.  Not only that, we work with customers from early-stage design through high-volume production and provide value throughout the project lifecycle. 
 We help customers:
Find the right tape to meet every substrate and application need
Mix and match materials and adhesives to create custom constructions that achieve specific objectives
Identify and implement automated assembly and custom part presentations to optimize productivity
With thousands of materials in stock and a long list of suppliers, we provide true economies of scale. Whether you need single or double-sided tapes, transfers, foam or film tapes, or non-woven materials, we have the right solution for your application. Contact us today.
Download our whitepaper today! Long-Term Wearable Medical Devices: How to Avoid Getting Stuck When Selecting Skin-Contact Adhesives.