By Kate Gluck on
7/30/2019
Why High Temperature PVCs are an Ideal Replacement for Crushed EPDMs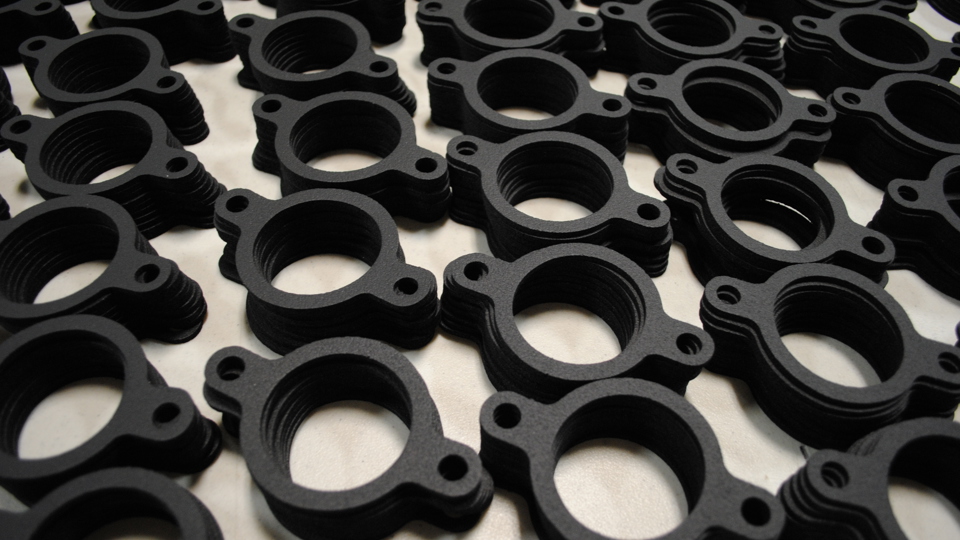 JBC works with numerous advanced materials to provide manufacturers with the right die cut parts for a variety of applications. We are proud to source all of our materials from leading material manufacturers and distributors. Our partners are the best of the best, helping us to offer our customers thousands of high quality, cost competitive materials. 
Today is the first of a new series that features insights and information brought to you from our partners themselves. Over the course of this series, we will cover an array of products, marketplace trends, and industry challenges important to our customers. 
This first installment features John Berchulc, Regional Sales Manager for FoamSeal, Inc. providing his take on why high temperature PVCs are a strong alternative to crushed EPDMs. 
Q: What performance properties make High Temp PVC a strong replacement for crushed EPDM?  
A: High temperature PVC has many characteristics that make it an ideal replacement for crushed EPDM. The greatest of these being that it is:
UV resistant 

Petroleum and cleaning solution resistant

Sulfur free cured

Low VOC

Prop 65 certified and compliant
Sulfur-free materials made in the U.S. are very rare. Typically, sulfur-free foams come from the UK or other overseas manufacturers. Increasingly, a variety of industries -- including HVAC, heavy trucking, and automotive -- are looking for sulfur-free products due to both consumer tastes and industry regulations. 
Q: Why do companies use crushed EPDM? Why should they use high temp PVC instead?
A: High temp PVC foams outperform more expensive EPDM alternatives, giving design engineers all the performance they need while simultaneously managing costs. 
EPDM is a very soft, conformable material with a lofty, open cell structure. It easily conforms under compression without tapering factors having an effect on the material itself. It is ideal for sealing out water and dust.
High temperature PVC, however, is ideal for multiple applications and environments - providing a strong, leak-resistant moisture barrier, as well as chemical, flame, and UV resistance. It also offers strong shock absorption properties. Because high temp PVC is 100% closed cell, it doesn't have to be compressed to achieve closed cell characteristics. It has excellent rebound, losing less than 5% of overall thickness under compression. High temp PVC performs well under load, requiring the use of less material, which makes it a more cost competitive option than crushed EPDM.
High temp PVCs also have higher temperature resistance than crushed EPDMs. While crushed EPDMs can manage a 220-235 degree range, high temp PVCs can handle continuous temperatures as high as 257 degrees or even spikes as high as 275 degrees short term, depending on the density used. 
Q:  Can you provide examples of where and how High temp PVC is used? 
A: Because high temp PVC is sulfur free, it can be used in light chisms, for gasketing under the hood, for seals, and more. And, because high temperature PVC is low VOC and sulfur free, it can also be used in interior applications (e.g., cockpits) -- depending on what design requirements call for. E.g., some specs will call for a PVN material that also doesn't have a smell and is highly conformable. In those cases, this high temp PVC would not be the right match.
Q:  In what types of environments do High Temp PVC do well? 
A: High temperature PVCs do well in environments exposed to water, petroleum, cleaning solutions, ozone, UV, and a variety of temperature ranges - from -30℃ to 120℃. They are ideal for interior and exterior applications. 
Q: So, would you say that many product designers over-engineer their product by specifying crushed EPDM? 
A: Yes. Truly design engineers today are often just too busy to bother with investigating new options that they will have to justify through testing and verification. They are comfortable and used to dealing with option A (EPDMs). They may be aware that option B and C are out there (e.g., high temp PVCs) but they don't have the time to investigate these newer, better solutions. 
Q: What are the common objections you get re: the benefits of using high temp PVC as a replacement to crushed EPDM?
A: The most common objection we hear to PVC is that it is polyvinyl chloride. That can be a taboo word. Some people hear polyvinyl chloride and believe that all PVC materials are harmful. The reality is that today's PVCs are much different than yesterday's. They can now be made low VOC, sulfur free, Prop 65 certified, etc. 
PVC is one of oldest closed cell foams used across industries and it isn't going away anytime soon. Being able to work with reformulated, remodified PVCs is a great benefit to both consumers and manufacturers.
Q: What are common misperceptions people have about High Temp PVC as a replacement to crushed EPDM?
A: Right now the biggest misnomer is that high temp PVC is not cost competitive to crushed EPDM. Many times we have customers request a quote for a high temp PVC. They get the price and think that it costs double what they would pay for an EPDM. But you have to make sure you are comparing apples to apples. It matters what EPDM the customer may be using and how much.
For example, we have had customers request a quote on 10lb high temp PVC while they are using a 7 or 5.5lb EPDM. Of course the price will be more for a denser material. If you instead examine a high temp PVC of the same density, it is usually more cost competitive than a crushed EPDM. 
It's also important to recognize that a majority of EPDMs are bun stock material that has to be processed and skived to thickness. High temp PVC are cast to thickness and manufactured in rolls. This results in less processing. With regular EPDMs, you are working with massive sheets. Turning that into rolls is a very laborious process, which will ultimately raise the cost.
Q: Can you provide examples of practical applications for die cut high temperature PVC?
A: High temp PVCs are a strong and durable – yet economical – solution for automotive manufacturing, as well as general industrial and HVAC applications. In particular, they are ideal for:
HVAC:

stripping, close outs on doors, joining together various parts, putting a cap into a base to seal out water and dust, and more.

Automotive:

under the hood's cowl section to seal out water and moisture, as a gasket to act as a cushion or bumper pad where parts touch metal or where plastic and metal parts come together, in sail panels for exterior mirrors, as A or B pillars, in lift gates, and more. 

General industrial:

can have very broad uses. Depends on application. 
Heavy equipment:

vibration and sound dampening. 

Recreational applications:

ATV, RV, marine, snowmobile parts, motorcycle manufacturing
Q: Tell us more about FoamSeal.
A: FoamSeal, Inc. is a privately held business that has been in operation since 1977. We manufacture a wide array of products, including closed cell PVC foams for a number of industries, including the automotive, HVAC and general purpose markets. 
The FoamSeal line of high temperature PVC is one product line we offer. While we have a wide array of products, this PVC foam is a step above the traditional 7 lb. density, offering higher temperature values that allow it to be used as a high performing alternative to other closed cell gasketing materials.
We have 120 employees and are based out of Cleveland, Ohio, where we have a 2000 sq ft. building in the warehouse district. 
Q: Tell us a bit about yourself.
A: I have been in the converting and die cutting marketplace for over 39 years. I was very fortunate to have a great mentor who taught me the full scope of being a foam convertor and what it takes to be successful in this industry. I have partnered with FoamSeal/Novagard because the owners have that same focus on continuous internal improvement and staying on the cutting edge of new products. I am very proud to represent FoamSeal and to assist our clients with their closed cell needs. 
My title is Regional Sales Manager. My job is to get to know each of FoamSeal's clients, to make sure we are meeting their needs. I focus on identifying ways to shift how we process materials, and produce and supply products to our clients to ensure we constantly build on our relationships and make the most of every partnership. 
Q: Why do you view JBC Technologies as a strong resource to convert your product? 
A: We saw a mutually beneficial opportunity in partnering with JBC. JBC's die cutting, processing capabilities, and product lines are state of the art. As a converter, we realized that JBC can help us grow in another direction, examine new business angles, and reach clients with competitive new materials. And vice versa. Our high temp PVC can enhance the high quality foams to expand JBC's current client base. 
That JBC performs lamination itself and offers a wide array of adhesives was also huge for us. On its own FoamSeal can only offer limited styles of adhesive, while JBC offers a plethora of adhesives that can be adapted to the customer and the application. We are excited about the opportunity to partner with JBC.
As a premier flexible materials converter and die cutter, JBC offers a variety of die cut parts for an array of applications -- from low density open cell foam to high density closed cell sponge rubber, synthetic blankets, ceramic blankets, technical paper, cork, felt, fiber, and much more. 
Do you have questions about whether a high temperature PVC die cut foam might be best for your application? Contact us today to let us answer your questions and examine the best solution to your application challenge.