By JBC Technologies on
8/3/2021
5 Automotive Applications for Die-Cut Low Surface Energy Tapes & Adhesives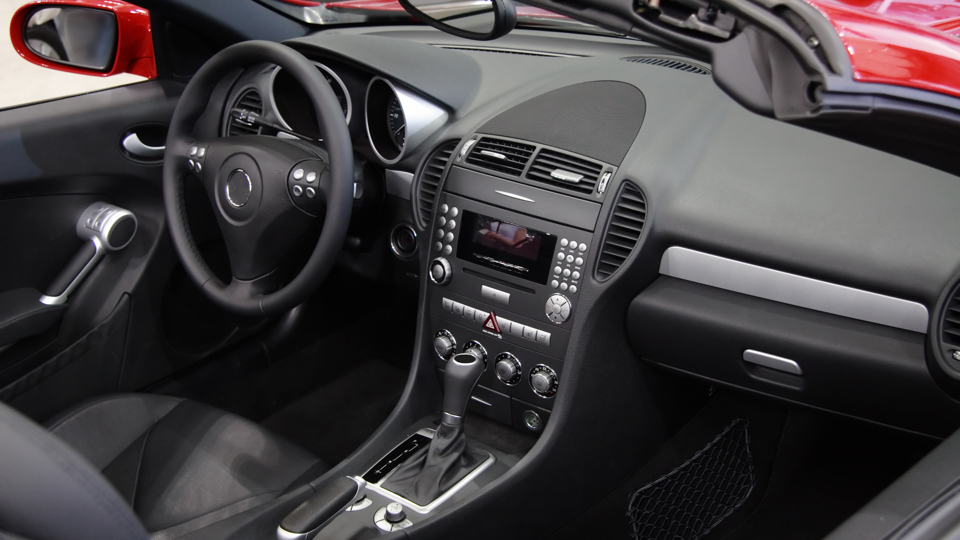 As the number of car makes and models grows exponentially, engineers are looking for solutions to solve some of the most complex problems facing automotive design. Plastics and composites have become essential in this process as they offer a lightweight and inexpensive alternative to metal, but many of these materials suffer from low surface energy which makes bonding difficult. Luckily, 3M LSE Adhesive is specifically designed to bond to LSE materials like plastic and composite, ensuring safe and effective use while keeping costs down.
This article, the second in our three-part series, describes five common automotive applications that require a low surface energy adhesive for optimal performance. It will also discuss the benefits of each adhesive, as well as the advantages that JBC Technologies provides with our vertically integrated converting services.
 1- Steering Wheel Trim
As recently as a few years ago, steering wheels were relatively simple: they contained an airbag, a horn, and not much else. Now, with the rise of bluetooth technology and satellite radio, most steering wheels include buttons and switches that control radio volume, hands-free phone calls, and dashboard controls. This has led to a change in steering wheel design, as engineers shift from a predominantly leather or rubber design to one that includes more plastic and composite.
One of the most common uses of hard-to-bond material comes on the trim around the steering wheel. This helps add dimension and aesthetic appeal to the design, making a secure bond and clean finish vital. However, this trim is often made of chrome or plastic, which are both low surface energy substrates. That's why engineers often turn to 3M LSE Transfer Adhesive Tape to meet their needs. Transfer adhesives adhere directly to the bonding substrate, creating a low-profile bond without sacrificing durability. This helps to maintain a sleek design, an important factor of many modern steering wheels.
2- Passenger Communication System
 Alongside steering wheels, passenger communication systems have come a long way in recent years. While many older cars had simple radio dashboards, most modern cars come with some form of screen that displays navigation, music, and information about the car. Once again, modernization of these systems has led to an increase in low surface energy substrates in the manufacturing process. And once again, engineers turn to 3M's versatile line of low-energy surface adhesive to find a solution.
Engineers rely on the 3M LSE Adhesive family to bond the lens to the rest of the passenger communication system. This allows for the bonding of dissimilar materials, as the glass or plastic lens must attach to mechanisms that are often made of plastic or composite. Whether you need a low-profile transfer adhesive or 3M VHB tape for increased structure and shock absorption, 3M LSE Adhesive Tapes provide a solution for modern passenger communication systems.
3- Sunroof
Sunroofs are arguably the most salient example of bonding dissimilar materials within a car: plastic, fabric, and powder-coated metals are just some of the materials that commonly make up these mechanisms. What do all of these materials have in common? They all have low surface energy, making 3M LSE Adhesive the ideal solution for sunroof applications.
Fabric is notoriously hard to bond, as the irregularities in the surface make it more difficult for an adhesive to "wet out," or fully coat it. While some rely on pretreating fabric to form a bond, 3M LSE Adhesive securely bonds fabric to plastic or powder-coated metals while eliminating the need for hazardous, time-consuming, and expensive pretreatment. Not only is 3M LSE Adhesive Tape the most efficient fabric bonding solution, it also ensures a clean finish and a bond that builds strength over time.
4- Foam Door Bolsters
 Modern manufacturing has placed a great emphasis on comfort within the car. This has led to an increase in foam bolsters on doors, which add an element of comfort as well as aesthetic appearance. However, the foam bolster must be attached to a cover stock that is often made from vinyl. Given that both of these materials have low surface energy, 3M LSE Adhesive is the ideal solution.
3M Adhesive Transfer Tape is a common solution for door bolsters, as the application does not require extra support or vibration dampening due to the presence of foam in the bolster. Instead, engineers can focus on aesthetic appearance with a low-profile bond that seamlessly attaches foam to vinyl without sacrificing performance. 3M LSE Adhesive Tape allows you to blend style, durability, and efficiency in the manufacturing process.
5- Warning Label on Sun Visor
 There's no shortage of warning labels in modern cars, but one of the most prominent is the warning of the airbags in the car. Given that they can pose a hazard to children and adults alike, it's important to place this warning in a high visibility area. One of the most common locations is the sun visor, as both the driver and front-seat passenger are able to easily see the warning. However, manufacturers run into a familiar problem when adhering to this warning: sun visors are made from fabric and textured plastic, both low surface energy materials.
  Sun visor labels do not require any additional structure or vibration dampening, so engineers once again turn to adhesive transfer tapes to form a secure bond. This allows the label to sit directly on the sun visor, eliminating the risk of peeling or an irregular bond. This ensures that, as the car ages, these warnings will remain legible for all passengers to see.
 JBC is a 3M Preferred Converter and a Partner You Can Trust
 The applications above vary wildly in both substrates and types of tape, but two things remain consistent. First, all rely on 3M LSE Adhesive to form a secure bond to low surface energy substrates. Second, these applications involve irregular shapes that are not available "out of the box".  That is where JBC Technologies comes in. A 3M Preferred converter, we specialize in transforming rolls of materials into custom parts. 
With state-of-the-art rotary presses, wide web presses, narrow web platen presses, and dieless cutting capabilities, as well as breadth of laminating, slitting, and other ancillary converting functions, we are one of the premier converters in the midwest.
Our customers benefit from our strong engineering focus and emphasis on providing value during the full product lifecycle. This includes everything from a prototype and quick react program that helps you solve last-minute production problems fast to high volume production with lead time strategies tailored to their specific needs.
From steering wheels to door panels to warning labels, JBC Technologies is the best choice for die-cutting 3M LSE Adhesive Tapes. To learn more about our services or submit a project, reach out today!