By Joe Bliss on
4/19/2021
8 Gasket Materials for Mid-Range Ambient Temperature Applications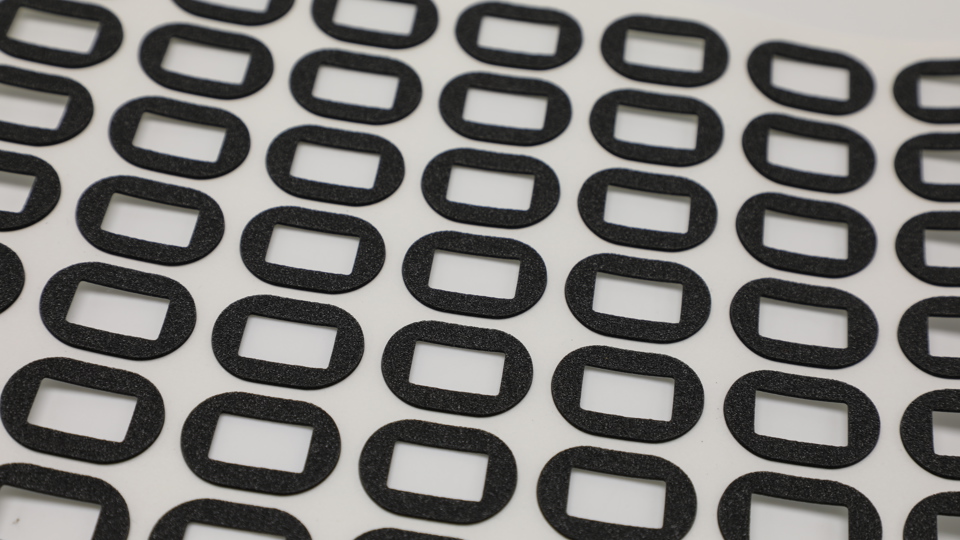 Temperature is one factor that can affect a gasket's mechanical resilience, chemical resistance properties, and overall performance. Applications that will expose the gasket to extreme heat or cold or widely fluctuating temperatures demand different gasket materials than those where ambient conditions are closer to the mid-to-low-range temperature zone. It's this middle of the road temperature environment that'll be covered in this post.
For the sake of our discussion, we'll define mid-range ambient temperature sealing environments as those that typically feature temperatures ranging from -40°F to +250°F. In addition to fish paper/vulcanized fiber, solid rubber gasket materials such as Nitrile, Neoprene, and EPDM are popular choices for these applications, as are open and closed cell foams/ sponge rubbers. Closed-cell foams and sponge rubbers can be more cost-effective than solid rubber materials, as when rubber is removed and air is added, a material's cost drops significantly. 
Note: Open cell means passageways exist within the structure of the sponge. As a rule of thumb, an open-cell sponge should be compressed at least 50% to function as a watertight seal.  Open-cell materials exhibit very low compression deflection properties which can be helpful when used as gap fillers.
Below we highlight eight common gasket materials die-cut by JBC for use in mid-range temperature applications.
It's important to note: we don't just die-cut these materials. If our customers' requirements dictate it, we laminate with pressure-sensitive adhesives, slit to custom widths, create multi-layer material constructions, pack, kit, ship, and even provide full VMI services… but that's a story for another day. Now, on to the list…
1. Vegetable Fiber
Vegetable fiber gaskets have been used for many years and are a good low-cost mid-range paper gasketing option.  Vegetable fiber material is produced using cellulose fibers impregnated with a glue and glycerine binder.  It looks similar to paper but is strong, flexible, and can resist heavy flange pressures while exhibiting enough compression to be an effective seal at temperatures up to 250°F.  Because vegetable fiber gasket material has been around so long it is sometimes overlooked as outdated but don't let its low price and historical significance fool you.  It is a real workhorse material in medium temperature pump and hydraulic gasketing applications.
2. EPDM
EPDM is a rubber compound that can be made in solid or sponge form.  Sponge EPDM is available in a number of densities, medium being the most common.  The most common solid EPDM is 70 durometer but can be made softer or firmer depending on the mechanical application. EPDM offers strong resistance to ultraviolet exposure, oxygen, ozone, aging, water, brake fluid, and aging in outdoor weather applications. The main disadvantage of EPDM is its poor resistance to petroleum products and other chemicals. EPDM gasket materials perform well in a temperature range of -60°F to 250°F.  If your gasket application requires general sealing in an outdoor environment, EPDM is a good starting point and is significantly lower in cost than silicone.
3. Neoprene
Neoprene is a synthetic rubber and considered the "go-to" gasket material for general oil-based applications because of its ability to withstand petroleum products like solvents, grease, and oil.  Neoprene is available in both sponge and solid form.  Neoprene does exhibit mid-level resistance to ultraviolet and ozone damage. The most common hardness of solid neoprene is 70 durometer while neoprene sponge is made in soft, medium, and firm densities.  Neoprene performs well within temperature ranges of -40°F to 250°F. 
4. Nitrile
Also known as Buna-N, Nitrile is an excellent gasket material for sealing applications that require fuel, oil, and UV resistance. It is the most popular rubber used for o-rings.  It has a high resistance to most oil and petroleum mixtures and is low cost.  Unlike Neoprene, Nitrile does not have as good resistance to ozone, sunlight, or weather as Neoprene.  But, since Nitrile has superior petroleum resistance to Neoprene it is the rubber of choice for internal seals and gaskets like o-rings in a temperature range of -40°F and +200°F.
5. Urethane
Urethane is a thermoplastic that is available in both sponge and solid form.  As a solid, urethane has impressive tensile properties and is extremely abrasion-resistant.  Because of its cost, solid urethane gaskets or other die-cut parts made from solid urethane are used in dynamic applications requiring a super tough material that resists wear and tear.  In sponge format, microcellular Urethane combines superior mechanical properties with the compressibility of sponge.  The most common form of this construction is Poron® from Roger's Corp.   Poron comes in a variety of different blends and formulations suited for a variety of applications.  The most significant property of Poron is its resistance to compression set.  And, unlike sponge rubber gaskets it has low outgassing characteristics. Urethane gaskets perform well in temperatures ranging from -40°F to 200°F.
6. PVC (PolyVinyl Chloride)
Closed-cell PVC foam gaskets and tapes are found in almost every industry. PVC provides strong UV resistance, shock absorption, cushioning, and sound deadening. It is an excellent choice for gasket, gap filler, and moisture barrier applications that require minimal temperature resistance. PVC foam is most commonly used with a low-cost water emulsion adhesive backing that eases installation.  With the adhesive applied directly by the foam manufacturer, it is often less expensive an option than blended rubber foams with a secondary laminated adhesive.  PVC is available in multiple densities. Depending on the formulation, PVC gaskets are suitable for temperatures ranging from -40°F to 200°F.
7. Low-Density Polyethylene Foam
Closed-cell LDPE foam is an excellent choice for many packaging, gap filler, and moisture barrier applications where cost is critical and temperatures will not exceed ~150°F.  LDPE has excellent chemical resistance and is easily die-cut.  LDPE also exhibits a higher compression set than sponge rubber. LDPE performs best in temperatures lower than 215°F.
8. Cross-Linked PE Foam XLPE
Unlike closed-cell LDPE foam, XLPE foam has a soft feel and significantly better material properties than closed-cell PE Foam.  The crosslinking process is achieved by either a chemical or irradiation process that creates molecular bonds between polymer chains to form a three-dimensional structure that significantly improves physical properties including compression set, compression strength, thermal stability, and tensile strength.   Volara® is a well-known cross-linked LDPE foam. Many other brands similar to Volara® are available and often interchangeable.  Crosslinked PE foam is an entirely different foam than closed-cell PE foam.  It has a different look and feel as well as a higher cost, and is a superior gasket choice over closed-cell PE foam.  XLPE has a typical temperature band of 200F with a formulation that can compounded function -70F – 175F or -40F to 230F.
Turn to JBC Technologies For Die-Cut Gaskets
A premier converter and fabricator, JBC Technologies has over 30 years of experience turning rolls of materials into custom die-cut parts. But while JBC Technologies is known for delivering high-quality products, what really sets us apart is our ability to help customers solve problems and overcome design and efficiency challenges through product design, process execution, and material expertise. 
 Contact us using this link or call us at 440-327-4522 to get JBC working on your next project.