By Mark Swanson on
4/12/2017
Acrylic Foam Tapes: Top Suppliers and Trade Names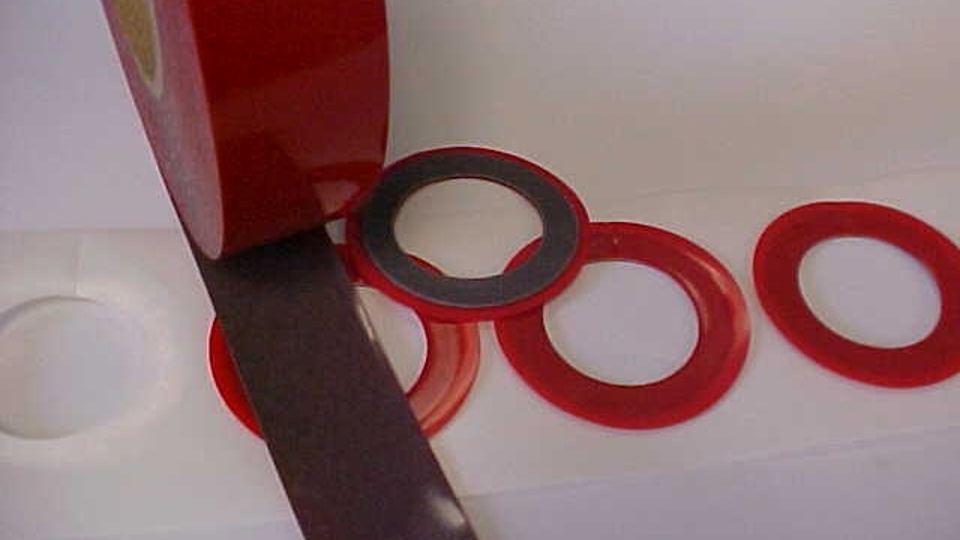 Acrylic foam tapes (AFT) provide permanent, high-strength bonds that adhere to a variety of substrates. They offer numerous advantages over screws and rivets, but that's not all that sourcing managers need to know. For example, mechanical fasteners can be replaced by die cut AFT products. With aluminum-to-aluminum bonding, AFTs have a shear strength comparable to rivets applied 4" apart. 
There are many types of adhesive tapes, but only six manufacturers of foam acrylic tapes worldwide. At JBC Technologies, we die cut foam acrylic tapes from two of the top companies: 3M and AFTC. With our knowledge of die cut AFTs, we can help you with material selection and support your assembly operations. 
3M™ VHB™ High-Bond Acrylic Foam Tapes 
3M™ invented acrylic foam tape and held a 25-year patent that began in the 1980s. Today, 3M VHB tapes are used in transportation, construction, and signage applications. These die cut tapes are smart choice for automotive assembly and utility trailers because die cut 3M VHB tapes can withstand temperature extremes, moisture conditions, and UV light. These high-bond tapes can also distribute stress loads across the entire bond, an important consideration when joining exterior panels to buildings. 
By replacing mechanical fasteners, 3M VHB acrylic foam tapes provide a cleaner look for automotive emblems, utility trailer panels, and signs. Instead of noticing rows of screws or rivet heads, you'll see smooth surfaces. Yet these high-bond foam acrylic tapes don't just support sleeker designs. They're strong enough to bond the glass in skyscraper windows to metal window frames. 3M VHB foam acrylic tapes also form a reliable weather seal, making them a great choice for outdoor applications.   
AFTC™ SilverTape™ Products 
JBC Technologies also die cuts AFTC SilverTape™, a family of high-performance products that use an acrylic adhesive as well. Invented by AFTC Group, SilverTape™ debuted in Europe nearly 20 years ago and has become increasingly popular in the United States – especially as these high-bond tapes gain automotive approvals. Today, acrylic tapes are used to bond weather seals directly to car doors and bodies. To support different types of automotive paints and clear coats, SilverTape™ comes in multiple grades.   
With its viscoelastic properties, the adhesive in AFTC SilverTape™ flows into the pores of substrates to form durable bonds. This viscosity of this die cut tape ensures a low internal tension, and its elasticity provides strength under pressure.  Compared to die cut foam tapes that use PE, PU, or polyester as a core, AFTC SilverTape™ can also withstand higher static and dynamic forces.   
Die Cut Acrylic Foam Tapes from JBC Technologies
Do you need help choosing acrylic foam tapes for your assembly application? For custom die cutting and value-added solutions like assistance with material selection, contact JBC Technologies. 
3M™ and VHB™ are trademarks of the 3M Company. 
AFTC™ and SilverTape™ are trademarks of the AFTC Group.