By Bob Lesher on
8/16/2021
Adhesives for EV Battery Applications: Q&A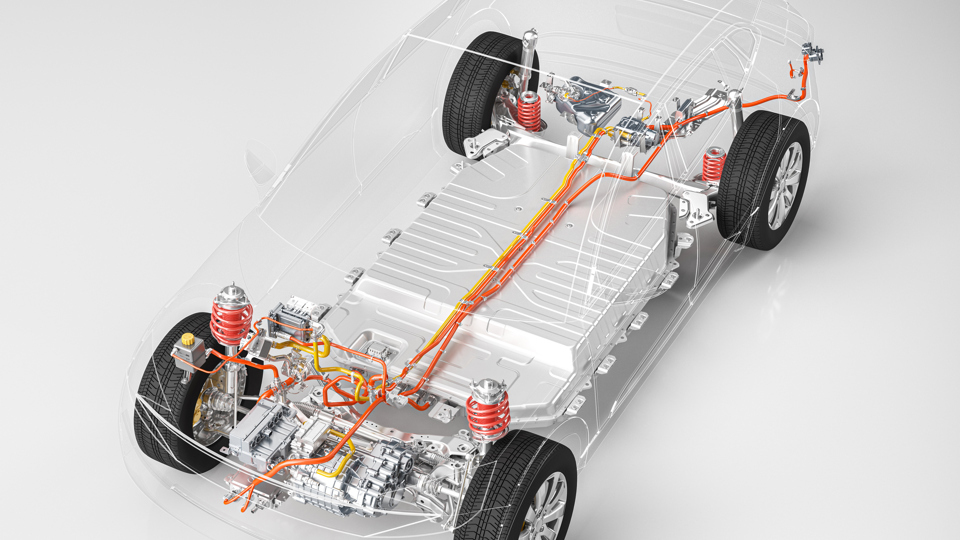 If there's one thing that we're known for – outside of our world-class flexible materials converting skills, of course – it's the decade's long relationships we have with the manufacturers that make the materials we convert. Seriously, if we weren't too cool for Rolodex's ours would be overflowing with a veritable who's who of the flexible materials and adhesives worlds. Speaking of knowledgeable industry leaders and brilliantly written segues, it's been a criminally long time since our last vendor Q&A post. Today's post, which focuses on the importance of die-cut adhesives in EV battery applications, features an interview with Scott Krusinski, Product Manager - Automotive & Other Transportation at Avery Dennison Performance Tapes North America. 
Which Avery Dennison Performance Tapes products can be used to mitigate Thermal Runaway in EV Batteries… and what is it that makes them effective? 
There are several ways OEMs are mitigating thermal runaway events and one of those ways is the use of functional materials that reduce or extinguish fires. The most commonly-used materials we've seen in this application are ceramic fiber blankets and papers, mica, and aerogels. The tape and/or adhesive helps the primary materials in several ways.  Single coated tape or double-coated tape can help encapsulate the fibrous materials that are used for thermal runaway. These materials can be flaky or dusty and are very delicate or fragile. When encapsulated in tape, the filmic face stock on the tape prevents that dusting from occurring. By encapsulating materials like mica and ceramic papers with the right film-backed adhesive, you not only protect the material that is reducing the thermal propagation, the filmic tape can add additional dielectric strength to the entire composite.
A go-to tape for this application is FT 8065, a double-coated tape that uses Flame Tough™ acrylic adhesive with a Flame Tough™ polyester carrier in the middle. It passes flame requirements and offers a good balance of properties and price. It also has dielectric strength, can encapsulate material, and provides a good bonding solution. The other thing to mention is that it features an optimized liner. The portfolio, and in particular this FT 8065 has a release liner that has the lower release properties needed to help dispensing of these materials. Some of the materials are so delicate that traditional release values tear that material.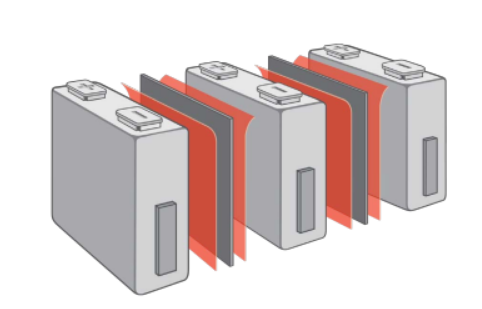 image credit:  Avery Dennison Performance Tapes
What can you tell us about the new Flame Tough™ Products?
We are excited to introduce Flame Tough™ as part of the EV Battery Portfolio. These products were developed in North America this year specifically for the EV Battery Space. We kept seeing the needs for composite to pass UL 94 V in the battery pack. OEMs are investing a lot in preventing fire and thermal runaway.
We currently have two different adhesive types: Flame Tough™ Acrylic and a Flame Tough™ Silicone. And we are also introducing two new films: Flame Tough™ polyester and Flame Tough™ polyimide.  The idea is to have a mix and match situation where you can create different constructions depending on what you need. 
Outside of mitigating thermal runaway, what are the other benefits of using Avery Dennison tapes and adhesives between the cells of a battery module?
The primary benefit of using adhesives between battery cells is bonding. These tapes can be used to bond cells together in much the same way a liquid adhesive would. With the tape, however, there are many added benefits:
      An instant bond
      No mixing nozzles or complex dispensing systems
      No hazardous materials to handle
      No delays in production due to extended cure times
In addition, converters like JBC can dry edge the tape so that there is an extended liner or add a pull tab making it easier to remove during assembly or automation processes. If you choose a double-coated filmic tape with a polymeric carrier in the middle like FT 8065 or High-Performance Acrylic HPA 9392 the tape also provides electrical insulation between cells, which can help prevent shorting and arcing. 
What are the three most important factors that differentiate an adhesive in the EV Battery Space? 
Flame retardancy—Within the battery pack, we see UL 94 V and other flame requirements. This is a way for tapes and adhesives to differentiate against traditional adhesives.
Dielectric strength— Double-coated and single-coated tapes that can provide electrical insulation have a clear advantage in this market.
Ability to simplify the assembly process—Any tape that can shorten the production cycle time has a big advantage. Look for adhesives that offer an instant bond and optimized liners for dispensing.  Consulting for OEMs on automation processes is also a big area where a converter can add value.
How is Avery Dennison Performance Tapes innovating to meet the needs of the EV Battery Market? 
Globally, Avery Dennison Performance Tapes has launched a first-generation portfolio. The idea is to grow the portfolio by listening to our customers, understanding the evolving needs of end-users, and adding new products.  We have a wide range of adhesive and tape technologies that can be applied to specific EV Battery Pack needs. For example, we are working on the second generation of more conformable dielectric tapes for electrical insulation. Items like chill plates often have difficult geometries to adhere to. Polyester film-based tapes have difficulty getting into crevices, so we are working on new films that have conformability to get into the nooks and crannies of a chill plate to create better electrical insulation for the components. 
Do your products offer flame retardant at the cell level, module level, battery pack level, or all three? Can you provide examples of each?  
Our products offer flame retardant at all levels outside of the cell level itself.  For example, silicone foam can be used between cells for a compression pad. Oftentimes there are UL94V requirements for the tape plus silicone foam composite being used between cells. Our portfolio addresses those needs.
Image Credit: Avery Dennison Performance Tapes
Adhesives are only one part of the material stack-ups needed to solve EV battery challenges. How are you working with other material manufacturers — and converters like JBC — to provide a total solution?  
On the material manufacturing front, we are not typically customers of each other but we are collaborators. We have been working with other suppliers and assessing how our materials work together. Examples include conducting and promoting bonding studies or burn studies where we perform the UL 94 V test to see how our tapes perform on their materials. In addition to that, we can also run tests to determine the dielectric strength of the entire material stack up.  
On the converter side, we work with companies like JBC Technologies that can laminate our adhesive to the necessary substrate or substrates, die-cut into the required shapes, and be the face to the end-user.   We are here to support converters, providing product innovation and behind-the-scenes testing as needed. 
What do you see as the single biggest reason to use single-coated films in EV Battery Applications?  Can you provide examples? 
The main need for single coated tapes in EV Battery applications is for electrical insulation. These tapes can be applied to conductive components, like battery pack walls and aluminum chill plates. 
What types of tapes/adhesives do you recommend for compression pads? Why?
There are generally two types of compression pad materials: polyurethanes like Rogers Poron, and silicone foams. When bonding to Poron, we recommend our General Automotive acrylic or our Flame Tough™ acrylic. If it is a silicone foam, we recommend Flame Tough™ silicone.
Being able to bond to silicone foams is challenging. That is one thing that the Flame Tough™ Silicone can do well. After that, it is a matter of what the end customer wants to use.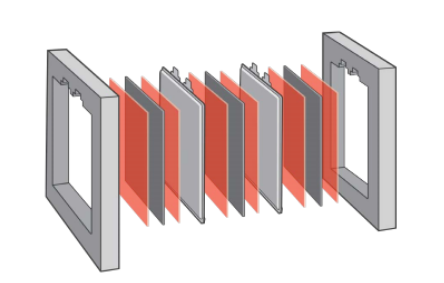 image credit:  Avery Dennison Performance Tapes
How do your tapes/ adhesives help protect a battery pack or module from galvanic corrosion?
Critical components need to be protected from oxidizing corrosion AND the dielectric corrosion associated with joining dissimilar materials. Because of their dielectric properties, our tapes provide the dielectric strength necessary to protect from corrosion.
This is particularly applicable for chiller plates, busbars, battery module castings, and battery pack housings. 
Learn more about adhesives and bonding for electric vehicle applications
We want to provide a huge shout-out and offer our thanks to Scott for agreeing to do this interview with us at JBC Technologies. On top of that, he was kind enough to share a few more resources for those who want to do a deeper dive on the subject. 
Partner with JBC Technologies for Your EV Battery Converting Needs
For all the benefits associated with using die-cut adhesive for electric vehicle battery applications, choosing the right adhesive is never easy.  You need to consider the flammability piece, the insulation piece, the design for manufacturability, and even the processing piece.  That's where the experts at JBC come in. JBC Technologies excels at creating multi-layer material stack-ups and transforming pressure-sensitive adhesive (PSA) tapes and other high-performance materials into custom die-cut parts. Our extensive battery of flexible materials converting equipment includes high-speed, tight-tolerance rotary die-cutting presses, hot and cold roll laminators, and both narrow and wide web hydraulic die-cutting machines. For over three decades, we've been putting our engineering and manufacturing expertise to work transforming rolls of foam, insulation, adhesive tape, plastic film, melt-blown fabric, and even metal foil, into custom die-cut parts that have helped thousands of manufacturers solve critical design challenges.
Let us help turn your challenges into solutions. Contact our team today.